Categories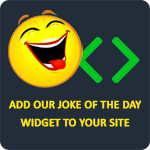 A blonde is wearing a pair of socks that don't match, one is red and the other is white. Her friend sees her out and says, "You know your socks don't match, right? You're wearing one red sock and one white sock." The blonde responds, "That's so weird! I have another pair just like it in my drawer at home."
jay8962
A police officer sees a blonde woman driving and knitting at the same time. Exasperated, he drives up next to her and screams out the window, "Pull over!" The blonde responds, "No Silly, it's a scarf."
DefJay
A man walks by a blonde, who is holding a pig. The man asks, "Where did you get her?" The pig answered, "I won her at the fair."
jokestahh
This blonde calls me and says, "What's your phone number? I cant find it!"
Lee23
A blonde, brunette, and redhead are all on a building about to jump off. They all jump at the same time. Which one landed last? The blonde because she asked for directions.
Lexi Pooh