Categories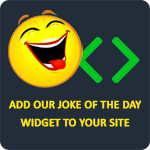 There was a blonde driving in the country side when she went around the corner and saw an ocean of wheat fields. Then she saw a blonde in a row boat frantically paddling. The blonde driver yelled out, "Hey! It's blondes like you that give blondes like me a bad name and if I knew how to swim, I'd swim out there and kick your ass!"
dispatchmonster
A couple is trying to have a baby. Finally, the blonde tells her husband, "Honey, I have great news! We're pregnant, and we're having twins!" The husband is overjoyed and says to his wife, "Honey that's wonderful, but how do you know so soon that we're having twins?" She nods her head and says, "Well, I bought the twin pack pregnancy test and they both came out positive!"
normponce
A blonde, a fat brunette, and a skinny redhead find a magic mirror. If you lie to the mirror you die. The redhead says, "I look fat," and dies. The brunette says, " I look skinny," and dies. The blonde says, "I think..." and dies.
all penguin loverz
A blond asked his friend, "Why does my sister have two brothers and I only have one???"
SILENCE
How did the blonde try to kill the bird?? She threw it off a cliff.
ajm2002