Categories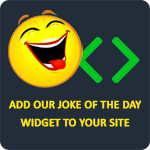 A blonde sees a thermos in a store. She asks a clerk, "What is that and what's it for?" The clerk answers, "It's a thermos that keeps hot things hot and cold things cold." The blonde says, "I'll take it." When she gets to work, her blonde boss asks, "What is that?" The blonde worker says, "It's a thermos. It keeps cold things cold and hot things hot." "Whatcha got in it?" "A cup of coffee and a Popsicle."
Jokester
How do you kill a blonde? Put a scratch-and-sniff at the bottom of a pool.
Anonymous
What do you call it when a blonde dyes her hair brunette? Artificial intelligence.
yszi
A couple is trying to have a baby. Finally, the blonde tells her husband, "Honey, I have great news! We're pregnant, and we're having twins!" The husband is overjoyed and says to his wife, "Honey that's wonderful, but how do you know so soon that we're having twins?" She nods her head and says, "Well, I bought the twin pack pregnancy test and they both came out positive!"
normponce
One day a blonde went into the library and asked the librarian, "Can I have a burger and fries?" The librarian replied, "This is the library." Then blonde whispered, "Oh. Can I have a burger and fries?"
TheLaughFactory