Categories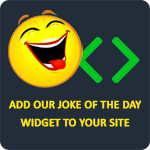 A blonde goes into a computer store and asks the clerk, "Where do you keep the curtains for computers?" The clerk answers with a puzzled face, "Curtains for computers? You don't need curtains for computers." The blonde's eyes widen and she shakes her head as she answers, "Hello!?? My computer has Windows!!"
TheLaughFactory
A blonde and brunette are living together. The brunette came home from work one day and the blonde had a rope around her waist. The brunette asked why she had a rope tied around her waist. The blonde answered that she was trying to commit suicide. The brunette said, "You're supposed to put the rope around your neck." The blonde replied, "I tried that but I couldn't breathe!"
Anonymous
Did you hear what happened to the blonde ice hockey team? They drowned in spring training.
ritadelarosa
There was a blonde driving in the country side when she went around the corner and saw an ocean of wheat fields. Then she saw a blonde in a row boat frantically paddling. The blonde driver yelled out, "Hey! It's blondes like you that give blondes like me a bad name and if I knew how to swim, I'd swim out there and kick your ass!"
dispatchmonster
A husband and wife were driving through Louisiana. As they approached Natchitoches, they started arguing about the pronunciation of the town. They argued back and forth, then they stopped for lunch. At the counter, the husband asked the blonde waitress, "Before we order, could you please settle an argument for us? Would you please pronounce where we are very slowly?" She leaned over the counter and said, "Burrr-gerrr Kiiing."
Bill Mills