Categories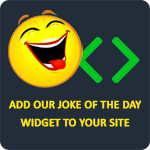 A blonde is watching the news with her husband when the newscaster says, "Six Brazilian men die in a skydiving accident." The blonde starts crying to her husband, sobbing, "That's horrible!" Confused, he replies, "Yes dear, it is sad, but they were skydiving, and there is always that risk involved." After a few minutes, the blonde, still sobbing, says, "How many is a Brazilian?"
TheLaughFactory
Did you hear what happened to the blonde ice hockey team? They drowned in spring training.
ritadelarosa
A blonde woman decides that she is sick and tired of all the blonde jokes and how all blondes are perceived as stupid, so she decides to show her husband that blondes really are smart. While her husband is off at work, she decides that she is going to paint a couple of rooms in the house. The next day, right after her husband leaves for work, she gets down to the task at hand. Her husband arrives home at 5:30 and smells the distinctive smell of paint. He walks into the living room and finds his wife lying on the floor in a pool of sweat. He notices that she is wearing a ski jacket and a fur coat at the same time. He goes over and asks her if she is OK. She replies yes. He asks what she is doing. She replies that she wanted to prove to him that not all blonde women are dumb and she wanted to do it by painting the house. He then asks her why she has a ski jacket over her fur coat. She replies that she was reading the directions on the paint can and they said, "For best results, put on two coats."
TheFunny101
There was a blonde driving in the country side when she went around the corner and saw an ocean of wheat fields. Then she saw a blonde in a row boat frantically paddling. The blonde driver yelled out, "Hey! It's blondes like you that give blondes like me a bad name and if I knew how to swim, I'd swim out there and kick your ass!"
dispatchmonster
Three blondes had boyfriends all named John and they kept getting confused. They decided to name them after sodas. The first girl said, "I'll call mine 7 Up, because he's seven inches and he's always up." The next girl said, "I'll call mine Mountain Dew, because he mounts me and knows exactly what to do." The last girl goes, "I'll call mine Jack Daniels." The other girls yelled at her and said, "That's not a soda! That's a hard licker!"
dejakreutzberg