Categories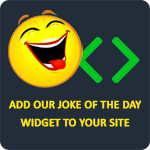 A blonde goes into a computer store and asks the clerk, "Where do you keep the curtains for computers?" The clerk answers with a puzzled face, "Curtains for computers? You don't need curtains for computers." The blonde's eyes widen and she shakes her head as she answers, "Hello!?? My computer has Windows!!"
TheLaughFactory
Why is a blonde girl staring at the orange juice box? The orange juice box says, "Concentrated."
krissvr
A blonde was swerving all over the road and driving very badly, so she got pulled over by a cop. The cop walked up to her window and asked, "Miss, why are you driving so recklessly?" The blonde said, "I'm sorry sir, but wherever I go, there's always a tree in front of me and I can't seem to get away from it!" The cop looked at her and said, "Ma'am, that's your air freshener!"
A Brunette
A blonde goes to a soda machine. She puts in a dollar and gets a soda. She does this again and again. A man in line behind her asks why she is taking so long. She says, "Can't you see I'm winning?"
Anonymous
One day, a blonde went to the doctor with both sides of her face burned. The doctor asked, "What happened?" The blonde said, "Well, I was ironing my husband's shirt until the phone rang. I picked it up and half my face was burnt!" The doctor replied, "What about the other half?" The blonde answered, "They called back."
Anonymous