Categories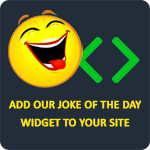 A blonde goes into a computer store and asks the clerk, "Where do you keep the curtains for computers?" The clerk answers with a puzzled face, "Curtains for computers? You don't need curtains for computers." The blonde's eyes widen and she shakes her head as she answers, "Hello!?? My computer has Windows!!"
TheLaughFactory
A blonde was swerving all over the road and driving very badly, so she got pulled over by a cop. The cop walked up to her window and asked, "Miss, why are you driving so recklessly?" The blonde said, "I'm sorry sir, but wherever I go, there's always a tree in front of me and I can't seem to get away from it!" The cop looked at her and said, "Ma'am, that's your air freshener!"
A Brunette
There were three women. a brown headed a brunette and a blonde. they were talking then they started talking about sex. The brown headed one said i'm gonna have 3 baby's. The brunette said she was gonna have twins. And the blonde started crying and the other two women asked her what was wrong. And the blonde said she was gonna have baby dogs because she had sex doggy style!
dapussylover
How many blondes does it take to screw in a light bulb? Too many to count.
batallonesa
How do blonde brain cells die? Alone.
miked8888