Categories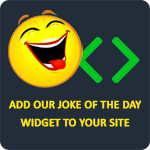 Three blondes had boyfriends all named John and they kept getting confused. They decided to name them after sodas. The first girl said, "I'll call mine 7 Up, because he's seven inches and he's always up." The next girl said, "I'll call mine Mountain Dew, because he mounts me and knows exactly what to do." The last girl goes, "I'll call mine Jack Daniels." The other girls yelled at her and said, "That's not a soda! That's a hard licker!"
dejakreutzberg
A blond asked his friend, "Why does my sister have two brothers and I only have one???"
SILENCE
Q: How can you get a blonde to laugh on Saturday?
A: Tell her a joke on Wednesday.
TheLaughFactory
A blonde goes to a soda machine. She puts in a dollar and gets a soda. She does this again and again. A man in line behind her asks why she is taking so long. She says, "Can't you see I'm winning?"
Anonymous
A blonde was swerving all over the road and driving very badly, so she got pulled over by a cop. The cop walked up to her window and asked, "Miss, why are you driving so recklessly?" The blonde said, "I'm sorry sir, but wherever I go, there's always a tree in front of me and I can't seem to get away from it!" The cop looked at her and said, "Ma'am, that's your air freshener!"
A Brunette