Categories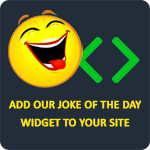 A blonde goes into a computer store and asks the clerk, "Where do you keep the curtains for computers?" The clerk answers with a puzzled face, "Curtains for computers? You don't need curtains for computers." The blonde's eyes widen and she shakes her head as she answers, "Hello!?? My computer has Windows!!"
TheLaughFactory
A blond asked his friend, "Why does my sister have two brothers and I only have one???"
SILENCE
A blonde was swerving all over the road and driving very badly, so she got pulled over by a cop. The cop walked up to her window and asked, "Miss, why are you driving so recklessly?" The blonde said, "I'm sorry sir, but wherever I go, there's always a tree in front of me and I can't seem to get away from it!" The cop looked at her and said, "Ma'am, that's your air freshener!"
A Brunette
A blonde goes to a soda machine. She puts in a dollar and gets a soda. She does this again and again. A man in line behind her asks why she is taking so long. She says, "Can't you see I'm winning?"
Anonymous
Q: How can you get a blonde to laugh on Saturday?
A: Tell her a joke on Wednesday.
TheLaughFactory