Categories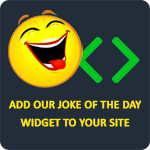 Q: How do you keep a blonde busy for 2 days?
A: Give her a piece of paper that has "Please turn over" written on both sides.
Francisco Davis
Q: How can you get a blonde to laugh on Saturday?
A: Tell her a joke on Wednesday.
TheLaughFactory
What do you call it when a blonde dyes her hair brunette? Artificial intelligence.
yszi
A blonde goes on a hot date and ends up making out with the guy in his car. The guy asks if she would like to go in the backseat. "No!" yells the blonde. Things get even hotter, and the guy asks again. "For the last time, no!" says the blonde. Frustrated, the guy asks, "Well, why the hell not?" The blonde says, "Because I wanna stay up here with you!"
Faith
A blonde was swerving all over the road and driving very badly, so she got pulled over by a cop. The cop walked up to her window and asked, "Miss, why are you driving so recklessly?" The blonde said, "I'm sorry sir, but wherever I go, there's always a tree in front of me and I can't seem to get away from it!" The cop looked at her and said, "Ma'am, that's your air freshener!"
A Brunette