Categories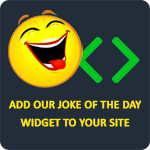 Q: How do you keep a blonde busy for 2 days?
A: Give her a piece of paper that has "Please turn over" written on both sides.
Francisco Davis
Q: How can you get a blonde to laugh on Saturday?
A: Tell her a joke on Wednesday.
TheLaughFactory
What do you call it when a blonde dyes her hair brunette? Artificial intelligence.
yszi
A blonde goes on a hot date and ends up making out with the guy in his car. The guy asks if she would like to go in the backseat. "No!" yells the blonde. Things get even hotter, and the guy asks again. "For the last time, no!" says the blonde. Frustrated, the guy asks, "Well, why the hell not?" The blonde says, "Because I wanna stay up here with you!"
Faith
A blonde and brunette are living together. The brunette came home from work one day and the blonde had a rope around her waist. The brunette asked why she had a rope tied around her waist. The blonde answered that she was trying to commit suicide. The brunette said, "You're supposed to put the rope around your neck." The blonde replied, "I tried that but I couldn't breathe!"
Anonymous