Categories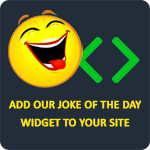 A blonde was swerving all over the road and driving very badly, so she got pulled over by a cop. The cop walked up to her window and asked, "Miss, why are you driving so recklessly?" The blonde said, "I'm sorry sir, but wherever I go, there's always a tree in front of me and I can't seem to get away from it!" The cop looked at her and said, "Ma'am, that's your air freshener!"
A Brunette
Three women (a blonde, a redhead, and a brunette) are lost in the forest while hunting. They each have a shotgun with 2 bullets. They make a fire. Then the redhead gets up and goes hunting. She comes back with 2 rabbits. The other two say, "Wow, where did you get that?" She says, "I found tracks. I followed tracks. I saw rabbits. Rabbits ran. I shot. Rabbits stopped." Then the brunette leaves and comes back with a deer. The other two say, "Wow, Where did you get that?" She says, "I found tracks. I followed tracks. I saw deer. Deer ran. I shot. Deer stopped." The blonde leaves and comes crawling back, all bloodied and black and blue. They others say, "Wow, where did you get that?" She says, "I found tracks. I followed tracks. I saw train. Train ran. I shot. Train didn't stop."
Anonymous
A husband and wife were driving through Louisiana. As they approached Natchitoches, they started arguing about the pronunciation of the town. They argued back and forth, then they stopped for lunch. At the counter, the husband asked the blonde waitress, "Before we order, could you please settle an argument for us? Would you please pronounce where we are very slowly?" She leaned over the counter and said, "Burrr-gerrr Kiiing."
Bill Mills
Why is a blonde girl staring at the orange juice box? The orange juice box says, "Concentrated."
krissvr
The blonde walks into a drugstore and asks the pharmacist for some bottom deodorant. The pharmacist, a little bemused, explains to the woman that they don't sell anything called bottom deodorant, and never have. Unfazed, the blonde assures him that she has been buying the stuff from this store on a regular basis, and would like some more. "I'm sorry," says the pharmacist, "we don't have any."
"But I always get it here," says the blonde.
"Do you have the container it comes in?"
"Yes!" says the blonde, "I will go and get it."
She returns with the container and hands it to the pharmacist, who looks at it and says to her, "This is just a normal stick of underarm deodorant."
The annoyed blonde snatches the container back and reads out loud from the container: "To apply, push up bottom."
A Brunette