Categories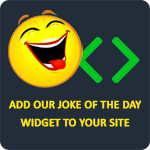 Q: How do you keep a blonde busy for 2 days?
A: Give her a piece of paper that has "Please turn over" written on both sides.
Francisco Davis
Q: How can you get a blonde to laugh on Saturday?
A: Tell her a joke on Wednesday.
TheLaughFactory
What do you call it when a blonde dyes her hair brunette? Artificial intelligence.
yszi
There was a blonde driving in the country side when she went around the corner and saw an ocean of wheat fields. Then she saw a blonde in a row boat frantically paddling. The blonde driver yelled out, "Hey! It's blondes like you that give blondes like me a bad name and if I knew how to swim, I'd swim out there and kick your ass!"
dispatchmonster
A blonde was swerving all over the road and driving very badly, so she got pulled over by a cop. The cop walked up to her window and asked, "Miss, why are you driving so recklessly?" The blonde said, "I'm sorry sir, but wherever I go, there's always a tree in front of me and I can't seem to get away from it!" The cop looked at her and said, "Ma'am, that's your air freshener!"
A Brunette