Categories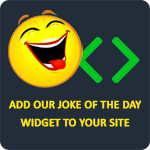 Why is a blonde girl staring at the orange juice box? The orange juice box says, "Concentrated."
krissvr
The blonde walks into a drugstore and asks the pharmacist for some bottom deodorant. The pharmacist, a little bemused, explains to the woman that they don't sell anything called bottom deodorant, and never have. Unfazed, the blonde assures him that she has been buying the stuff from this store on a regular basis, and would like some more. "I'm sorry," says the pharmacist, "we don't have any."
"But I always get it here," says the blonde.
"Do you have the container it comes in?"
"Yes!" says the blonde, "I will go and get it."
She returns with the container and hands it to the pharmacist, who looks at it and says to her, "This is just a normal stick of underarm deodorant."
The annoyed blonde snatches the container back and reads out loud from the container: "To apply, push up bottom."
A Brunette
A ventriloquist is performing with his dummy on his lap. He's telling a dumb blonde joke when a young platinum-haired beauty jumps to her feet. "What gives you the right to stereotype blondes that way?" she demands. "What does hair color have to do with my worth as a human being?" Flustered, the ventriloquist begins to stammer out an apology. "You keep out of this!" she yells. "I'm talking to that little jerk on your knee!"
TheLaughFactory
One day, a blonde went to the doctor with both sides of her face burned. The doctor asked, "What happened?" The blonde said, "Well, I was ironing my husband's shirt until the phone rang. I picked it up and half my face was burnt!" The doctor replied, "What about the other half?" The blonde answered, "They called back."
Anonymous
Four blondes are ordering a few rounds of drinks. Each time they get up, they toast and say, "14 weeks," then they down their drinks. The bartender finally asks the blondes, "What's the deal?" One blonde says, "Well, we bought a boxed puzzle. It said 'two to six years,' and we did it in 14 weeks!"
uclaesq