Categories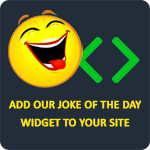 A blonde is watching the news with her husband when the newscaster says, "Six Brazilian men die in a skydiving accident." The blonde starts crying to her husband, sobbing, "That's horrible!" Confused, he replies, "Yes dear, it is sad, but they were skydiving, and there is always that risk involved." After a few minutes, the blonde, still sobbing, says, "How many is a Brazilian?"
TheLaughFactory
Three blondes had boyfriends all named John and they kept getting confused. They decided to name them after sodas. The first girl said, "I'll call mine 7 Up, because he's seven inches and he's always up." The next girl said, "I'll call mine Mountain Dew, because he mounts me and knows exactly what to do." The last girl goes, "I'll call mine Jack Daniels." The other girls yelled at her and said, "That's not a soda! That's a hard licker!"
dejakreutzberg
Q: What do you call 10 blondes in a freezer?
A: Frosted Flakes!
Anonymous
Why did the blonde jump off the cliff? She thought her maxi pad had wings.
Anonymous
A blond asked his friend, "Why does my sister have two brothers and I only have one???"
SILENCE