Categories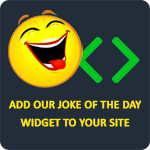 A blonde goes on a hot date and ends up making out with the guy in his car. The guy asks if she would like to go in the backseat. "No!" yells the blonde. Things get even hotter, and the guy asks again. "For the last time, no!" says the blonde. Frustrated, the guy asks, "Well, why the hell not?" The blonde says, "Because I wanna stay up here with you!"
Faith
How many blondes does it take to screw in a light bulb? Too many to count.
batallonesa
A husband and wife were driving through Louisiana. As they approached Natchitoches, they started arguing about the pronunciation of the town. They argued back and forth, then they stopped for lunch. At the counter, the husband asked the blonde waitress, "Before we order, could you please settle an argument for us? Would you please pronounce where we are very slowly?" She leaned over the counter and said, "Burrr-gerrr Kiiing."
Bill Mills
Q: How can you tell if a blonde used a computer?
A: There's Wite-Out all over the screen.
Paul Aungpe
Q: What do dim lamps and blondes have in common?
A: They both tend to be hot, but not too bright.
YDS