Categories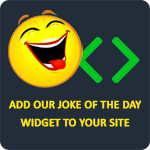 There are 11 people hanging onto a rope that comes down from an airplane. 10 of them are blonde, and one is a brunette. They all decide that one person should get off because if they don't, the rope will break and everyone will die. No one can decide who should go, so finally the brunette delivers a very touching speech, ending with the words, "I'll get off." The blondes, all moved by the brunette's speech, start clapping. Problem solved.
Anonymous
A blind guy on a bar stool shouts to the bartender, "Wanna hear a blonde joke?" In a hushed voice, the guy next to him says, "Before you tell that joke, you should know something. Our bartender is blonde, the bouncer is blonde. I'm a six foot tall, 200 lb black belt. The guy sitting next to me is six foot two, weighs 225, and he's a rugby player. The fella to your right is six foot five, pushing 300, and he's a wrestler. Each one of us is blonde. Think about it, Mister. Do you still wanna tell that joke?" The blind guy says, "Nah, not if I'm gonna have to explain it five times."
sendmeluck
A blonde goes into a nearby store and asks a clerk if she can buy the TV in the corner. The clerk looks at her and says that he doesn't serve blondes, so she goes back home and dyes her hair black. The next day she returns to the store and asks the same thing, and again, the clerk said he doesn't serve blondes. Frustrated, the blonde goes home and dyes her hair yet again, to a shade of red. Sure that a clerk would sell her the TV this time, she returns and asks a different clerk this time. To her astonishment, this clerk also says that she doesn't serve blondes. The blonde asks the clerk, "How in the world do you know I am a blonde?" The clerk looks at her disgustedly and says,"That's not a TV, it's a microwave!"
oscarbejarano
What did the blonde say when she saw the Cheerios box? "Omg, donut seeds!"
love4sheryl
Q: Why couldn't the blonde add 10 + 5 on a calculator?
A: She couldn't find the "10" button.
dukieman