Categories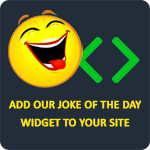 A brunette and blonde are walking in the park when the brunette says, "Aw, look at the dead birdie." The blonde looks up and says, "Where?"
Anonymous
Did you hear about the blonde that got excited? She finished a jigsaw puzzle in six months, when the box said, "two to four years."
atiyatia
Three blondes walk into a building. You'd think one of them would've seen it.....
Jeep96
How do you confuse a blonde? Put her in a circle and tell her to go to the corner.
Anonymous
A blonde is watching the news with her husband when the newscaster says, "Six Brazilian men die in a skydiving accident." The blonde starts crying to her husband, sobbing, "That's horrible!" Confused, he replies, "Yes Dear, it is sad, but they were skydiving, and there is always that risk involved." After a few minutes, the blonde, still sobbing, says, "How many is a Brazilian?"
jibyjacob41