Categories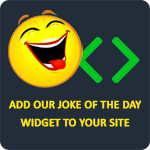 Three blondes walk into a building. You'd think one of them would've seen it.....
Jeep96
A brunette and blonde are walking in the park when the brunette says, "Aw, look at the dead birdie." The blonde looks up and says, "Where?"
Anonymous
A blonde is watching the news with her husband when the newscaster says, "Six Brazilian men die in a skydiving accident." The blonde starts crying to her husband, sobbing, "That's horrible!" Confused, he replies, "Yes Dear, it is sad, but they were skydiving, and there is always that risk involved." After a few minutes, the blonde, still sobbing, says, "How many is a Brazilian?"
jibyjacob41
How do you confuse a blonde? Put her in a circle and tell her to go to the corner.
Anonymous
A husband and wife were driving through Louisiana. As they approached Natchitoches, they started arguing about the pronunciation of the town. They argued back and forth, then they stopped for lunch. At the counter, the husband asked the blonde waitress, "Before we order, could you please settle an argument for us? Would you please pronounce where we are very slowly?" She leaned over the counter and said, "Burrr-gerrr Kiiing."
Bill Mills