Categories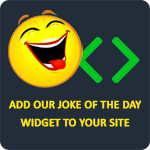 A husband and wife were driving through Louisiana. As they approached Natchitoches, they started arguing about the pronunciation of the town. They argued back and forth, then they stopped for lunch. At the counter, the husband asked the blonde waitress, "Before we order, could you please settle an argument for us? Would you please pronounce where we are very slowly?" She leaned over the counter and said, "Burrr-gerrr Kiiing."
Bill Mills
A blonde's neighbor's house was on fire so she called 911. The blonde told the operator, "My neighbor's house is on fire!" The operator asked, "Where are you?" The blonde answered, "At my house." The operator replied, "No, I'm asking how do we get there?" The blonde said, "In a firetruck, duh!"
Anonymous
How did the blonde try to kill the bird?? She threw it off a cliff.
ajm2002
How do you get a one handed blonde down from a tree? Wave at her.
Anonymous
A blonde, a fat brunette, and a skinny redhead find a magic mirror. If you lie to the mirror you die. The redhead says, "I look fat," and dies. The brunette says, " I look skinny," and dies. The blonde says, "I think..." and dies.
all penguin loverz