Categories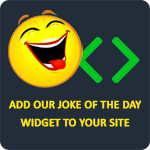 A priest is sitting in a confession box and has to go to the bathroom. He calls an alter boy over and says, "I have to go pee and I need you to take over." Not knowing what to do, the alter boy asks for help. The priest says, "Just give them a few Hail Marys and send them on their way." Soon after, a blonde woman walks in the booth and says, "Forgive me father. I have committed a sin. I gave my boyfriend a blowjob." The alter boy is confused, so he asks another nearby alter boy, "What does the priest usually give for a blowjob?" The second alter boy replies, "I don't know about you, but my price is a candy bar and a Pepsi."
Hebrew Special
So this dude comes home from work one day, and his wife is watching the Food Network. The husband asks, "Why do you watch that? You still cant cook," and the wife responds, "Why do you watch porn? You still cant f*ck."
matvenegas
Q: How does a black girl tell if she is pregnant? A: When she pulls the tampon out all the cotton is picked.
Anonymous
Q: What did one tampon say to the other? A: Nothing, they were both stuck up bitches.
HAHA
Q: What did the cannibal do after dumping his girlfriend?
A: He wiped his bum.
That Wright