Categories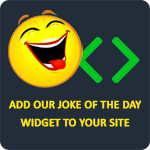 There is a white boy, a Mexican boy, and a black boy who are all in the fifth grade. Who has the biggest d*ck? The black boy, because he's 18.
Dalcazar2412
What's the favorite pick up line in a gay bar. Can I push your stool in?
tootietoo
How come there aren't any Mexicans on Star Trek? They don't work in the future, either.
Kanu1P
What is the difference between Jesus, and a picture of Jesus? You can hang the picture with just one nail.
Epicurus
Q: How does a black girl tell if she is pregnant? A: When she pulls the tampon out all the cotton is picked.
Anonymous