Categories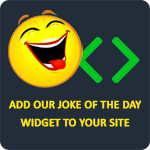 What's the favorite pick up line in a gay bar. Can I push your stool in?
tootietoo
How do Mexicans take a family portrait? They all gather together on the back of a pickup truck and run a red light!
staciebean2007
When I was a kid, my father would tell me that the black Santa Claus was was coming to our house for Christmas. So, instead of putting out cookies and milk, we would put out cornbread and purple kool-aid.
badamitz
What do nine out of 10 people enjoy? Gang rape.
pinoheat
What is better than winning the gold medal at the Special Olympics? Having arms and legs.
Lvaldes20