Categories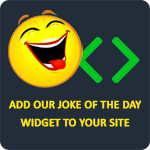 There's a man walking a tight rope 60 feet above ground. There's another man getting a bl*wjob from a 60 year old woman. What are they both thinking at the exact same time? Don't look down, don't look down, don't look down, don't look down!
bella404
What is the difference between Jesus, and a picture of Jesus? You can hang the picture with just one nail.
Epicurus
What's the favorite pick up line in a gay bar. Can I push your stool in?
tootietoo
How come there aren't any Mexicans on Star Trek? They don't work in the future, either.
Kanu1P
When I was a kid, my father would tell me that the black Santa Claus was was coming to our house for Christmas. So, instead of putting out cookies and milk, we would put out cornbread and purple kool-aid.
badamitz