Categories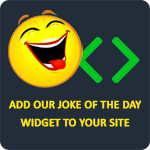 There is a white boy, a Mexican boy, and a black boy who are all in the fifth grade. Who has the biggest d*ck? The black boy, because he's 18.
Dalcazar2412
A man recently had his arm amputated and decided to kill himself by jumping off a building. When he was ready to jump, he saw a man with both arms amputated dancing around. He decided to find out why he was so happy. The man told him, "I'm not dancing. My ass is itching and I can't scratch it!"
cabezon
Q: How does a black girl tell if she is pregnant? A: When she pulls the tampon out all the cotton is picked.
Anonymous
What is better than winning the gold medal at the Special Olympics? Having arms and legs.
Lvaldes20
Why is it that skinny men like fat women? Because they need warmth in winter and shade in summer.
ADRIANA89