Categories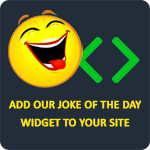 Here is a pick up line. "Hey girl, come sit on my lap and we could talk about the first thing that pops up."
poisonedxfear
What is the difference between Jesus, and a picture of Jesus? You can hang the picture with just one nail.
Epicurus
What's the difference between parsley and pubic hair? Nothing. Push them both over and keep on eating.
tiny19
A man recently had his arm amputated and decided to kill himself by jumping off a building. When he was ready to jump, he saw a man with both arms amputated dancing around. He decided to find out why he was so happy. The man told him, "I'm not dancing. My ass is itching and I can't scratch it!"
cabezon
Why is it that skinny men like fat women? Because they need warmth in winter and shade in summer.
ADRIANA89