Categories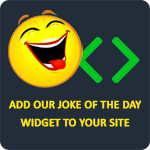 What's the favorite pick up line in a gay bar. Can I push your stool in?
tootietoo
Q: What happens when you stick your hand in a jar of jelly beans?
A: The black one steals your watch.
orozcom
When I was a kid, my father would tell me that the black Santa Claus was was coming to our house for Christmas. So, instead of putting out cookies and milk, we would put out cornbread and purple kool-aid.
badamitz
A man recently had his arm amputated and decided to kill himself by jumping off a building. When he was ready to jump, he saw a man with both arms amputated dancing around. He decided to find out why he was so happy. The man told him, "I'm not dancing. My ass is itching and I can't scratch it!"
cabezon
Q: What do you say to a black man in a three piece suit?
A: "Will the defendant please rise?"
Mark My Words