Categories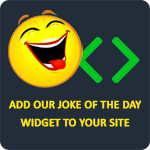 There are three friends named Mad, Brain, and Fight. One day Fight went missing and his friends Mad and Brain started searching for him. Then Brain said, "Mad, let's file a missing person report with the police." When they were about to walk into the police station, Brain said, "Mad, you go and make the report. I will wait for you here." Mad said, "Okay." Mad walked in but no police officers paid attention to him. Then he saw a policeman drinking a cup of coffee. Mad went to the officer, smacked the table, and the cup of coffee flew in the air, landing in the officer's lap. Angry, the policeman asked, "Are you looking for a fight?" Mad replied, "Yes, I am." The policeman asked, "Are you mad?" Mad replied, "Yes, I am Mad." The policeman then asked, "Don't you have a brain?" Mad replied, "Brain is outside sir."
Anonymous
Why did the chicken cross the playground? To get to the other slide!!
My step dad
Q: How many politicians does it take to change a light bulb?
A: Two: one to change it and another one to change it back again.
TheLaughFactory
Q: What's the best thing about Switzerland?
A: I don't know, but the flag is a big plus.
TheLaughFactory
Two lawyers walking through the woods spotted a vicious looking bear. The first lawyer immediately opened his briefcase, pulled out a pair of sneakers and started putting them on.The second lawyer looked at him and said, "You're crazy! You'll never be able to outrun that bear!" "I don't have to," the first lawyer replied. "I only have to outrun you."
TheLaughFactory