Categories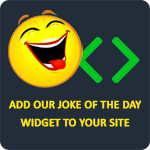 Q: A cowboy left Montana to go to Texas on Friday and came back on Friday. How did he do it?
A: He named his horse Friday.
Anonymous
Q: What did one toilet say to the other toilet?
A: You look a bit flushed.
Anonymous
A man lives and works in the same building. Every day he takes the elevator from the 10th floor down to the 1st floor where he works. At the end of the day he rides from the 1st floor up to the 7th floor and takes the stairs the rest of the way. Why? He is a dwarf and can't reach the 10th floor button.
Anonymous
Q: What did Cinderella say when her photos did not show up? A: "Someday my prints will come."
jayda
Q: How do you make the number seven even?

A: Drop the "s."
Anonymous