Categories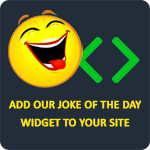 Q: How many politicians does it take to change a light bulb?
A: Two: one to change it and another one to change it back again.
TheLaughFactory
How many snowboarders does it take to screw in a lightbulb? 50: 3 to die trying, 1 to actually pull it off, and 46 other to say, "man, I could do that!"
dherter
Two lawyers walking through the woods spotted a vicious looking bear. The first lawyer immediately opened his briefcase, pulled out a pair of sneakers and started putting them on.The second lawyer looked at him and said, "You're crazy! You'll never be able to outrun that bear!" "I don't have to," the first lawyer replied. "I only have to outrun you."
TheLaughFactory
Q: What's the best thing about Switzerland?
A: I don't know, but the flag is a big plus.
TheLaughFactory
Q: Why did the skeleton cross the road?
A: To get to the body shop.
Lucyfaith16