Categories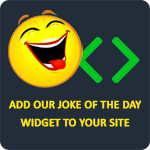 A bank robber pulls out gun points it at the teller, and says, "Give me all the money or you're geography!" The puzzled teller replies, "Did you mean to say 'or you're history?'" The robber says, "Don't change the subject!"
Darkrose300
If the right side of the brain controls the left side of the body, then lefties are the only ones in their right mind.
Mark My Words
A man hasn't been feeling well, so he goes to his doctor for a complete checkup. Afterward, the doctor comes out with the results. "I'm afraid I have some very bad news," the doctor says. "You're dying, and you don't have much time left." "Oh, that's terrible!" says the man. "How long have I got?" "Ten," the doctor says sadly. "Ten?" the man asks. "Ten what? Months? Weeks? What?!" "Nine..."
TheLaughFactory
Q: What did the cholo say when the house fell on him?
A: "Get off me, homes!"
Brian Reppin Sur 13
A Spanish captain was walking on his ship when a soldier rushes to him and exclaims, "An enemy ship is approaching us!" The captain replies calmly, "Go get my red shirt." The soldier gets the shirt for the captain. The enemy ship comes in and heavy rounds of fire are exchanged. Finally, the Spaniards win. The soldier asks, "Congrats sir, but why the red shirt?" The captain replies, "If I got injured, my blood shouldn't be seen, as I didn't want my men to lose hope." Just then, another soldier runs up and says, "Sir, we just spotted another twenty enemy ships!" The captain calmly replies, "Go bring my yellow pants."
Anonymous