Categories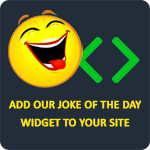 A drunk walks into a bar with jumper cables around his neck. The bartender says, "You can stay but don't try to start anything."
Anonymous
Q: What nails do carpenters hate to hit?
A: Fingernails.
TheLaughFactory
A boy with a monkey on his shoulder was walking down the road when he passed a policeman who said, "Now, now young lad, I think you had better take that monkey the zoo." The next day, the boy was walking down the road with the monkey on his shoulder again, when he passed the same policeman. The policeman said, "Hey there, I thought I told you to take that money to the zoo!" The boy answered, "I did! Today I'm taking him to the cinema."
Anonymous
At the doctor's office, Tom was getting a check up. "I have good news and bad news," says the doctor. "The good news is you have 24 hours left to live." Tom replies, "That's the good news?!" Then the doctor says, "The bad news is I should have told you that yesterday."
Anonymous
A blonde and a redhead have a ranch. They have just lost their bull. The women need to buy another, but only have $500. The redhead tells the blonde, "I will go to the market and see if I can find one for under that amount. If I can, I will send you a telegram." She goes to the market and finds one for $499. Having only one dollar left, she goes to the telegraph office and finds out that it costs one dollar per word. She is stumped on how to tell the blonde to bring the truck and trailer. Finally, she tells the telegraph operator to send the word "comfortable." Skeptical, the operator asks, "How will she know to come with the trailer from just that word?" The redhead replies, "She's a blonde so she reads slow: 'Come for ta bull.'"
Anonymous