Categories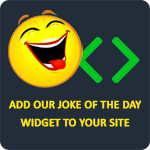 Q: Did your hear about the man with a broken left arm and broken left leg?
A: Don't worry he's "ALRIGHT" now!
Brucey
Q: What starts with E, ends with E, and has only 1 letter in it?
A: Envelope.
hatcher
Q: What do computers eat for a snack?
A: Microchips!
Samanthas Awesome Jokes
Kid 1: "Hey, I bet you're still a virgin."
Kid 2: "Yeah, I was a virgin until last night ."
Kid 1: "As if."
Kid 2: "Yeah, just ask your sister."
Kid 1: "I don't have a sister."
Kid 2: "You will in about nine months."
Achtung
A man hasn't been feeling well, so he goes to his doctor for a complete checkup. Afterward, the doctor comes out with the results. "I'm afraid I have some very bad news," the doctor says. "You're dying, and you don't have much time left." "Oh, that's terrible!" says the man. "How long have I got?" "Ten," the doctor says sadly. "Ten?" the man asks. "Ten what? Months? Weeks? What?!" "Nine..."
Roberto