Categories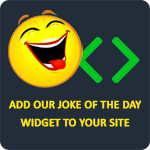 So two Irishmen are traveling to Australia. Before they leave home, one of their dads gives them both a bit of advice: "You watch them Aussie cab drivers. They'll rob you blind. Don't you go paying them what they ask. You haggle." At the Sydney airport, the Irishmen catch a cab to their hotel. When they reach their destination, the cabbie says, "That'll be twenty dollars, lads." "Oh no you don't! My dad warned me about you. You'll only be getting fifteen dollars from me," says one of the men. "And you'll only be getting fifteen from me too," adds the other.
Rústi Strønzö
A man went to his lawyer and told him, "My neighbor owes me $500 and he won't pay up. What should I do?" "Do you have any proof he owes you the money?" asked the lawyer. "Nope," replied the man. "OK, then write him a letter asking him for the $5,000 he owed you," said the lawyer. "But it's only $500," replied the man. "Precisely. That's what he will reply and then you'll have your proof!"
Gerald H. Curcio
A bank robber pulls out gun points it at the teller, and says, "Give me all the money or you're geography!" The puzzled teller replies, "Did you mean to say 'or you're history?'" The robber says, "Don't change the subject!"
Darkrose300
If the right side of the brain controls the left side of the body, then lefties are the only ones in their right mind.
Mark My Words
A man hasn't been feeling well, so he goes to his doctor for a complete checkup. Afterward, the doctor comes out with the results. "I'm afraid I have some very bad news," the doctor says. "You're dying, and you don't have much time left." "Oh, that's terrible!" says the man. "How long have I got?" "Ten," the doctor says sadly. "Ten?" the man asks. "Ten what? Months? Weeks? What?!" "Nine..."
TheLaughFactory