Categories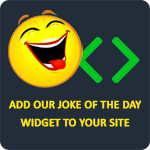 A teacher asked her students to use the word "beans" in a sentence. "My father grows beans," said one girl. "My mother cooks beans," said a boy. A third student spoke up, "We are all human beans."
XD XD XD XD
Q: Why cant you hear a pterodactyl pee? A: Because the "p" is silent.
Anonymous
I'm thinking of becoming a hitman... I heard they make a killing.
Anonymous
Q: What do you say to a lollipop when you throw it away?
A: "So long sucker!"
Anonymous
A redneck's last words are always, "Hey y'all, watch this!"
Anonymous