Categories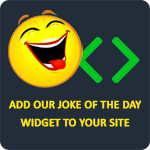 A redneck's last words are always, "Hey y'all, watch this!"
Anonymous
Q: What happens when you cross a shark with a cow?
A: I don't know but I wouldn't milk it.
Ahadito
How many snowboarders does it take to screw in a lightbulb? 50: 3 to die trying, 1 to actually pull it off, and 46 other to say, "man, I could do that!"
dherter
Why do hummingbirds hum? Because they don't know the words.
typical joker
A teacher asked her students to use the word "beans" in a sentence. "My father grows beans," said one girl. "My mother cooks beans," said a boy. A third student spoke up, "We are all human beans."
XD XD XD XD