Categories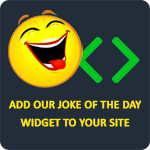 Q: What did one streetlight say to the other?
A: Don't look, I'm changing.
super midget
There were 3 men in the desert. They all wanted something to cool them down. One brought a pail of water. The second brought an umbrella. The third took out a car door. The other two said,"Why do you have a car door?" The person said, "So we could roll the windows down when we get hot!"
Anonymous
A ham sandwich walks into a bar. The bartender says, "Sorry, we don't serve lunch here."
Nicklass
Q: Why did the razor cross the face?
A: To get to the other sideburn.
Al-trocious
Q: What did the lawyer name his daughter?
A: Sue.
cool boi