Categories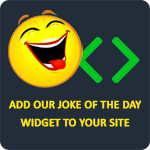 Q: Why did the skeleton cross the road?
A: To get to the body shop.
Lucyfaith16
"Johnny, why did you kick your brother in the stomach?" exclaimed the angry mother. "It was pure accident, Mama. He turned around."
TheLaughFactory
Late one night, a preacher was driving on a country road and had a wreck. A farmer stopped and said, "Sir, are you okay?" The preacher said, "Yes, I had the Lord riding with me." The farmer said, "Well, you better let him ride with me, because you're gonna kill him."
Anonymous
Q: Why did King Kong climb the Empire State Building?
A: He couldn't fit in the elevator
TheLaughFactory
Q: Did you hear about the guy who dreamed he was eating a giant marshmallow?
A: When he woke up, his pillow was gone.
joejoej13