Categories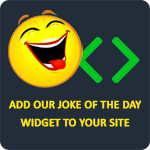 A blonde and a redhead have a ranch. They have just lost their bull. The women need to buy another, but only have $500. The redhead tells the blonde, "I will go to the market and see if I can find one for under that amount. If I can, I will send you a telegram." She goes to the market and finds one for $499. Having only one dollar left, she goes to the telegraph office and finds out that it costs one dollar per word. She is stumped on how to tell the blonde to bring the truck and trailer. Finally, she tells the telegraph operator to send the word "comfortable." Skeptical, the operator asks, "How will she know to come with the trailer from just that word?" The redhead replies, "She's a blonde so she reads slow: 'Come for ta bull.'"
Anonymous
Brunette: "Where were you born?"
Blonde: "The United States."
Brunette: "Which part?"
Blonde: "My whole body."
Anonymous
Why did the chicken cross the playground? To get to the other slide!!
My step dad
A priest, a minister, and a rabbi want to see who's best at his job. So they each go into the woods, find a bear, and attempt to convert it. Later they get together. The priest begins: "When I found the bear, I read to him from the Catechism and sprinkled him with holy water. Next week is his first communion." "I found a bear by the stream," says the minister, "and preached God's holy word. The bear was so mesmerized that he let me baptize him." They both look down at the rabbi, who is lying on a gurney in a body cast. "Looking back," he says, "maybe I shouldn't have started with the circumcision."
TheLaughFactory
A woman is at a grocery store. She goes to the clerk to purchase her groceries. The clerk looks at her items and sees a carton of eggs, a gallon of milk, and a head of lettuce. He says to the woman, "You must be single." The woman was surprised & replies, "Yes, how did you know?" The clerk answers, "Because you're ugly."
SoftWars