Categories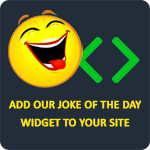 A man walks out on his front porch one day and sees a gorilla in the tree on his front lawn. He calls animal control and about an hour later a man shows up with a ladder, a pit bull, and a shotgun. The animal control employee tells the man, "I'm here to get the gorilla out of your tree. I'm going to use this ladder to climb up the tree and shake the branch the gorilla is on to knock him to the ground. The pit bull is trained to go after anything that falls from the tree and bites their balls which calms the animal down so I can put him in the truck." The man says "Okay, I see what the ladder and the pit bull are for but what is the shotgun for?" The animal control employee says, "Oh, that's for you. In case I fall out of the tree instead of the gorilla, shoot the dog."
Dave
A man went to his lawyer and told him, "My neighbor owes me $500 and he won't pay up. What should I do?" "Do you have any proof he owes you the money?" asked the lawyer. "Nope," replied the man. "OK, then write him a letter asking him for the $5,000 he owed you," said the lawyer. "But it's only $500," replied the man. "Precisely. That's what he will reply and then you'll have your proof!"
Gerald H. Curcio
Teacher: "What is the chemical formula for water?"
Student: "HIJKLMNO."
Teacher: "What are you talking about?"
Student: "Yesterday you said it's H to O!"
Deyc Daveyton
Bob: "Holy crap, I just fell off a 50 ft ladder."
Jim: "Oh my God, are you okay?"
Bob: "Yeah it's a good thing I fell off the first step."
Anonymous
So two Irishmen are traveling to Australia. Before they leave home, one of their dads gives them both a bit of advice: "You watch them Aussie cab drivers. They'll rob you blind. Don't you go paying them what they ask. You haggle." At the Sydney airport, the Irishmen catch a cab to their hotel. When they reach their destination, the cabbie says, "That'll be twenty dollars, lads." "Oh no you don't! My dad warned me about you. You'll only be getting fifteen dollars from me," says one of the men. "And you'll only be getting fifteen from me too," adds the other.
Rústi Strønzö