Categories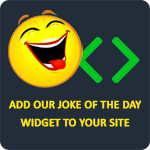 Q: What did the lawyer name his daughter?
A: Sue.
cool boi
Q: What says "Eoo?"
A: A cow with no lips.
joke bank
A little girl and her older brother were visiting their grandfather's farm. The older brother decided to play a trick on his younger sister. He told her that he discovered a man-eating chicken. The girl was frightened, and ran inside in fear. Then the older brother heard his little sister scream. He ran inside immediately. She was screaming at their grandfather, who was chowing down on a plate of fried chicken. "What is it?" he asked. The sister turned to him in fear and said," It- it's- IT'S A MAN EATING CHICKEN!!!"
ChickenFingerz2000
Q: Why did the skeleton cross the road?
A: To get to the body shop.
Lucyfaith16
Question: What did one toilet roll say to the other toilet roll?
Answer: "People keep on ripping me off!"
Anonymous