Categories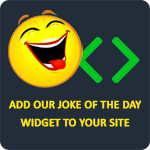 Q: What did the lawyer name his daughter?
A: Sue.
cool boi
Q: What says "Eoo?"
A: A cow with no lips.
joke bank
Question: What did one toilet roll say to the other toilet roll?
Answer: "People keep on ripping me off!"
Anonymous
Q: What do you call a duck that steals?
A: A Robber Duck.
SAM&THEYSEE;+KARMA
Two Eskimos sitting in a kayak were chilly, so they lit a fire in the craft. Unsurprisingly it sank, proving once again that you can't have your kayak and heat it too.
TheLaughFactory