Categories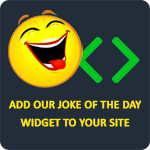 Question: What did one toilet roll say to the other toilet roll?
Answer: "People keep on ripping me off!"
Anonymous
Man: "Hey baby, what's your sign?"
Woman: "Do not enter."
Anonymous
Knock, knock.
Who's there?
Ach.
Ach who?
Bless you! Need a tissue?
Anonymous
A boy asks his father, "Dad, are bugs good to eat?" "That's disgusting. Don't talk about things like that over dinner," the dad replies. After dinner the father asks, "Now, son, what did you want to ask me?" "Oh, nothing," the boy says. "There was a bug in your soup, but now it's gone."
John Ocallaghan
Q: Why is England the wettest country?
A: Because so many kings and queens have been reigning there.
Joke maker