Categories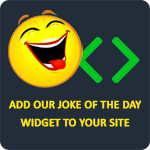 A mom and a son come home from the grocery store. The boy immediately empties out a box of animal crackers and the mom asks him why. The boy says, "You should not eat it if the seal is broken, so I'm looking for the seal."
Anonymous
What do cars eat on their toast? Traffic jam.
Anonymous
If a man opens the car door for his wife, you can be sure of one thing: either the car is new or the wife.
Anonymous
Q: Can a kangaroo jump higher than the Empire State Building?
A: Of course. The Empire State Building can't jump.
bobby
Q: How can you get four suits for a dollar?
A: Buy a deck of cards.
TheLaughFactory