Categories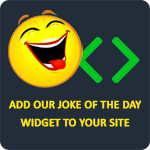 Q: Why did the skeleton cross the road?
A: To get to the body shop.
Lucyfaith16
A man was driving and saw a truck stalled on the side of the highway that had ten penguins standing next to it. The man pulled over and asked the truck driver if he needed any help. The truck driver replied, "If you can take these penguins to the zoo while I wait for AAA that will be great!" The man agreed and the penguins hopped into the back of his car. Two hours later, the trucker was back on the road again and decided to check on the penguins. He showed up at the zoo and they weren't there! He headed back into his truck and started driving around the town, looking for any sign of the penguins, the man, or his car. While driving past a movie theater, the truck driver spotted the guy walking out with the ten penguins. The truck driver yelled, "What are you doing? You were supposed to take them to the zoo!" The man replied, "I did and then I had some extra money so I took them to go see a movie."
solotime
Two lawyers walking through the woods spotted a vicious looking bear. The first lawyer immediately opened his briefcase, pulled out a pair of sneakers and started putting them on.The second lawyer looked at him and said, "You're crazy! You'll never be able to outrun that bear!" "I don't have to," the first lawyer replied. "I only have to outrun you."
TheLaughFactory
Late one night, a preacher was driving on a country road and had a wreck. A farmer stopped and said, "Sir, are you okay?" The preacher said, "Yes, I had the Lord riding with me." The farmer said, "Well, you better let him ride with me, because you're gonna kill him."
Anonymous
Q: Can a kangaroo jump higher than the Empire State Building?
A: Of course. The Empire State Building can't jump.
bobby