Categories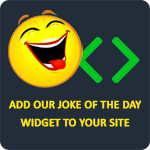 A priest, a minister, and a rabbi want to see who's best at his job. So they each go into the woods, find a bear, and attempt to convert it. Later they get together. The priest begins: "When I found the bear, I read to him from the Catechism and sprinkled him with holy water. Next week is his first communion." "I found a bear by the stream," says the minister, "and preached God's holy word. The bear was so mesmerized that he let me baptize him." They both look down at the rabbi, who is lying on a gurney in a body cast. "Looking back," he says, "maybe I shouldn't have started with the circumcision."
TheLaughFactory
Q: How do trees access the internet?
A: They log in.
Kimberly Mauldin
A drunk walks into a bar with jumper cables around his neck. The bartender says, "You can stay but don't try to start anything."
Anonymous
A Spanish captain was walking on his ship when a soldier rushes to him and exclaims, "An enemy ship is approaching us!" The captain replies calmly, "Go get my red shirt." The soldier gets the shirt for the captain. The enemy ship comes in and heavy rounds of fire are exchanged. Finally, the Spaniards win. The soldier asks, "Congrats sir, but why the red shirt?" The captain replies, "If I got injured, my blood shouldn't be seen, as I didn't want my men to lose hope." Just then, another soldier runs up and says, "Sir, we just spotted another twenty enemy ships!" The captain calmly replies, "Go bring my yellow pants."
Anonymous
Q: What is the tallest building in the entire world?
A: The library, because it has so many stories.
Razor