Categories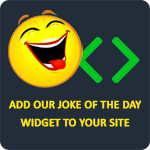 Late one night, a preacher was driving on a country road and had a wreck. A farmer stopped and said, "Sir, are you okay?" The preacher said, "Yes, I had the Lord riding with me." The farmer said, "Well, you better let him ride with me, because you're gonna kill him."
Anonymous
Q: How can you get four suits for a dollar?
A: Buy a deck of cards.
TheLaughFactory
Q: Why cant you hear a pterodactyl pee? A: Because the "p" is silent.
Anonymous
Q: Why is a river rich? A: Because it has two banks.
ISHA KHANNA
Wise man say, "Man who go to bed with itchy butt wake up with smelly finger."
NoOne