Categories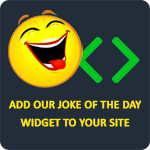 A redneck's last words are always, "Hey y'all, watch this!"
Anonymous
Q: If an electric train is traveling north-by-northeast at 59 MPH, and the wind is blowing west at 18 MPH, which way is the smoke blowing? A: There is no smoke; it's an electric train.
Herobrine
Q: Why did the toilet paper roll down the hill? A: To get to the bottom.
firts grade humar
Q: What did the math book say to its therapist? A: I've got a lot of problems.
Suck my balls
Q: What do you call a man that has no shins? A: Tony.
Anonymous