Categories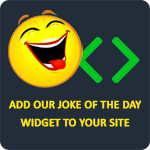 Q: How do trees access the internet?
A: They log in.
Kimberly Mauldin
Q: What nails do carpenters hate to hit?
A: Fingernails.
TheLaughFactory
Why did the chicken cross the playground? To get to the other slide!!
My step dad
Q: What did the big chimney say to the little chimney?
A: "You're too young to smoke."
Terence Olivier
If Mary had Jesus, and Jesus is the lamb of God, does that mean Mary had a little lamb?
la awsome