Categories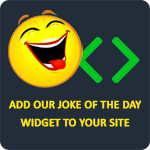 Man: "Hey baby, what's your sign?"
Woman: "Do not enter."
Anonymous
Knock, knock.
Who's there?
Ach.
Ach who?
Bless you! Need a tissue?
Anonymous
Q: Why is England the wettest country?
A: Because so many kings and queens have been reigning there.
Joke maker
Q: Have you heard about the new restaurant called Karma?
A: There's no menu; you get what you deserve.
TheLaughFactory
If Mary had Jesus, and Jesus is the lamb of God, does that mean Mary had a little lamb?
la awsome