Categories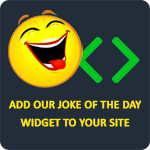 Q: Can a kangaroo jump higher than the Empire State Building?
A: Of course. The Empire State Building can't jump.
bobby
Bob: "Holy crap, I just fell off a 50 ft ladder."
Jim: "Oh my God, are you okay?"
Bob: "Yeah it's a good thing I fell off the first step."
Anonymous
Q: Why does Humpty Dumpty love autumn?
A: Because Humpty Dumpty had a great fall.
TheLaughFactory
Q: What do you say to a lollipop when you throw it away?
A: "So long sucker!"
Anonymous
Q: Who earns a living by driving his customers away?
A: A taxi driver.
TheLaughFactory