Categories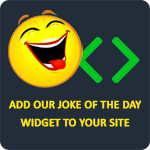 Q: What nails do carpenters hate to hit?
A: Fingernails.
TheLaughFactory
Why did the chicken cross the playground? To get to the other slide!!
My step dad
If Mary had Jesus, and Jesus is the lamb of God, does that mean Mary had a little lamb?
la awsome
My sister asked me to take off her clothes. So I took off her shirt. Then she said, "Take off my skirt." So I took off her skirt. "Take off my shoes." I took off her shoes. "Now take off my bra and panties." So I took them off. Then she looked at me and said, "I don't want to catch you wearing my things ever again."
Anonymous
Man: "Hey baby, what's your sign?"
Woman: "Do not enter."
Anonymous