Categories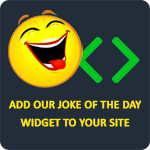 Q: What do cars eat on their toast?
A: Petroleum jelly.
poop
A woman is at a grocery store. She goes to the clerk to purchase her groceries. The clerk looks at her items and sees a carton of eggs, a gallon of milk, and a head of lettuce. He says to the woman, "You must be single." The woman was surprised & replies, "Yes, how did you know?" The clerk answers, "Because you're ugly."
SoftWars
Q: What did Cinderella say when her photos did not show up? A: "Someday my prints will come."
jayda
Q: What did one toilet say to the other toilet?
A: You look a bit flushed.
Anonymous
Teacher: "Why does a stone sink in water when you thrown it in?"
Student: "Because it does not know how to swim."
Anonymous