Categories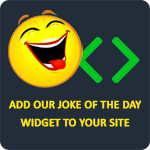 Q: If April showers bring may flowers, what do mayflowers bring?
A: Pilgrims!
Anonymous
Q: Can a kangaroo jump higher than the Empire State Building?
A: Of course. The Empire State Building can't jump.
bobby
A mom and a son come home from the grocery store. The boy immediately empties out a box of animal crackers and the mom asks him why. The boy says, "You should not eat it if the seal is broken, so I'm looking for the seal."
Anonymous
Q: Did you hear about the guy who dreamed he was eating a giant marshmallow?
A: When he woke up, his pillow was gone.
joejoej13
If a man opens the car door for his wife, you can be sure of one thing: either the car is new or the wife.
Anonymous