Categories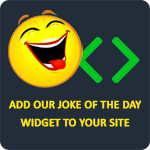 Q: Why is England the wettest country?
A: Because so many kings and queens have been reigning there.
Joke maker
Q: Have you heard about the new restaurant called Karma?
A: There's no menu; you get what you deserve.
TheLaughFactory
A woman is at a grocery store. She goes to the clerk to purchase her groceries. The clerk looks at her items and sees a carton of eggs, a gallon of milk, and a head of lettuce. He says to the woman, "You must be single." The woman was surprised & replies, "Yes, how did you know?" The clerk answers, "Because you're ugly."
SoftWars
A woman was taking an afternoon nap. When she woke up, she told her husband, "I just dreamed that you gave me a pearl necklace. What do you think it means?" "You'll know tonight," he said. That evening, the man came home with a small package and gave it to his wife. Delighted, she opened it to find a book entitled "The Meaning of Dreams."
Hayden Thomas
Question: What did one toilet roll say to the other toilet roll?
Answer: "People keep on ripping me off!"
Anonymous