Categories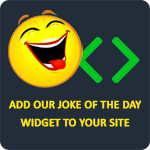 Q: Why did King Kong climb the Empire State Building?
A: He couldn't fit in the elevator
TheLaughFactory
Q: Can a kangaroo jump higher than the Empire State Building?
A: Of course. The Empire State Building can't jump.
bobby
Nurse: "The invisible man is here for his appointment."
Doctor: "Tell him I'm sorry I can't see him right now."
Skylar May
What do cars eat on their toast? Traffic jam.
Anonymous
If a man opens the car door for his wife, you can be sure of one thing: either the car is new or the wife.
Anonymous