Categories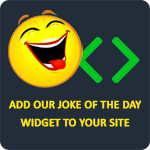 Q: What happens when you cross a shark with a cow?
A: I don't know but I wouldn't milk it.
Ahadito
Q: Why did Cinderella fail at basketball?
A: Because she had a pumpkin for a coach.
EMILYMACARONI
Q: What does a nosy pepper do? A: It gets jalapeño business.
MrSamoa684
Q: Why did the toilet paper roll down the hill? A: To get to the bottom.
firts grade humar
Q: Where do eggplants come from?
A: Chicken plants.
Anonymous