Categories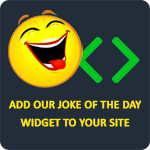 A woman is at a grocery store. She goes to the clerk to purchase her groceries. The clerk looks at her items and sees a carton of eggs, a gallon of milk, and a head of lettuce. He says to the woman, "You must be single." The woman was surprised & replies, "Yes, how did you know?" The clerk answers, "Because you're ugly."
SoftWars
Q: Have you heard about the new restaurant called Karma?
A: There's no menu; you get what you deserve.
TheLaughFactory
If Mary had Jesus, and Jesus is the lamb of God, does that mean Mary had a little lamb?
la awsome
Q: What's the best thing about Switzerland?
A: I don't know, but the flag is a big plus.
TheLaughFactory
Q: What did the banana say to the doctor?
A: "I'm not peeling well."
TheLaughFactory