Categories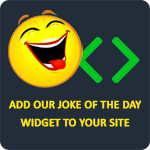 At the doctor's office, Tom was getting a check up. "I have good news and bad news," says the doctor. "The good news is you have 24 hours left to live." Tom replies, "That's the good news?!" Then the doctor says, "The bad news is I should have told you that yesterday."
Anonymous
A woman is at a grocery store. She goes to the clerk to purchase her groceries. The clerk looks at her items and sees a carton of eggs, a gallon of milk, and a head of lettuce. He says to the woman, "You must be single." The woman was surprised & replies, "Yes, how did you know?" The clerk answers, "Because you're ugly."
SoftWars
Q: What did the big chimney say to the little chimney?
A: "You're too young to smoke."
Terence Olivier
My friend told me he had the body of a Greek god. I had to explain to him that Buddha is not Greek.
Cuba
My sister asked me to take off her clothes. So I took off her shirt. Then she said, "Take off my skirt." So I took off her skirt. "Take off my shoes." I took off her shoes. "Now take off my bra and panties." So I took them off. Then she looked at me and said, "I don't want to catch you wearing my things ever again."
Anonymous