Categories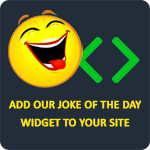 My sister asked me to take off her clothes. So I took off her shirt. Then she said, "Take off my skirt." So I took off her skirt. "Take off my shoes." I took off her shoes. "Now take off my bra and panties." So I took them off. Then she looked at me and said, "I don't want to catch you wearing my things ever again."
Anonymous
A drunk walks into a bar with jumper cables around his neck. The bartender says, "You can stay but don't try to start anything."
Anonymous
Q: What is the tallest building in the entire world?
A: The library, because it has so many stories.
Razor
Q: What did the big chimney say to the little chimney?
A: "You're too young to smoke."
Terence Olivier
At the doctor's office, Tom was getting a check up. "I have good news and bad news," says the doctor. "The good news is you have 24 hours left to live." Tom replies, "That's the good news?!" Then the doctor says, "The bad news is I should have told you that yesterday."
Anonymous