Categories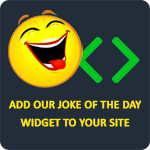 A woman was taking an afternoon nap. When she woke up, she told her husband, "I just dreamed that you gave me a pearl necklace. What do you think it means?" "You'll know tonight," he said. That evening, the man came home with a small package and gave it to his wife. Delighted, she opened it to find a book entitled "The Meaning of Dreams."
Hayden Thomas
Q: What's the best thing about Switzerland?
A: I don't know, but the flag is a big plus.
TheLaughFactory
Question: What did one toilet roll say to the other toilet roll?
Answer: "People keep on ripping me off!"
Anonymous
Knock, knock.
Who's there?
Ach.
Ach who?
Bless you! Need a tissue?
Anonymous
A young boy came home from school and told his mother, "I had a big fight with my classmate. He called me a sissy." The mother asked, "What did you do?" The boy replied, "I hit him with my purse!"
Anonymous