Categories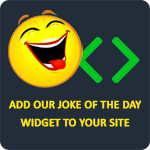 A mom and a son come home from the grocery store. The boy immediately empties out a box of animal crackers and the mom asks him why. The boy says, "You should not eat it if the seal is broken, so I'm looking for the seal."
Anonymous
Q: Did you hear about the guy who dreamed he was eating a giant marshmallow?
A: When he woke up, his pillow was gone.
joejoej13
Q: What stays in one corner but travels around the world?
A: A stamp.
Maja Zajac
A man walks out on his front porch one day and sees a gorilla in the tree on his front lawn. He calls animal control and about an hour later a man shows up with a ladder, a pit bull, and a shotgun. The animal control employee tells the man, "I'm here to get the gorilla out of your tree. I'm going to use this ladder to climb up the tree and shake the branch the gorilla is on to knock him to the ground. The pit bull is trained to go after anything that falls from the tree and bites their balls which calms the animal down so I can put him in the truck." The man says "Okay, I see what the ladder and the pit bull are for but what is the shotgun for?" The animal control employee says, "Oh, that's for you. In case I fall out of the tree instead of the gorilla, shoot the dog."
Dave
A young boy came home from school and told his mother, "I had a big fight with my classmate. He called me a sissy." The mother asked, "What did you do?" The boy replied, "I hit him with my purse!"
Anonymous