Categories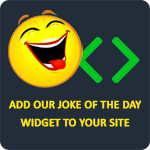 Q: What did the lawyer name his daughter?
A: Sue.
cool boi
Q: A cowboy left Montana to go to Texas on Friday and came back on Friday. How did he do it?
A: He named his horse Friday.
Anonymous
Teacher: "What is the chemical formula for water?"
Student: "HIJKLMNO."
Teacher: "What are you talking about?"
Student: "Yesterday you said it's H to O!"
Deyc Daveyton
A little girl and her older brother were visiting their grandfather's farm. The older brother decided to play a trick on his younger sister. He told her that he discovered a man-eating chicken. The girl was frightened, and ran inside in fear. Then the older brother heard his little sister scream. He ran inside immediately. She was screaming at their grandfather, who was chowing down on a plate of fried chicken. "What is it?" he asked. The sister turned to him in fear and said," It- it's- IT'S A MAN EATING CHICKEN!!!"
ChickenFingerz2000
Old Man: "Are you the young fellow who sold me this tube yesterday and told me it was toothpaste?"
Clerk: "Yes sir."
Old Man: "Well, I tried for half an hour this morning and I couldn't get my teeth to stick in."
SHAYNA CARVER