Categories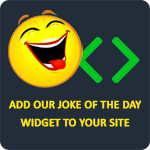 A woman was taking an afternoon nap. When she woke up, she told her husband, "I just dreamed that you gave me a pearl necklace. What do you think it means?" "You'll know tonight," he said. That evening, the man came home with a small package and gave it to his wife. Delighted, she opened it to find a book entitled "The Meaning of Dreams."
Hayden Thomas
Man: "Hey baby, what's your sign?"
Woman: "Do not enter."
Anonymous
Q: What's the best thing about Switzerland?
A: I don't know, but the flag is a big plus.
TheLaughFactory
Q: Why is England the wettest country?
A: Because so many kings and queens have been reigning there.
Joke maker
Tom was at the hospital visiting with his best friend Larry who was dying. Tom asked, "If there is baseball in heaven will you come back and tell me?" Larry nodded yes just as he passed away. That night while Tom was sleeping, he heard Larry's voice in a dream, "Tom..." "Larry! What is it?!" asked Tom. "I have good news and bad news from heaven." "What's the good news?" "There is baseball in heaven after all, but the bad news is you're pitching on Tuesday."
Anonymous