Categories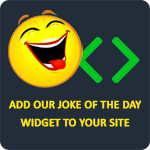 Q: Why did Cinderella fail at basketball?
A: Because she had a pumpkin for a coach.
EMILYMACARONI
A little girl and her older brother were visiting their grandfather's farm. The older brother decided to play a trick on his younger sister. He told her that he discovered a man-eating chicken. The girl was frightened, and ran inside in fear. Then the older brother heard his little sister scream. He ran inside immediately. She was screaming at their grandfather, who was chowing down on a plate of fried chicken. "What is it?" he asked. The sister turned to him in fear and said," It- it's- IT'S A MAN EATING CHICKEN!!!"
ChickenFingerz2000
Q: What does a nosy pepper do? A: It gets jalapeño business.
MrSamoa684
Q: Where do eggplants come from?
A: Chicken plants.
Anonymous
Q: Why did the toilet paper roll down the hill? A: To get to the bottom.
firts grade humar