Categories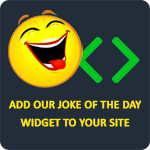 A young boy came home from school and told his mother, "I had a big fight with my classmate. He called me a sissy." The mother asked, "What did you do?" The boy replied, "I hit him with my purse!"
Anonymous
Nurse: "The invisible man is here for his appointment."
Doctor: "Tell him I'm sorry I can't see him right now."
Skylar May
My sister asked me to take off her clothes. So I took off her shirt. Then she said, "Take off my skirt." So I took off her skirt. "Take off my shoes." I took off her shoes. "Now take off my bra and panties." So I took them off. Then she looked at me and said, "I don't want to catch you wearing my things ever again."
Anonymous
Q: Why did King Kong climb the Empire State Building?
A: He couldn't fit in the elevator
TheLaughFactory
A little girl and her older brother were visiting their grandfather's farm. The older brother decided to play a trick on his younger sister. He told her that he discovered a man-eating chicken. The girl was frightened, and ran inside in fear. Then the older brother heard his little sister scream. He ran inside immediately. She was screaming at their grandfather, who was chowing down on a plate of fried chicken. "What is it?" he asked. The sister turned to him in fear and said," It- it's- IT'S A MAN EATING CHICKEN!!!"
ChickenFingerz2000