Categories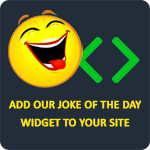 Knock, knock.
Who's there?
Ach.
Ach who?
Bless you! Need a tissue?
Anonymous
A young boy came home from school and told his mother, "I had a big fight with my classmate. He called me a sissy." The mother asked, "What did you do?" The boy replied, "I hit him with my purse!"
Anonymous
Question: What did one toilet roll say to the other toilet roll?
Answer: "People keep on ripping me off!"
Anonymous
Two little boys were known troublemakers, stealing everything they could get their hands, even from the church. One day a priest stopped one of the boys and asked, "Where is God?" The boy shrugged and the priest repeated, "Where is God?" The boy ran out of the cathedral crying to his home where he hid in a closet. Eventually his brother found him and asked, "What's wrong?" The crying boy replied, "We're in trouble now! God is missing and they think we took him!"
Anonymous
Q: What did the banana say to the doctor?
A: "I'm not peeling well."
TheLaughFactory