Categories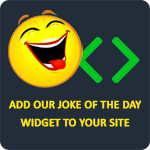 Q: Why did the man take toilet paper the party?
A: Because he was a party pooper.
Anonymous
Q: Why shouldn't you write with a broken pencil?
A: Because it's pointless!
Anonymous
Knock knock.
Who's there?
Phil.
Phil who?
Phil up the tire. It needs more air.
Anonymous
Q: What did the astronaut say when he wanted to be alone? A: "Give me some space!"
Anonymous
Q: What did one hat say to another?
A: You stay here, I'll go on a head.
Anonymous