Categories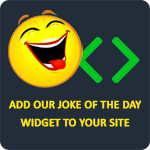 A young boy came home from school and told his mother, "I had a big fight with my classmate. He called me a sissy." The mother asked, "What did you do?" The boy replied, "I hit him with my purse!"
Anonymous
If Mary had Jesus, and Jesus is the lamb of God, does that mean Mary had a little lamb?
la awsome
Why did the chicken cross the playground? To get to the other slide!!
My step dad
A woman is at a grocery store. She goes to the clerk to purchase her groceries. The clerk looks at her items and sees a carton of eggs, a gallon of milk, and a head of lettuce. He says to the woman, "You must be single." The woman was surprised & replies, "Yes, how did you know?" The clerk answers, "Because you're ugly."
SoftWars
A woman was taking an afternoon nap. When she woke up, she told her husband, "I just dreamed that you gave me a pearl necklace. What do you think it means?" "You'll know tonight," he said. That evening, the man came home with a small package and gave it to his wife. Delighted, she opened it to find a book entitled "The Meaning of Dreams."
Hayden Thomas