Categories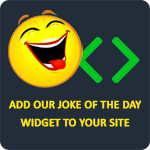 Patient: "I get a terrible pain in my eye when I drink a cup of coffee."
Doctor: "Try taking the spoon out."
Anonymous
Bob: "Holy crap, I just fell off a 50 ft ladder."
Jim: "Oh my God, are you okay?"
Bob: "Yeah it's a good thing I fell off the first step."
Anonymous
Wise man say, "Man who go to bed with itchy butt wake up with smelly finger."
NoOne
Why do hummingbirds hum? Because they don't know the words.
typical joker
A little girl and her older brother were visiting their grandfather's farm. The older brother decided to play a trick on his younger sister. He told her that he discovered a man-eating chicken. The girl was frightened, and ran inside in fear. Then the older brother heard his little sister scream. He ran inside immediately. She was screaming at their grandfather, who was chowing down on a plate of fried chicken. "What is it?" he asked. The sister turned to him in fear and said," It- it's- IT'S A MAN EATING CHICKEN!!!"
ChickenFingerz2000