Categories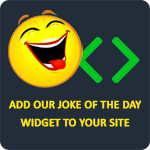 Q: How can you get four suits for a dollar?
A: Buy a deck of cards.
TheLaughFactory
A little girl and her older brother were visiting their grandfather's farm. The older brother decided to play a trick on his younger sister. He told her that he discovered a man-eating chicken. The girl was frightened, and ran inside in fear. Then the older brother heard his little sister scream. He ran inside immediately. She was screaming at their grandfather, who was chowing down on a plate of fried chicken. "What is it?" he asked. The sister turned to him in fear and said," It- it's- IT'S A MAN EATING CHICKEN!!!"
ChickenFingerz2000
Q: Why is a river rich? A: Because it has two banks.
ISHA KHANNA
Patient: "I get a terrible pain in my eye when I drink a cup of coffee."
Doctor: "Try taking the spoon out."
Anonymous
Q: Why cant you hear a pterodactyl pee? A: Because the "p" is silent.
Anonymous