Categories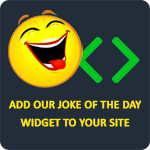 Q: Why do museums have old dinosaur bones?
A: Because they cant afford new ones.
TheLaughFactory
Q: What happens when you cross a shark with a cow?
A: I don't know but I wouldn't milk it.
Ahadito
A little girl and her older brother were visiting their grandfather's farm. The older brother decided to play a trick on his younger sister. He told her that he discovered a man-eating chicken. The girl was frightened, and ran inside in fear. Then the older brother heard his little sister scream. He ran inside immediately. She was screaming at their grandfather, who was chowing down on a plate of fried chicken. "What is it?" he asked. The sister turned to him in fear and said," It- it's- IT'S A MAN EATING CHICKEN!!!"
ChickenFingerz2000
Q: Why did Cinderella fail at basketball?
A: Because she had a pumpkin for a coach.
EMILYMACARONI
If the right side of the brain controls the left side of the body, then lefties are the only ones in their right mind.
Mark My Words