Categories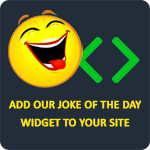 Q: How do you make the number seven even?

A: Drop the "s."
Anonymous
Q: What's red and bad for your teeth?
A: A brick.
Matt Rees
Teacher: "Why does a stone sink in water when you thrown it in?"
Student: "Because it does not know how to swim."
Anonymous
What goes up and down stairs with out moving? Carpet.
BLANK!!
Q: What did Cinderella say when her photos did not show up? A: "Someday my prints will come."
jayda