Categories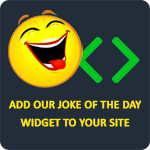 Q: What nails do carpenters hate to hit?
A: Fingernails.
TheLaughFactory
Q: Why is England the wettest country?
A: Because so many kings and queens have been reigning there.
Joke maker
Q: What's the best thing about Switzerland?
A: I don't know, but the flag is a big plus.
TheLaughFactory
Q: Why can't you trust an atom?
A: Because they make up everything.
Anonymous
Man: "Hey baby, what's your sign?"
Woman: "Do not enter."
Anonymous