Categories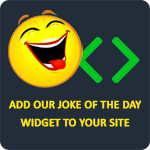 Q: If April showers bring may flowers, what do mayflowers bring?
A: Pilgrims!
Anonymous
Q: Why is the barn so noisy?
A: Because the cows have horns.
Anonymous
"Johnny, why did you kick your brother in the stomach?" exclaimed the angry mother. "It was pure accident, Mama. He turned around."
TheLaughFactory
Late one night, a preacher was driving on a country road and had a wreck. A farmer stopped and said, "Sir, are you okay?" The preacher said, "Yes, I had the Lord riding with me." The farmer said, "Well, you better let him ride with me, because you're gonna kill him."
Anonymous
Two lawyers walking through the woods spotted a vicious looking bear. The first lawyer immediately opened his briefcase, pulled out a pair of sneakers and started putting them on.The second lawyer looked at him and said, "You're crazy! You'll never be able to outrun that bear!" "I don't have to," the first lawyer replied. "I only have to outrun you."
TheLaughFactory