Categories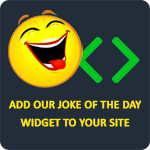 Q: What's the best thing about Switzerland?
A: I don't know, but the flag is a big plus.
TheLaughFactory
Q: Why is England the wettest country?
A: Because so many kings and queens have been reigning there.
Joke maker
A: I have the perfect son.
B: Does he smoke?
A: No, he doesn't.
B: Does he drink whiskey?
A: No, he doesn't.
B: Does he ever come home late?
A: No, he doesn't.
B: I guess you really do have the perfect son. How old is he?
A: He will be six months old next Wednesday.
tumblr jokr
Tom was at the hospital visiting with his best friend Larry who was dying. Tom asked, "If there is baseball in heaven will you come back and tell me?" Larry nodded yes just as he passed away. That night while Tom was sleeping, he heard Larry's voice in a dream, "Tom..." "Larry! What is it?!" asked Tom. "I have good news and bad news from heaven." "What's the good news?" "There is baseball in heaven after all, but the bad news is you're pitching on Tuesday."
Anonymous
Q: Have you heard about the new restaurant called Karma?
A: There's no menu; you get what you deserve.
TheLaughFactory