Categories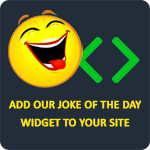 Q: Why did the toilet paper roll down the hill? A: To get to the bottom.
firts grade humar
If the right side of the brain controls the left side of the body, then lefties are the only ones in their right mind.
Mark My Words
Q: A cowboy left Montana to go to Texas on Friday and came back on Friday. How did he do it?
A: He named his horse Friday.
Anonymous
Q: What did the lawyer name his daughter?
A: Sue.
cool boi
Q: What did the green grape say to the purple grape?
A: "Breathe, stupid!"
saul90716