Categories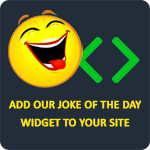 Q: Who earns a living by driving his customers away?
A: A taxi driver.
TheLaughFactory
Q: Why do Jewish mothers make great parole officers?
A: They never let anyone finish a sentence!
Bookworm
Q: What happens when you cross a shark with a cow?
A: I don't know but I wouldn't milk it.
Ahadito
Q: Why do centipedes have 100 legs?
A: So they can walk.
Anonymous
Q: Why do museums have old dinosaur bones?
A: Because they cant afford new ones.
TheLaughFactory