Categories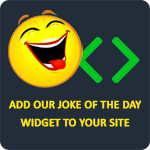 Q: Where do eggplants come from?
A: Chicken plants.
Anonymous
Q: Why did the toilet paper roll down the hill? A: To get to the bottom.
firts grade humar
Q: A cowboy left Montana to go to Texas on Friday and came back on Friday. How did he do it?
A: He named his horse Friday.
Anonymous
Q: What did the lawyer name his daughter?
A: Sue.
cool boi
Q: What did the green grape say to the purple grape?
A: "Breathe, stupid!"
saul90716