Categories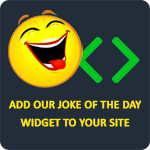 Q: Why did the school kids eat their homework?
A: Because their teacher told them it was a piece of cake.
capcon
Bob: "Holy crap, I just fell off a 50 ft ladder."
Jim: "Oh my God, are you okay?"
Bob: "Yeah it's a good thing I fell off the first step."
Anonymous
Q: Why is a river rich? A: Because it has two banks.
ISHA KHANNA
Q: How can you get four suits for a dollar?
A: Buy a deck of cards.
TheLaughFactory
Patient: "I get a terrible pain in my eye when I drink a cup of coffee."
Doctor: "Try taking the spoon out."
Anonymous