Categories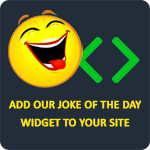 Knock, knock.
Who's there?
Ach.
Ach who?
Bless you! Need a tissue?
Anonymous
Question: What did one toilet roll say to the other toilet roll?
Answer: "People keep on ripping me off!"
Anonymous
There are three friends named Mad, Brain, and Fight. One day Fight went missing and his friends Mad and Brain started searching for him. Then Brain said, "Mad, let's file a missing person report with the police." When they were about to walk into the police station, Brain said, "Mad, you go and make the report. I will wait for you here." Mad said, "Okay." Mad walked in but no police officers paid attention to him. Then he saw a policeman drinking a cup of coffee. Mad went to the officer, smacked the table, and the cup of coffee flew in the air, landing in the officer's lap. Angry, the policeman asked, "Are you looking for a fight?" Mad replied, "Yes, I am." The policeman asked, "Are you mad?" Mad replied, "Yes, I am Mad." The policeman then asked, "Don't you have a brain?" Mad replied, "Brain is outside sir."
Anonymous
Nurse: "The invisible man is here for his appointment."
Doctor: "Tell him I'm sorry I can't see him right now."
Skylar May
Q: Why do Jewish mothers make great parole officers?
A: They never let anyone finish a sentence!
Bookworm