Categories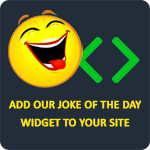 Bob: "Holy crap, I just fell off a 50 ft ladder."
Jim: "Oh my God, are you okay?"
Bob: "Yeah it's a good thing I fell off the first step."
Anonymous
Why do hummingbirds hum? Because they don't know the words.
typical joker
Q: What do you say to a lollipop when you throw it away?
A: "So long sucker!"
Anonymous
Q: Why do centipedes have 100 legs?
A: So they can walk.
Anonymous
Wise man say, "Man who go to bed with itchy butt wake up with smelly finger."
NoOne