Categories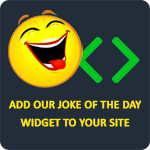 Q: Why couldn't the blonde add 10 + 5 on a calculator?
A: She couldn't find the "10" button.
dukieman
A proud and confident genius makes a bet with an idiot. The genius says, "Hey idiot, every question I ask you that you don't know the answer, you have to give me $5. And if you ask me a question and I can't answer yours I will give you $5,000." The idiot says, "Okay." The genius then asks, "How many continents are there in the world?" The idiot doesn't know and hands over the $5. The idiot says, "Now me ask: what animal stands with two legs but sleeps with three?" The genius tries and searches very hard for the answer but gives up and hands over the $5000. The genius says, "Dang it, I lost. By the way, what was the answer to your question?" The idiot hands over $5.
Anonymous
Q: What do you call a pig that does karate?
A: A pork chop.
TheLaughFactory
THREE TREES AND A WOODPECKER
Two tall trees, a birch and a beech, are growing in the woods. A small tree begins to grow between them, and the beech says to the birch, "Is that a son of a beech or a son of a birch?" The birch says he cannot tell, but just then a woodpecker lands on the sapling.

The birch says, "Woodpecker, you are a tree expert. Can you tell if that is a son of a beech or a son of a birch?"

The woodpecker takes a taste of the small tree and replies, "It is neither a son of a beech nor a son of a birch, It is, however, the best piece of ash I have ever poked my pecker into."

Now wipe that smile off your face.

Muddy1
Mr. and Mrs. Brown had two sons. One was named Mind Your Own Business & the other was named Trouble. One day the two boys decided to play hide and seek. Trouble hid while Mind Your Own Business counted to one hundred. Mind Your Own Business began looking for his brother behind garbage cans and bushes. Then he started looking in and under cars until a police man approached him and asked, "What are you doing?" "Playing a game," the boy replied. "What is your name?" the officer questioned. "Mind Your Own Business." Furious the policeman inquired, "Are you looking for trouble?!" The boy replied, "Why, yes."
Anonymous