Categories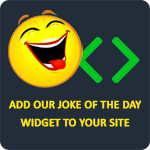 My friend thinks he is smart. He told me an onion is the only food that makes you cry, so I threw a coconut at his face.
funny jokes
Q: Why was six scared of seven?
A: Because seven "ate" nine.
Anonymous
Q: Why couldn't the blonde add 10 + 5 on a calculator?
A: She couldn't find the "10" button.
dukieman
A teacher asked her students to use the word "beans" in a sentence. "My father grows beans," said one girl. "My mother cooks beans," said a boy. A third student spoke up, "We are all human beans."
XD XD XD XD
In a Catholic school cafeteria, a nun places a note in front of a pile of apples, "Only take one. God is watching." Further down the line is a pile of cookies. A little boy makes his own note, "Take all you want. God is watching the apples."
pinktabby