Categories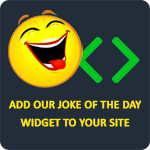 Q: Why was six scared of seven?
A: Because seven "ate" nine.
Anonymous
Q: Why couldn't the blonde add 10 + 5 on a calculator?
A: She couldn't find the "10" button.
dukieman
My friend thinks he is smart. He told me an onion is the only food that makes you cry, so I threw a coconut at his face.
funny jokes
In a Catholic school cafeteria, a nun places a note in front of a pile of apples, "Only take one. God is watching." Further down the line is a pile of cookies. A little boy makes his own note, "Take all you want. God is watching the apples."
pinktabby
A proud and confident genius makes a bet with an idiot. The genius says, "Hey idiot, every question I ask you that you don't know the answer, you have to give me $5. And if you ask me a question and I can't answer yours I will give you $5,000." The idiot says, "Okay." The genius then asks, "How many continents are there in the world?" The idiot doesn't know and hands over the $5. The idiot says, "Now me ask: what animal stands with two legs but sleeps with three?" The genius tries and searches very hard for the answer but gives up and hands over the $5000. The genius says, "Dang it, I lost. By the way, what was the answer to your question?" The idiot hands over $5.
Anonymous