Categories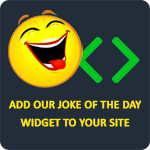 A drunk walks into a bar with jumper cables around his neck. The bartender says, "You can stay but don't try to start anything."
Anonymous
Late one night a burglar broke into a house and while he was sneaking around he heard a voice say, "Jesús is watching you." He looked around and saw nothing. He kept on creeping and again heard, "Jesús is watching you." In a dark corner, he saw a cage with a parrot inside. The burglar asked the parrot, "Was it you who said Jesús is watching me" The parrot replied, "Yes." Relieved, the burglar asked, "What is your name?" The parrot said, "Clarence." The burglar said, "That's a stupid name for a parrot. What idiot named you Clarence?" The parrot answered, "The same idiot that named the rottweiler Jesús."
Mysteryguy9871
Q: What nails do carpenters hate to hit?
A: Fingernails.
TheLaughFactory
Q: Why did King Kong climb the Empire State Building?
A: He couldn't fit in the elevator
TheLaughFactory
Q: What did the cholo say when the house fell on him?
A: "Get off me, homes!"
Brian Reppin Sur 13