Categories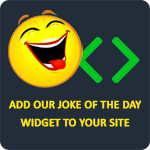 A Spanish captain was walking on his ship when a soldier rushes to him and exclaims, "An enemy ship is approaching us!" The captain replies calmly, "Go get my red shirt." The soldier gets the shirt for the captain. The enemy ship comes in and heavy rounds of fire are exchanged. Finally, the Spaniards win. The soldier asks, "Congrats sir, but why the red shirt?" The captain replies, "If I got injured, my blood shouldn't be seen, as I didn't want my men to lose hope." Just then, another soldier runs up and says, "Sir, we just spotted another twenty enemy ships!" The captain calmly replies, "Go bring my yellow pants."
Anonymous
A drunk walks into a bar with jumper cables around his neck. The bartender says, "You can stay but don't try to start anything."
Anonymous
There was this guy at a bar, just looking at his drink. He stays like that for a half hour. Then a big trouble making truck driver steps next to him, takes the drink from the guy, & just drinks it all down. The poor man starts crying. The truck driver says, "Come on man, I was just joking. Here, I'll buy you another drink. I just can't stand to see a man cry." "No, it's not that," the man replies, wiping his tears, "This day is the worst of my life. First, I oversleep & I go in late to my office. My outraged boss fires me. When I leave the building to go to my car, I find out it was stolen. The police say they can do nothing. I get a cab to go home, & when I get out, I remember I left my wallet. The cab driver just drives away. I go inside my house where I find my wife in bed with the gardener. I leave my home, come to this bar, & just when I was thinking about putting an end to my life, you show up & drink my poison."
Thommy53
Q: Did your hear about the man with a broken left arm and broken left leg?
A: Don't worry he's "ALRIGHT" now!
Brucey
Q: What did the cholo say when the house fell on him?
A: "Get off me, homes!"
Brian Reppin Sur 13