Categories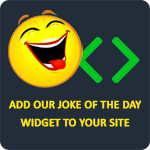 Q: Is Google male or female?
A: Female, because it doesn't let you finish a sentence before making a suggestion.
Montgomery2004
A bus full of ugly people had a head on collision with a truck. When they died, God granted all of them one wish. The first person said, "I want to be gorgeous." God snapped his fingers and it happened. The second person said the same thing and God did the same thing. This want on and on throughout the group. God noticed the last man in line was laughing hysterically. By the time God got to the last ten people, the last man was laughing and rolling on the ground. When the man's turn came, he laughed and said, "I wish they were all ugly again."
LOVE LAUGH FACTORY
A proud and confident genius makes a bet with an idiot. The genius says, "Hey idiot, every question I ask you that you don't know the answer, you have to give me $5. And if you ask me a question and I can't answer yours I will give you $5,000." The idiot says, "Okay." The genius then asks, "How many continents are there in the world?" The idiot doesn't know and hands over the $5. The idiot says, "Now me ask: what animal stands with two legs but sleeps with three?" The genius tries and searches very hard for the answer but gives up and hands over the $5000. The genius says, "Dang it, I lost. By the way, what was the answer to your question?" The idiot hands over $5.
Anonymous
A husband and wife were driving through Louisiana. As they approached Natchitoches, they started arguing about the pronunciation of the town. They argued back and forth, then they stopped for lunch. At the counter, the husband asked the blonde waitress, "Before we order, could you please settle an argument for us? Would you please pronounce where we are very slowly?" She leaned over the counter and said, "Burrr-gerrr Kiiing."
Bill Mills
Q: Can a kangaroo jump higher than the Empire State Building?
A: Of course. The Empire State Building can't jump.
bobby