Categories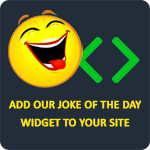 My friend thinks he is smart. He told me an onion is the only food that makes you cry, so I threw a coconut at his face.
funny jokes
Instead of "the John," I call my toilet "the Jim." That way it sounds better when I say I go to the Jim first thing every morning.
Rudy T. Monkey
Q: How do you make a tissue dance?
A: Put a little boogie in it.
make people laugh
Teacher: "What is the chemical formula for water?"
Student: "HIJKLMNO."
Teacher: "What are you talking about?"
Student: "Yesterday you said it's H to O!"
Deyc Daveyton
A teacher asked her students to use the word "beans" in a sentence. "My father grows beans," said one girl. "My mother cooks beans," said a boy. A third student spoke up, "We are all human beans."
XD XD XD XD