Categories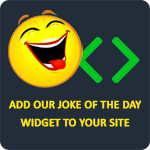 Two lawyers walking through the woods spotted a vicious looking bear. The first lawyer immediately opened his briefcase, pulled out a pair of sneakers and started putting them on.The second lawyer looked at him and said, "You're crazy! You'll never be able to outrun that bear!" "I don't have to," the first lawyer replied. "I only have to outrun you."
TheLaughFactory
Q: How many politicians does it take to change a light bulb?
A: Two: one to change it and another one to change it back again.
TheLaughFactory
Q: Why did King Kong climb the Empire State Building?
A: He couldn't fit in the elevator
TheLaughFactory
A Spanish captain was walking on his ship when a soldier rushes to him and exclaims, "An enemy ship is approaching us!" The captain replies calmly, "Go get my red shirt." The soldier gets the shirt for the captain. The enemy ship comes in and heavy rounds of fire are exchanged. Finally, the Spaniards win. The soldier asks, "Congrats sir, but why the red shirt?" The captain replies, "If I got injured, my blood shouldn't be seen, as I didn't want my men to lose hope." Just then, another soldier runs up and says, "Sir, we just spotted another twenty enemy ships!" The captain calmly replies, "Go bring my yellow pants."
Anonymous
Q: What did the banana say to the doctor?
A: "I'm not peeling well."
TheLaughFactory