Categories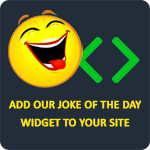 A man hasn't been feeling well, so he goes to his doctor for a complete checkup. Afterward, the doctor comes out with the results. "I'm afraid I have some very bad news," the doctor says. "You're dying, and you don't have much time left." "Oh, that's terrible!" says the man. "How long have I got?" "Ten," the doctor says sadly. "Ten?" the man asks. "Ten what? Months? Weeks? What?!" "Nine..."
TheLaughFactory
On their way to get married, a young Catholic couple is involved in a fatal car accident. The couple found themselves sitting outside the Pearly Gates waiting for St. Peter to process them into Heaven. While waiting, they began to wonder: Could they possibly get married in Heaven? When St. Peter showed up, they asked him. St. Peter said, "I don't know. This is the first time anyone has asked. Let me go find out,'" and he left. The couple sat and waited, and waited. Two months passed and the couple were still waiting. While waiting, they began to wonder what would happen if it didn't work out; could you get a divorce in heaven? After yet another month, St. Peter finally returned, looking somewhat bedraggled. "Yes," he informed the couple, "You can get married in Heaven." "Great!" said the couple, "But we were just wondering, what if things don't work out? Could we also get a divorce in Heaven?" St. Peter, red-faced with anger, slammed his clipboard onto the ground. "What's wrong?" asked the frightened couple. "OH, COME ON!," St. Peter shouted, "It took me three months to find a priest up here! Do you have any idea how long it'll take me to find a lawyer?"
E
Q: Did your hear about the man with a broken left arm and broken left leg?
A: Don't worry he's "ALRIGHT" now!
Brucey
A Spanish captain was walking on his ship when a soldier rushes to him and exclaims, "An enemy ship is approaching us!" The captain replies calmly, "Go get my red shirt." The soldier gets the shirt for the captain. The enemy ship comes in and heavy rounds of fire are exchanged. Finally, the Spaniards win. The soldier asks, "Congrats sir, but why the red shirt?" The captain replies, "If I got injured, my blood shouldn't be seen, as I didn't want my men to lose hope." Just then, another soldier runs up and says, "Sir, we just spotted another twenty enemy ships!" The captain calmly replies, "Go bring my yellow pants."
Anonymous
An old man is met by his attorney, and is told he is going to be audited. He rides to the IRS office with his attorney, and when he gets there, he begins to talk with the IRS agent. "I bet $2,000 I can bite my own eye!" The IRS agent agrees to the bet, believing it an impossible task. The old man laughs, pulls out his glass eye, and bites it. The IRS agent is dumbfounded. The old man bets $3,000 he can bite his other eye. The IRS agent knows there's no way possible to do this, so he once more agrees. The old man cackles, pulls out his dentures, and bites his eye. Then the old man finally wagers, "I bet $20,000 I can stand on the far side of your desk, pee over the desk, and get it into your wastebasket, without missing a single drop." The agent knows he won't be able to, so once more he agrees. The old man indeed misses, peeing all over the desk, and on the paperwork. The IRS agent jumps for joy, but then notices the attorney over in the corner moaning. "Are you all right?" asks the agent. "No! On the way over here, he bet me $400,000 he could pee on your desk and you'd be happy about it!"
CHanaghan