Categories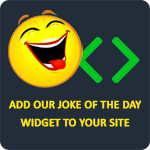 A policeman pulls a man over for speeding and asks him to get out of the car. After looking the man over the policeman says, "Sir, I couldn't help but notice your eyes are bloodshot. Have you been drinking?" The man gets really indignant and says, "Officer, I couldn't help but notice your eyes are glazed. Have you been eating doughnuts?"
TheLaughFactory
Q: What did the banana say to the doctor?
A: "I'm not peeling well."
TheLaughFactory
Man: "Hey baby, what's your sign?"
Woman: "Do not enter."
Anonymous
Q: How many politicians does it take to change a light bulb?
A: Two: one to change it and another one to change it back again.
TheLaughFactory
Two lawyers walking through the woods spotted a vicious looking bear. The first lawyer immediately opened his briefcase, pulled out a pair of sneakers and started putting them on.The second lawyer looked at him and said, "You're crazy! You'll never be able to outrun that bear!" "I don't have to," the first lawyer replied. "I only have to outrun you."
TheLaughFactory