Categories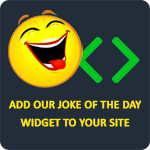 Q: What did the banana say to the doctor?
A: "I'm not peeling well."
TheLaughFactory
Man: "Hey baby, what's your sign?"
Woman: "Do not enter."
Anonymous
Q: How can you get four suits for a dollar?
A: Buy a deck of cards.
TheLaughFactory
Q: Who earns a living by driving his customers away?
A: A taxi driver.
TheLaughFactory
An old teacher asked her student, "If I say, 'I am beautiful,' which tense is that?" The student replied, "It is obviously past."
Anonymous