Categories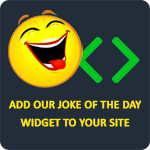 A bus full of ugly people had a head on collision with a truck. When they died, God granted all of them one wish. The first person said, "I want to be gorgeous." God snapped his fingers and it happened. The second person said the same thing and God did the same thing. This want on and on throughout the group. God noticed the last man in line was laughing hysterically. By the time God got to the last ten people, the last man was laughing and rolling on the ground. When the man's turn came, he laughed and said, "I wish they were all ugly again."
LOVE LAUGH FACTORY
There was this guy at a bar, just looking at his drink. He stays like that for a half hour. Then a big trouble making truck driver steps next to him, takes the drink from the guy, & just drinks it all down. The poor man starts crying. The truck driver says, "Come on man, I was just joking. Here, I'll buy you another drink. I just can't stand to see a man cry." "No, it's not that," the man replies, wiping his tears, "This day is the worst of my life. First, I oversleep & I go in late to my office. My outraged boss fires me. When I leave the building to go to my car, I find out it was stolen. The police say they can do nothing. I get a cab to go home, & when I get out, I remember I left my wallet. The cab driver just drives away. I go inside my house where I find my wife in bed with the gardener. I leave my home, come to this bar, & just when I was thinking about putting an end to my life, you show up & drink my poison."
Thommy53
A policeman pulls a man over for speeding and asks him to get out of the car. After looking the man over the policeman says, "Sir, I couldn't help but notice your eyes are bloodshot. Have you been drinking?" The man gets really indignant and says, "Officer, I couldn't help but notice your eyes are glazed. Have you been eating doughnuts?"
TheLaughFactory
A boy with a monkey on his shoulder was walking down the road when he passed a policeman who said, "Now, now young lad, I think you had better take that monkey the zoo." The next day, the boy was walking down the road with the monkey on his shoulder again, when he passed the same policeman. The policeman said, "Hey there, I thought I told you to take that money to the zoo!" The boy answered, "I did! Today I'm taking him to the cinema."
Anonymous
Q: What did the banana say to the doctor?
A: "I'm not peeling well."
TheLaughFactory