Categories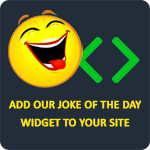 Q: Why does Humpty Dumpty love autumn?
A: Because Humpty Dumpty had a great fall.
TheLaughFactory
Q: Can a kangaroo jump higher than the Empire State Building?
A: Of course. The Empire State Building can't jump.
bobby
This is the true story of George Phillips of Meridian, Mississippi, who was going to bed when his wife told him that he'd left the light on in the shed. George opened the door to go turn off the light but saw there were people in the shed in the process of stealing things.

He immediately phoned the police, who asked, "Is someone in your house?" and George said, "No," and explained the situation. Then they explained that all patrols were busy, and that he should simply lock his door and an officer would be there when available.

George said, "Okay," hung up, counted to 30, and phoned the police again.

"Hello, I just called you a few seconds ago because there were people in my shed. Well, you don't have to worry about them now because I've just shot them all."

Then he hung up. Within five minutes three squad cars, an Armed Response unit, and an ambulance showed up. Of course, the police caught the burglars red-handed.

One of the policemen said to George, "I thought you said that you'd shot them!"

George said, "I thought you said there was nobody available!"
Anonymous
Q: Did you hear about the kidnapping at school?
A: It's okay. He woke up.
Pat
On their way to get married, a young Catholic couple is involved in a fatal car accident. The couple found themselves sitting outside the Pearly Gates waiting for St. Peter to process them into Heaven. While waiting, they began to wonder: Could they possibly get married in Heaven? When St. Peter showed up, they asked him. St. Peter said, "I don't know. This is the first time anyone has asked. Let me go find out,'" and he left. The couple sat and waited, and waited. Two months passed and the couple were still waiting. While waiting, they began to wonder what would happen if it didn't work out; could you get a divorce in heaven? After yet another month, St. Peter finally returned, looking somewhat bedraggled. "Yes," he informed the couple, "You can get married in Heaven." "Great!" said the couple, "But we were just wondering, what if things don't work out? Could we also get a divorce in Heaven?" St. Peter, red-faced with anger, slammed his clipboard onto the ground. "What's wrong?" asked the frightened couple. "OH, COME ON!," St. Peter shouted, "It took me three months to find a priest up here! Do you have any idea how long it'll take me to find a lawyer?"
E