Categories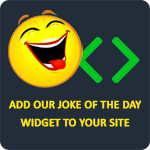 Why did the chicken cross the playground? To get to the other slide!!
My step dad
A mom and a son come home from the grocery store. The boy immediately empties out a box of animal crackers and the mom asks him why. The boy says, "You should not eat it if the seal is broken, so I'm looking for the seal."
Anonymous
I'm thinking of becoming a hitman... I heard they make a killing.
Anonymous
Q: Who earns a living by driving his customers away?
A: A taxi driver.
TheLaughFactory
How many snowboarders does it take to screw in a lightbulb? 50: 3 to die trying, 1 to actually pull it off, and 46 other to say, "man, I could do that!"
dherter