Categories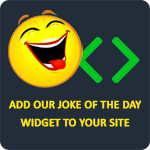 Q: Who earns a living by driving his customers away?
A: A taxi driver.
TheLaughFactory
Q: Why did Cinderella fail at basketball?
A: Because she had a pumpkin for a coach.
EMILYMACARONI
Q: How can you get four suits for a dollar?
A: Buy a deck of cards.
TheLaughFactory
How many snowboarders does it take to screw in a lightbulb? 50: 3 to die trying, 1 to actually pull it off, and 46 other to say, "man, I could do that!"
dherter
Q: Why did the toilet paper roll down the hill?
A: Because it wanted to get to the bottom.
Anonymous