Categories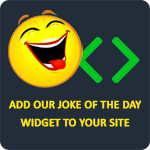 Q: Why did the toilet paper roll down the hill?
A: Because it wanted to get to the bottom.
Anonymous
An old teacher asked her student, "If I say, 'I am beautiful,' which tense is that?" The student replied, "It is obviously past."
Anonymous
I'm thinking of becoming a hitman... I heard they make a killing.
Anonymous
Q: Did your hear about the man with a broken left arm and broken left leg?
A: Don't worry he's "ALRIGHT" now!
Brucey
Q: Where do eggplants come from?
A: Chicken plants.
Anonymous