Categories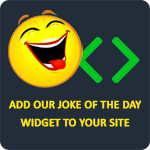 A bus full of ugly people had a head on collision with a truck. When they died, God granted all of them one wish. The first person said, "I want to be gorgeous." God snapped his fingers and it happened. The second person said the same thing and God did the same thing. This want on and on throughout the group. God noticed the last man in line was laughing hysterically. By the time God got to the last ten people, the last man was laughing and rolling on the ground. When the man's turn came, he laughed and said, "I wish they were all ugly again."
LOVE LAUGH FACTORY
A Spanish captain was walking on his ship when a soldier rushes to him and exclaims, "An enemy ship is approaching us!" The captain replies calmly, "Go get my red shirt." The soldier gets the shirt for the captain. The enemy ship comes in and heavy rounds of fire are exchanged. Finally, the Spaniards win. The soldier asks, "Congrats sir, but why the red shirt?" The captain replies, "If I got injured, my blood shouldn't be seen, as I didn't want my men to lose hope." Just then, another soldier runs up and says, "Sir, we just spotted another twenty enemy ships!" The captain calmly replies, "Go bring my yellow pants."
Anonymous
A drunk walks into a bar with jumper cables around his neck. The bartender says, "You can stay but don't try to start anything."
Anonymous
Q: Did you hear about the kidnapping at school?
A: It's okay. He woke up.
Pat
If you ever get cold, just stand in the corner of a room for a while. They're normally around 90 degrees.
Anonymous