Categories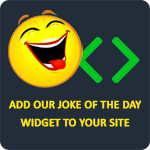 I'm thinking of becoming a hitman... I heard they make a killing.
Anonymous
What do cars eat on their toast? Traffic jam.
Anonymous
I was wondering why the ball kept getting bigger and bigger, and then it hit me.
Anonymous
A bus full of ugly people had a head on collision with a truck. When they died, God granted all of them one wish. The first person said, "I want to be gorgeous." God snapped his fingers and it happened. The second person said the same thing and God did the same thing. This want on and on throughout the group. God noticed the last man in line was laughing hysterically. By the time God got to the last ten people, the last man was laughing and rolling on the ground. When the man's turn came, he laughed and said, "I wish they were all ugly again."
LOVE LAUGH FACTORY
Q: What happens when you cross a shark with a cow?
A: I don't know but I wouldn't milk it.
Ahadito