Categories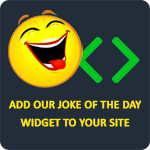 Q: What did the cholo say when the house fell on him?
A: "Get off me, homes!"
Brian Reppin Sur 13
Q: What nails do carpenters hate to hit?
A: Fingernails.
TheLaughFactory
At the doctor's office, Tom was getting a check up. "I have good news and bad news," says the doctor. "The good news is you have 24 hours left to live." Tom replies, "That's the good news?!" Then the doctor says, "The bad news is I should have told you that yesterday."
Anonymous
Q: Why does Humpty Dumpty love autumn?
A: Because Humpty Dumpty had a great fall.
TheLaughFactory
I was wondering why the ball kept getting bigger and bigger, and then it hit me.
Anonymous