Categories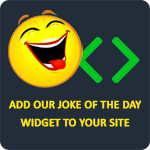 Q: Did you hear about the kidnapping at school?
A: It's okay. He woke up.
Pat
Q: What did the banana say to the doctor?
A: "I'm not peeling well."
TheLaughFactory
Man: "Hey baby, what's your sign?"
Woman: "Do not enter."
Anonymous
A husband and wife were driving through Louisiana. As they approached Natchitoches, they started arguing about the pronunciation of the town. They argued back and forth, then they stopped for lunch. At the counter, the husband asked the blonde waitress, "Before we order, could you please settle an argument for us? Would you please pronounce where we are very slowly?" She leaned over the counter and said, "Burrr-gerrr Kiiing."
Bill Mills
Q: How many politicians does it take to change a light bulb?
A: Two: one to change it and another one to change it back again.
TheLaughFactory