Categories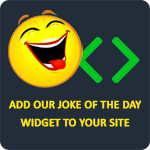 Q: What did the cholo say when the house fell on him?
A: "Get off me, homes!"
Brian Reppin Sur 13
Q: What nails do carpenters hate to hit?
A: Fingernails.
TheLaughFactory
At the doctor's office, Tom was getting a check up. "I have good news and bad news," says the doctor. "The good news is you have 24 hours left to live." Tom replies, "That's the good news?!" Then the doctor says, "The bad news is I should have told you that yesterday."
Anonymous
I was wondering why the ball kept getting bigger and bigger, and then it hit me.
Anonymous
A boy with a monkey on his shoulder was walking down the road when he passed a policeman who said, "Now, now young lad, I think you had better take that monkey the zoo." The next day, the boy was walking down the road with the monkey on his shoulder again, when he passed the same policeman. The policeman said, "Hey there, I thought I told you to take that money to the zoo!" The boy answered, "I did! Today I'm taking him to the cinema."
Anonymous