Categories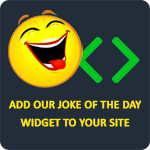 How many snowboarders does it take to screw in a lightbulb? 50: 3 to die trying, 1 to actually pull it off, and 46 other to say, "man, I could do that!"
dherter
A police officer attempts to stop a car for speeding and the guy gradually increases his speed until he's topping 100 mph. The man eventually realizes he can't escape and finally pulls over. The cop approaches the car and says, "It's been a long day and my shift is almost over, so if you can give me a good excuse for your behavior, I'll let you go." The guy thinks for a few seconds and then says, "My wife ran away with a cop about a week ago. I thought you might be that officer trying to give her back!"
James Harris
I was wondering why the ball kept getting bigger and bigger, and then it hit me.
Anonymous
A man got hit in the head with a can of Coke, but he was alright because it was a soft drink.
Anonymous
Q: What did the green grape say to the purple grape?
A: "Breathe, stupid!"
saul90716