Categories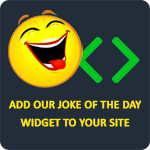 A husband and wife were driving through Louisiana. As they approached Natchitoches, they started arguing about the pronunciation of the town. They argued back and forth, then they stopped for lunch. At the counter, the husband asked the blonde waitress, "Before we order, could you please settle an argument for us? Would you please pronounce where we are very slowly?" She leaned over the counter and said, "Burrr-gerrr Kiiing."
Bill Mills
"Johnny, why did you kick your brother in the stomach?" exclaimed the angry mother. "It was pure accident, Mama. He turned around."
TheLaughFactory
Q: Did you hear about the guy who dreamed he was eating a giant marshmallow?
A: When he woke up, his pillow was gone.
joejoej13
A mom and a son come home from the grocery store. The boy immediately empties out a box of animal crackers and the mom asks him why. The boy says, "You should not eat it if the seal is broken, so I'm looking for the seal."
Anonymous
Q: How can you get four suits for a dollar?
A: Buy a deck of cards.
TheLaughFactory