Categories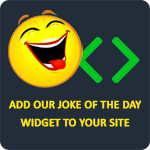 A police officer attempts to stop a car for speeding and the guy gradually increases his speed until he's topping 100 mph. The man eventually realizes he can't escape and finally pulls over. The cop approaches the car and says, "It's been a long day and my shift is almost over, so if you can give me a good excuse for your behavior, I'll let you go." The guy thinks for a few seconds and then says, "My wife ran away with a cop about a week ago. I thought you might be that officer trying to give her back!"
James Harris
A man got hit in the head with a can of Coke, but he was alright because it was a soft drink.
Anonymous
Q: How do you make a tissue dance?
A: Put a little boogie in it.
make people laugh
An old man is met by his attorney, and is told he is going to be audited. He rides to the IRS office with his attorney, and when he gets there, he begins to talk with the IRS agent. "I bet $2,000 I can bite my own eye!" The IRS agent agrees to the bet, believing it an impossible task. The old man laughs, pulls out his glass eye, and bites it. The IRS agent is dumbfounded. The old man bets $3,000 he can bite his other eye. The IRS agent knows there's no way possible to do this, so he once more agrees. The old man cackles, pulls out his dentures, and bites his eye. Then the old man finally wagers, "I bet $20,000 I can stand on the far side of your desk, pee over the desk, and get it into your wastebasket, without missing a single drop." The agent knows he won't be able to, so once more he agrees. The old man indeed misses, peeing all over the desk, and on the paperwork. The IRS agent jumps for joy, but then notices the attorney over in the corner moaning. "Are you all right?" asks the agent. "No! On the way over here, he bet me $400,000 he could pee on your desk and you'd be happy about it!"
CHanaghan
Q: Did your hear about the man with a broken left arm and broken left leg?
A: Don't worry he's "ALRIGHT" now!
Brucey