Categories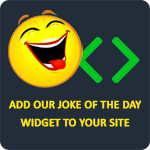 Q: Why did the man take toilet paper the party?
A: Because he was a party pooper.
Anonymous
How many snowboarders does it take to screw in a lightbulb? 50: 3 to die trying, 1 to actually pull it off, and 46 other to say, "man, I could do that!"
dherter
Q: What did Cinderella say when her photos did not show up? A: "Someday my prints will come."
jayda
Question: What did one toilet roll say to the other toilet roll?
Answer: "People keep on ripping me off!"
Anonymous
Teacher: "Why does a stone sink in water when you thrown it in?"
Student: "Because it does not know how to swim."
Anonymous