Categories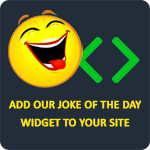 I was wondering why the ball kept getting bigger and bigger, and then it hit me.
Anonymous
What do cars eat on their toast? Traffic jam.
Anonymous
Why do hummingbirds hum? Because they don't know the words.
typical joker
Q: Where do eggplants come from?
A: Chicken plants.
Anonymous
Q: What did the lawyer name his daughter?
A: Sue.
cool boi