Categories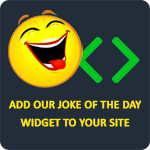 Bob: "Holy crap, I just fell off a 50 ft ladder."
Jim: "Oh my God, are you okay?"
Bob: "Yeah it's a good thing I fell off the first step."
Anonymous
A man walks out on his front porch one day and sees a gorilla in the tree on his front lawn. He calls animal control and about an hour later a man shows up with a ladder, a pit bull, and a shotgun. The animal control employee tells the man, "I'm here to get the gorilla out of your tree. I'm going to use this ladder to climb up the tree and shake the branch the gorilla is on to knock him to the ground. The pit bull is trained to go after anything that falls from the tree and bites their balls which calms the animal down so I can put him in the truck." The man says "Okay, I see what the ladder and the pit bull are for but what is the shotgun for?" The animal control employee says, "Oh, that's for you. In case I fall out of the tree instead of the gorilla, shoot the dog."
Dave
A blonde and a redhead have a ranch. They have just lost their bull. The women need to buy another, but only have $500. The redhead tells the blonde, "I will go to the market and see if I can find one for under that amount. If I can, I will send you a telegram." She goes to the market and finds one for $499. Having only one dollar left, she goes to the telegraph office and finds out that it costs one dollar per word. She is stumped on how to tell the blonde to bring the truck and trailer. Finally, she tells the telegraph operator to send the word "comfortable." Skeptical, the operator asks, "How will she know to come with the trailer from just that word?" The redhead replies, "She's a blonde so she reads slow: 'Come for ta bull.'"
Anonymous
Q: What do computers eat for a snack?
A: Microchips!
Samanthas Awesome Jokes
A boy asks his father, "Dad, are bugs good to eat?" "That's disgusting. Don't talk about things like that over dinner," the dad replies. After dinner the father asks, "Now, son, what did you want to ask me?" "Oh, nothing," the boy says. "There was a bug in your soup, but now it's gone."
John Ocallaghan