Categories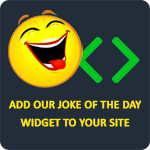 A boy asks his father, "Dad, are bugs good to eat?" "That's disgusting. Don't talk about things like that over dinner," the dad replies. After dinner the father asks, "Now, son, what did you want to ask me?" "Oh, nothing," the boy says. "There was a bug in your soup, but now it's gone."
John Ocallaghan
Q: How do you make a tissue dance?
A: Put a little boogie in it.
make people laugh
Q: Did your hear about the man with a broken left arm and broken left leg?
A: Don't worry he's "ALRIGHT" now!
Brucey
Why is it that your nose runs, but your feet smell?
Anonymous
If you ever get cold, just stand in the corner of a room for a while. They're normally around 90 degrees.
Anonymous