Categories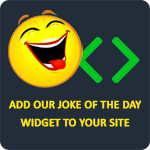 I'm thinking of becoming a hitman... I heard they make a killing.
Anonymous
What do cars eat on their toast? Traffic jam.
Anonymous
Q: Who earns a living by driving his customers away?
A: A taxi driver.
TheLaughFactory
How many snowboarders does it take to screw in a lightbulb? 50: 3 to die trying, 1 to actually pull it off, and 46 other to say, "man, I could do that!"
dherter
A redneck's last words are always, "Hey y'all, watch this!"
Anonymous