Categories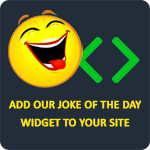 Q: How do trees access the internet?
A: They log in.
Kimberly Mauldin
Man: "Hey baby, what's your sign?"
Woman: "Do not enter."
Anonymous
A policeman pulls a man over for speeding and asks him to get out of the car. After looking the man over the policeman says, "Sir, I couldn't help but notice your eyes are bloodshot. Have you been drinking?" The man gets really indignant and says, "Officer, I couldn't help but notice your eyes are glazed. Have you been eating doughnuts?"
TheLaughFactory
Q: What did the banana say to the doctor?
A: "I'm not peeling well."
TheLaughFactory
A husband and wife were driving through Louisiana. As they approached Natchitoches, they started arguing about the pronunciation of the town. They argued back and forth, then they stopped for lunch. At the counter, the husband asked the blonde waitress, "Before we order, could you please settle an argument for us? Would you please pronounce where we are very slowly?" She leaned over the counter and said, "Burrr-gerrr Kiiing."
Bill Mills