Categories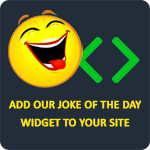 A boy with a monkey on his shoulder was walking down the road when he passed a policeman who said, "Now, now young lad, I think you had better take that monkey the zoo." The next day, the boy was walking down the road with the monkey on his shoulder again, when he passed the same policeman. The policeman said, "Hey there, I thought I told you to take that money to the zoo!" The boy answered, "I did! Today I'm taking him to the cinema."
Anonymous
Q: How do trees access the internet?
A: They log in.
Kimberly Mauldin
A husband and wife were driving through Louisiana. As they approached Natchitoches, they started arguing about the pronunciation of the town. They argued back and forth, then they stopped for lunch. At the counter, the husband asked the blonde waitress, "Before we order, could you please settle an argument for us? Would you please pronounce where we are very slowly?" She leaned over the counter and said, "Burrr-gerrr Kiiing."
Bill Mills
A policeman pulls a man over for speeding and asks him to get out of the car. After looking the man over the policeman says, "Sir, I couldn't help but notice your eyes are bloodshot. Have you been drinking?" The man gets really indignant and says, "Officer, I couldn't help but notice your eyes are glazed. Have you been eating doughnuts?"
TheLaughFactory
Q: What did the banana say to the doctor?
A: "I'm not peeling well."
TheLaughFactory