Categories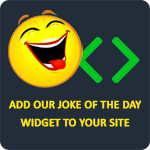 Q: What did the lawyer name his daughter?
A: Sue.
cool boi
Two Eskimos sitting in a kayak were chilly, so they lit a fire in the craft. Unsurprisingly it sank, proving once again that you can't have your kayak and heat it too.
TheLaughFactory
Question: What did one toilet roll say to the other toilet roll?
Answer: "People keep on ripping me off!"
Anonymous
A man walks out on his front porch one day and sees a gorilla in the tree on his front lawn. He calls animal control and about an hour later a man shows up with a ladder, a pit bull, and a shotgun. The animal control employee tells the man, "I'm here to get the gorilla out of your tree. I'm going to use this ladder to climb up the tree and shake the branch the gorilla is on to knock him to the ground. The pit bull is trained to go after anything that falls from the tree and bites their balls which calms the animal down so I can put him in the truck." The man says "Okay, I see what the ladder and the pit bull are for but what is the shotgun for?" The animal control employee says, "Oh, that's for you. In case I fall out of the tree instead of the gorilla, shoot the dog."
Dave
What goes up and down stairs with out moving? Carpet.
BLANK!!