Categories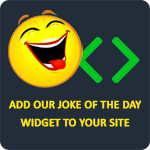 Q: How do you make a tissue dance?
A: Put a little boogie in it.
make people laugh
If you ever get cold, just stand in the corner of a room for a while. They're normally around 90 degrees.
Anonymous
Q: Did your hear about the man with a broken left arm and broken left leg?
A: Don't worry he's "ALRIGHT" now!
Brucey
A bank robber pulls out gun points it at the teller, and says, "Give me all the money or you're geography!" The puzzled teller replies, "Did you mean to say 'or you're history?'" The robber says, "Don't change the subject!"
Darkrose300
A man hasn't been feeling well, so he goes to his doctor for a complete checkup. Afterward, the doctor comes out with the results. "I'm afraid I have some very bad news," the doctor says. "You're dying, and you don't have much time left." "Oh, that's terrible!" says the man. "How long have I got?" "Ten," the doctor says sadly. "Ten?" the man asks. "Ten what? Months? Weeks? What?!" "Nine..."
Roberto