Categories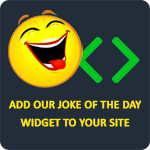 Why is it that your nose runs, but your feet smell?
Anonymous
Q: Did your hear about the man with a broken left arm and broken left leg?
A: Don't worry he's "ALRIGHT" now!
Brucey
If you ever get cold, just stand in the corner of a room for a while. They're normally around 90 degrees.
Anonymous
A bank robber pulls out gun points it at the teller, and says, "Give me all the money or you're geography!" The puzzled teller replies, "Did you mean to say 'or you're history?'" The robber says, "Don't change the subject!"
Darkrose300
Teacher: "What is the chemical formula for water?"
Student: "HIJKLMNO."
Teacher: "What are you talking about?"
Student: "Yesterday you said it's H to O!"
Deyc Daveyton