Categories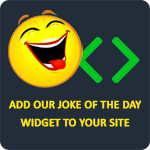 Q: What happens when you cross a shark with a cow?
A: I don't know but I wouldn't milk it.
Ahadito
Q: What do you say to a lollipop when you throw it away?
A: "So long sucker!"
Anonymous
Why do hummingbirds hum? Because they don't know the words.
typical joker
Q: What does a nosy pepper do? A: It gets jalapeño business.
MrSamoa684
Q: Why did Cinderella fail at basketball?
A: Because she had a pumpkin for a coach.
EMILYMACARONI