Categories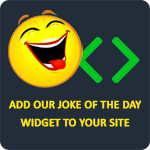 A man lives and works in the same building. Every day he takes the elevator from the 10th floor down to the 1st floor where he works. At the end of the day he rides from the 1st floor up to the 7th floor and takes the stairs the rest of the way. Why? He is a dwarf and can't reach the 10th floor button.
Anonymous
A redneck's last words are always, "Hey y'all, watch this!"
Anonymous
Q: What did the lawyer name his daughter?
A: Sue.
cool boi
Q: How do you make the number seven even?

A: Drop the "s."
Anonymous
A bus full of ugly people had a head on collision with a truck. When they died, God granted all of them one wish. The first person said, "I want to be gorgeous." God snapped his fingers and it happened. The second person said the same thing and God did the same thing. This want on and on throughout the group. God noticed the last man in line was laughing hysterically. By the time God got to the last ten people, the last man was laughing and rolling on the ground. When the man's turn came, he laughed and said, "I wish they were all ugly again."
LOVE LAUGH FACTORY