Categories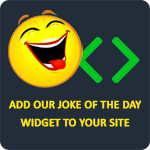 Q: How can you get four suits for a dollar?
A: Buy a deck of cards.
TheLaughFactory
Instead of "the John," I call my toilet "the Jim." That way it sounds better when I say I go to the Jim first thing every morning.
Rudy T. Monkey
Q: Why is a river rich? A: Because it has two banks.
ISHA KHANNA
Wise man say, "Man who go to bed with itchy butt wake up with smelly finger."
NoOne
Q: Who earns a living by driving his customers away?
A: A taxi driver.
TheLaughFactory