Categories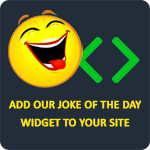 Math Teacher: "If I have 5 bottles in one hand and 6 in the other hand, what do I have?"
Student: "A drinking problem."
Boingy Boing
Why is it that your nose runs, but your feet smell?
Anonymous
A bank robber pulls out gun points it at the teller, and says, "Give me all the money or you're geography!" The puzzled teller replies, "Did you mean to say 'or you're history?'" The robber says, "Don't change the subject!"
Darkrose300
If you ever get cold, just stand in the corner of a room for a while. They're normally around 90 degrees.
Anonymous
Q: How do you make a tissue dance?
A: Put a little boogie in it.
make people laugh