Categories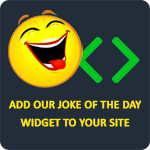 A child asked his father, "How were people born?" So his father said, "Adam and Eve made babies, then their babies became adults and made babies, and so on." The child then went to his mother, asked her the same question and she told him, "We were monkeys then we evolved to become like we are now." The child ran back to his father and said, "You lied to me!" His father replied, "No, your mom was talking about her side of the family."
Anonymous
A woman gets on a bus with her baby. The bus driver says, "That's the ugliest baby that I've ever seen. Ugh!" The woman goes to the rear of the bus and sits down, fuming. She says to a man next to her, "The driver just insulted me!" The man says, "You go right up there and tell him off – go ahead, I'll hold your monkey for you."
avre1
An elderly couple are in church. The wife leans over and whispers to her husband, "I just let out a long, silent fart. What should I do?" The husband replies, "First off, replace the batteries in your hearing aid!"
mtelloibew
Wife: "I look fat. Can you give me a compliment?"
Husband: "You have perfect eyesight."
coloured pencils
A wealthy man was having an affair with an Italian woman for a few years. One night, during one of their rendezvous, she confided in him that she was pregnant. Not wanting to ruin his reputation or his marriage, he paid her a large sum of money if she would go to Italy to have the child. If she stayed in Italy, he would also provide child support until the child turned 18. She agreed, but wondered how he would know when the baby was born. To keep it discrete, he told her to mail him a postcard, and write "Spaghetti" on the back. He would then arrange for child support. One day, about 9 months later, he came home to his confused wife. "Honey," she said, "you received a very strange postcard today." "Oh, just give it to me and I'll explain it later," he said. The wife handed the card over and watched as her husband read the card, turned white, and fainted. On the card was written "Spaghetti, Spaghetti, Spaghetti. Two with meatballs, one without."
89321117