Categories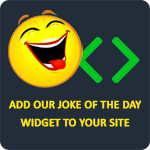 Alfie was listening to his sister practice her singing. "Sis," he said, "I wish you'd sing Christmas carols." "Thats nice of you, Alfie," she replied, "but why?" Alfie replied, "Because then I'd only have to hear your voice once a year!"
ibryildiz
What is the difference between an outlaw and an in-law? Outlaws are wanted.
Anonymous
A married couple, Harry and Esther, are out shopping one morning when Esther says, "Darling, it's my mother's birthday tomorrow. What shall we buy for her? She said she would like something electric." Harry replies, "How about a chair?"
Anonymous
The bride, upon her engagement, goes to her mother and says, "I've found a man just like Father!" Her mother replies, "So what do you want from me, sympathy?"
xmastawong
Two cannibals, a father and son, are walking down the street, when they notice a hot girl passing by. The son says to the father, "Daddy, I'm hungry, let's eat that girl that just passed by." The father replies, "I've got a better idea son, let's take this one home and eat your mother instead!"
qyomjan