Categories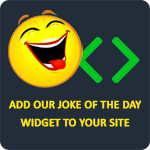 A little girl and her older brother were visiting their grandfather's farm. The older brother decided to play a trick on his younger sister. He told her that he discovered a man-eating chicken. The girl was frightened, and ran inside in fear. Then the older brother heard his little sister scream. He ran inside immediately. She was screaming at their grandfather, who was chowing down on a plate of fried chicken. "What is it?" he asked. The sister turned to him in fear and said," It- it's- IT'S A MAN EATING CHICKEN!!!"
ChickenFingerz2000
A man called his child's doctor, "Hello! My son just snatched my pen when I was writing and swallowed it. What should I do?" The doctor replied, "Until I can come over, write with another pen."
Gerri
A hillbilly family's only son saves up money to go to college. After about three years, he comes back home. They are sitting around the dinner table, when the dad says, ''Well son, you done gone to college, so you must be perty smart. Why don't you speak some math fer' us?'' ''Ok, Pa.'' The son then says, ''Pi R squared.'' After a moment, the dad says, ''Why son, they ain't teached ya nothin'! Pie are round, cornbread are square.''
aashok
You know you're getting old when your wife says, "Honey, lets run upstairs and make love," and you answer, "I can't do both."
Rimmothy
Q: If you have 13 apples in one hand and 10 oranges in the other, what do you have?
A: Big hands.
jj zenir