Categories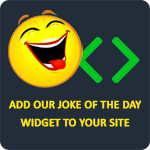 Three brothers wanted to give their blind mom a birthday gift. The first got her a big beautiful house. The second got her a brand new luxury vehicle with a driver. The third got her a talking parrot to keep her company. When they all got together, they wanted to know which gift she liked best. She said they were all great but she thanked her third son because she liked the chicken dinner best.
twicks50
Little Johnny came in from the backyard sobbing. His mother asked "What's the matter?" "Dad was fixing the fence and hit his thumb with the hammer," he said through his tears. "That's not so serious," his mother said, "and a big boy like you shouldn't cry about that. Why didn't you just laugh?" "I did!" cried Johnny.
ldycre8or
Alfie was listening to his sister practice her singing. "Sis," he said, "I wish you'd sing Christmas carols." "Thats nice of you, Alfie," she replied, "but why?" Alfie replied, "Because then I'd only have to hear your voice once a year!"
ibryildiz
A mother said to her son, "Look at that kid over there; he's not misbehaving." The son replied, "Maybe he has good parents then!"
Anonymous
What is the difference between an outlaw and an in-law? Outlaws are wanted.
Anonymous