Categories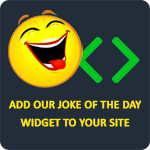 Assistant: "Sir, can I have a day off next week to visit my mother-in-law?"
Boss: "Certainly not!"

Assistant: "Thank you so much sir! I knew you would be understanding."
TheLaughFactory
I want to die peacefully in my sleep, like my grandfather. Not screaming and yelling like the passengers in his car.
Anonymous
A husband and wife have four boys. The odd part of it is that the older three have red hair, light skin, and are tall, while the youngest son has black hair, dark eyes, and is short. The father eventually takes ill and is lying on his deathbed when he turns to his wife and says, "Honey, before I die, be completely honest with me. Is our youngest son my child?" The wife replies, "I swear on everything that's holy that he is your son." With that, the husband passes away. The wife then mutters, "Thank God he didn't ask about the other three."
dglien39
A man tells his wife, "Honey, your mom fell down the stairs 15 minutes ago." The wife yells at him, "Why are you just telling me now?" He said, "Because I couldn't stop laughing."
lulugabs
An American Indian boy goes to his mother one day with a puzzled look on his face. "Mom, why is my big brother named Mighty Storm?" "Because he was conceived during a mighty storm." "Why is my sister named Cornflower?" "Well, your father and I were in a cornfield when we made her." "And why is my other sister called Moonchild?" "We were watching the moon landing while she was conceived. Tell me, Torn Rubber, why are you so curious?"
Tenderoni