Categories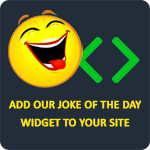 When I was young, I used to eat a lot because my parents told me that fat kids are harder to kidnap.
andreylyand
"Mom, does God go to the bathroom?" a son asked. The mom replied, "No son, why?" The son said, "Well every morning Dad goes to the bathroom and pounds on the door and shouts, 'Oh God! Are you still in there?!?!' "
dallooway
If you were born in September, it's pretty safe to assume that your parents started their new year with a bang.
Anonymous
Little Johnny's new baby brother is screaming up a storm. He asks his mom, "Where'd we get him?" His mother replies, "He came from Heaven, Johnny." Johnny says, "Wow! I can see why they threw him out!"
suzyq2112
A father is having dinner with his son and says, "Son tell me a lie," and the son says, "Dad."
rafelito04