Categories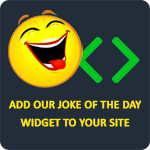 A hillbilly family's only son saves up money to go to college. After about three years, he comes back home. They are sitting around the dinner table, when the dad says, ''Well son, you done gone to college, so you must be perty smart. Why don't you speak some math fer' us?'' ''Ok, Pa.'' The son then says, ''Pi R squared.'' After a moment, the dad says, ''Why son, they ain't teached ya nothin'! Pie are round, cornbread are square.''
aashok
You know you're getting old when your wife says, "Honey, lets run upstairs and make love," and you answer, "I can't do both."
Rimmothy
A child goes to his father and asks, "Father, how do parents think of names for their children?" The father answers, "Well, son, the night before the mother gives birth, the father goes into the woods and camps for the night. When he wakes the following morning, the first thing he sees is what he names his child, which is why your sister is named Soaring Eagle. Why do you ask, Bear Poop?"
SaltyDog01
Q: If you have 13 apples in one hand and 10 oranges in the other, what do you have?
A: Big hands.
jj zenir
A teacher asks, "What's the difference between a problem and a challenge?" A student repsonds, "3 boys + 1 girl = problem. 1 boy + 3 girls = challenge."
omidmodern