Categories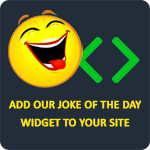 "Johnny, why did you kick your brother in the stomach?" exclaimed the angry mother. "It was pure accident, Mama. He turned around."
TheLaughFactory
A child goes to his father and asks, "Father, how do parents think of names for their children?" The father answers, "Well, son, the night before the mother gives birth, the father goes into the woods and camps for the night. When he wakes the following morning, the first thing he sees is what he names his child, which is why your sister is named Soaring Eagle. Why do you ask, Bear Poop?"
SaltyDog01
A married couple, Harry and Esther, are out shopping one morning when Esther says, "Darling, it's my mother's birthday tomorrow. What shall we buy for her? She said she would like something electric." Harry replies, "How about a chair?"
Maryanne
A mom texts, "Hi! Son, what does IDK, LY, & TTYL mean?" He texts back, "I Don't Know, Love You, & Talk To You Later." The mom texts him, "It's ok, don't worry about it. I'll ask your sister, love you too."
valli :)
Two guys are sitting on a bar stool. One starts to insult the other one. He screams, "I slept with your mother!" The bar gets quiet as everyone listens to see what the other man will do. The first again yells, "I SLEPT WITH YOUR MOTHER!" The other man says, "Go home, dad. You're drunk."
Zoha Hussain