Categories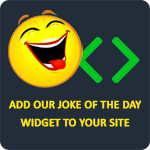 Two cannibals, a father and son, are walking down the street, when they notice a hot girl passing by. The son says to the father, "Daddy, I'm hungry, let's eat that girl that just passed by." The father replies, "I've got a better idea son, let's take this one home and eat your mother instead!"
qyomjan
Q: What do you call the child of parents from Iceland and Cuba?
A: An ice cube.
Anonymous
The bride, upon her engagement, goes to her mother and says, "I've found a man just like Father!" Her mother replies, "So what do you want from me, sympathy?"
xmastawong
How many kids does it take to change a light bulb? Three. One to say, "But I never turn it on!" and two to say, "But I did it last time!"
shoff40
Two cannibals are eating dinner and one says, "I hate my mother-in-law." The other replies, "Well, just eat your noodles, then."
Anonymous