Categories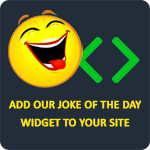 Q: What do you call the child of parents from Iceland and Cuba?
A: An ice cube.
Anonymous
Growing up, my parents never grounded me unless they were really really mad. I can remember the first time they caught me drinking under age. Mom freaked out and grounded me for a month, but I guess that was a reasonable response for a parent of a second grader.
wfour
Two cannibals are eating dinner and one says, "I hate my mother-in-law." The other replies, "Well, just eat your noodles, then."
Anonymous
The trouble with being the best man at a wedding is that you never get to prove it.
leninakansy
How many kids does it take to change a light bulb? Three. One to say, "But I never turn it on!" and two to say, "But I did it last time!"
shoff40