Categories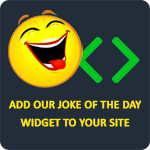 A little girl and her older brother were visiting their grandfather's farm. The older brother decided to play a trick on his younger sister. He told her that he discovered a man-eating chicken. The girl was frightened, and ran inside in fear. Then the older brother heard his little sister scream. He ran inside immediately. She was screaming at their grandfather, who was chowing down on a plate of fried chicken. "What is it?" he asked. The sister turned to him in fear and said," It- it's- IT'S A MAN EATING CHICKEN!!!"
ChickenFingerz2000
Little Johnny came in from the backyard sobbing. His mother asked "What's the matter?" "Dad was fixing the fence and hit his thumb with the hammer," he said through his tears. "That's not so serious," his mother said, "and a big boy like you shouldn't cry about that. Why didn't you just laugh?" "I did!" cried Johnny.
ldycre8or
What is the difference between an outlaw and an in-law? Outlaws are wanted.
Anonymous
A man admitted he lied on his income tax return: he listed himself as the head of the household!
TheLaughFactory
A married couple, Harry and Esther, are out shopping one morning when Esther says, "Darling, it's my mother's birthday tomorrow. What shall we buy for her? She said she would like something electric." Harry replies, "How about a chair?"
Anonymous