Categories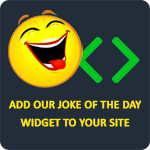 Growing up, my parents never grounded me unless they were really really mad. I can remember the first time they caught me drinking under age. Mom freaked out and grounded me for a month, but I guess that was a reasonable response for a parent of a second grader.
wfour
The trouble with being the best man at a wedding is that you never get to prove it.
leninakansy
A mom and a son come home from the grocery store. The boy immediately empties out a box of animal crackers and the mom asks him why. The boy says, "You should not eat it if the seal is broken, so I'm looking for the seal."
Anonymous
Get a new car for your spouse; it will be a great trade!
Anonymous
Marriage is the only war in which you sleep with the enemy.
Tanro Taitai