Categories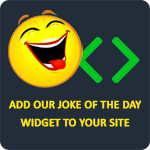 Teacher: "Answer this math problem: if your father earns $500 a week and gives half to your mother. What will he have?"
Student: "A heart attack."
Anonymous
Q: Why do Jewish mothers make great parole officers?
A: They never let anyone finish a sentence!
Bookworm
A little boy goes to his dad and asks, "What is politics?" The dad says, "Well son, let me try to explain it this way: I'm the breadwinner of the family, so let's call me capitalism. Your mother, she's the administrator of the money, so we'll call her the government. We're here to take care of your needs, so we'll call you the people. The nanny, we'll consider her the working class. And your baby brother, we'll call him the future. Now, think about that and see if that makes sense." The little boy goes off to bed thinking about what dad had said. Later that night, he hears his baby brother crying, so he gets up to check on him. He finds that the baby has soiled his diaper. The little boy goes to his parents' room and finds his mother sound asleep. Not wanting to wake her, he goes to the nanny's room. Finding the door locked, he peeks in the keyhole and sees his father in bed with the nanny. He gives up and goes back to bed. The next morning, the little boy says to his father, "Dad, I think I understand the concept of politics now." The father says, "Good son, tell me in your own words what you think politics is all about." The little boy replies, "Well, while capitalism is screwing the working class, the government is sound asleep, the people are being ignored and the future is in deep shit."
The Floridian
Little Billy came home from school to see the family's pet rooster dead in the front yard. Rigor mortis had set in and it was flat on its back with its legs in the air. When his Dad came home, Billy mentioned, "Dad, our rooster is dead and his legs are sticking in the air. Why are his legs like that?" His father, thinking quickly, said, "Son, that's so God can reach down from the clouds and lift the rooster straight up to heaven." "Gee Dad, that's great," said little Billy. A few days later, when Dad came home from work, Billy rushed out to meet him yelling, "Dad! Dad, we almost lost Mom today!" "What do you mean?" asked his father. "Well Dad, I got home from school early today and went up to your bedroom and there was Mom, flat on her back with her legs in the air, screaming, 'Jesus, I'm coming! I'm coming!' If it hadn't of been for Uncle George holding her down, we'd have lost her for sure!"
deemartinez
One day a man came home from work to find his wife crying hysterically in the kitchen. "What's wrong, dearest?" asked the confused husband. "Oh darling," sobbed the wife, "I was cleaning little Suzie's room when I found whips, handcuffs and chains under her bed, along with a very erotic porn magazine! What ever are we going to do?" "Well," replied the man, "I guess a spanking is out of the question?"
Connor