Categories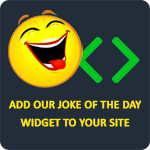 A man in a bar sees a friend at a table, drinking by himself. Approaching the friend, he comments, "You look terrible. What's the problem?" "My mother died in August," he said, "and left me $25,000." "Gee, that's tough," he replied. "Then in September," the friend continued, "my father died, leaving me $90,000." "Wow. Two parents gone in two months. No wonder you're depressed." "Then last month, my aunt died and left me $15,000." "Three close family members lost in three months? How sad." "Then this month," continued the friend, "absolutely nothing!"
theraj256
A little girl and her older brother were visiting their grandfather's farm. The older brother decided to play a trick on his younger sister. He told her that he discovered a man-eating chicken. The girl was frightened, and ran inside in fear. Then the older brother heard his little sister scream. He ran inside immediately. She was screaming at their grandfather, who was chowing down on a plate of fried chicken. "What is it?" he asked. The sister turned to him in fear and said," It- it's- IT'S A MAN EATING CHICKEN!!!"
ChickenFingerz2000
Alfie was listening to his sister practice her singing. "Sis," he said, "I wish you'd sing Christmas carols." "Thats nice of you, Alfie," she replied, "but why?" Alfie replied, "Because then I'd only have to hear your voice once a year!"
ibryildiz
Stan is seconds away from receiving a vasectomy when his brother and sister-in-law barge in holding their newborn baby. "Stop! You can't do this!" exclaims the brother. "And why not?" asks Stan. "Don't you want to have a beautiful baby someday? Like my wife and I have here?" Stan says nothing. The brother grows impatient, "C'mon Stan, I want a nephew. Stan, make me an uncle." Stan can't take it anymore. He gives his sister-in-law an apologetic look and asks his brother, "You're sure you want a nephew?" "Yes," the brother replies. "It would be an honor." "Well, congratulations, you're holding him."
Anonymous
Two men are talking and one says to the other, "My wife's doctor says she has menopause, and, man, has she been moody lately. How long do the symptoms of menopause usually last?" The other man replies, "Let me put it this way: menopause will be listed as the cause on your death certificate."
TheLaughFactory