Categories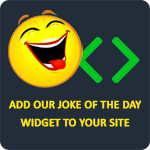 "Johnny, why did you kick your brother in the stomach?" exclaimed the angry mother. "It was pure accident, Mama. He turned around."
TheLaughFactory
A father and son are out shopping for Christmas presents for their family. The son asks, "What present are my sister and I going to get?" The dad answers, "I got you guys an iPad and iPod." "Wow, thanks," the son replies, "What will you give mom?" The dad says, "Your mom is getting an iRon."
zac bailie
Q: What happens once in a minute and twice in a moment but never in a decade?
A: The letter "m."
Iggy
Son: "Dad, when will I be old enough so I don't have to ask mom for her permission to go out?"
Dad: "Son, even I haven't grown old enough to go out without her permission!"
Naushil Mehta
A mom texts, "Hi! Son, what does IDK, LY, & TTYL mean?" He texts back, "I Don't Know, Love You, & Talk To You Later." The mom texts him, "It's ok, don't worry about it. I'll ask your sister, love you too."
valli :)