Categories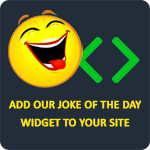 Q: Why do Jewish mothers make great parole officers?
A: They never let anyone finish a sentence!
Bookworm
Teacher: "Answer this math problem: if your father earns $500 a week and gives half to your mother. What will he have?"
Student: "A heart attack."
Anonymous
One day a man came home from work to find his wife crying hysterically in the kitchen. "What's wrong, dearest?" asked the confused husband. "Oh darling," sobbed the wife, "I was cleaning little Suzie's room when I found whips, handcuffs and chains under her bed, along with a very erotic porn magazine! What ever are we going to do?" "Well," replied the man, "I guess a spanking is out of the question?"
Connor
A teenage boy takes a quadriplegic girl on a date to dinner and the movies. At the end of the night out, he drives her back home and they start making out in his car. He tells the girl he feels uncomfortable doing this where her parents could come outside and catch them in the act. She says not to worry because she has a place they can go. So he helps her in her chair and she tells him to wheel her into the backyard. When they get in the back, she shows him a huge weeping willow tree that they can hide under and says he can do whatever he wants to her. Under the tree, she shows him two branches that can prop her up and he has his way with her. When they finish, he dresses himself and her, puts back into her chair, wheels her to the front door, and knocks. When her father sees the young man, he thanks him. The boy feels very uncomfortable because of what he just did to the man's daughter and asks, "Why are you thanking me?" "Because son," the father answers, "You are the first boy to take her out of the tree."
Mark My Words
A little girl and her older brother were visiting their grandfather's farm. The older brother decided to play a trick on his younger sister. He told her that he discovered a man-eating chicken. The girl was frightened, and ran inside in fear. Then the older brother heard his little sister scream. He ran inside immediately. She was screaming at their grandfather, who was chowing down on a plate of fried chicken. "What is it?" he asked. The sister turned to him in fear and said," It- it's- IT'S A MAN EATING CHICKEN!!!"
ChickenFingerz2000