Categories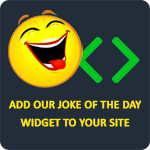 Three brothers wanted to give their blind mom a birthday gift. The first got her a big beautiful house. The second got her a brand new luxury vehicle with a driver. The third got her a talking parrot to keep her company. When they all got together, they wanted to know which gift she liked best. She said they were all great but she thanked her third son because she liked the chicken dinner best.
twicks50
A girl realized that she had grown hair between her legs. She got worried and asked her mom about that hair. Her mom said, "Don't worry. That part where the hair has grown is called a Monkey. Be proud that your monkey has grown hair." At dinner, the girl told her sister, "My monkey has grown hair." Her sister replied, "That's nothing. Mine is already eating bananas."
Anonymous
A little girl and her older brother were visiting their grandfather's farm. The older brother decided to play a trick on his younger sister. He told her that he discovered a man-eating chicken. The girl was frightened, and ran inside in fear. Then the older brother heard his little sister scream. He ran inside immediately. She was screaming at their grandfather, who was chowing down on a plate of fried chicken. "What is it?" he asked. The sister turned to him in fear and said," It- it's- IT'S A MAN EATING CHICKEN!!!"
ChickenFingerz2000
A mom and a son come home from the grocery store. The boy immediately empties out a box of animal crackers and the mom asks him why. The boy says, "You should not eat it if the seal is broken, so I'm looking for the seal."
Anonymous
Teacher: "Answer this math problem: if your father earns $500 a week and gives half to your mother. What will he have?"
Student: "A heart attack."
Anonymous