Categories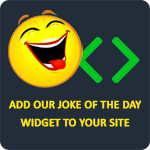 A little girl and her older brother were visiting their grandfather's farm. The older brother decided to play a trick on his younger sister. He told her that he discovered a man-eating chicken. The girl was frightened, and ran inside in fear. Then the older brother heard his little sister scream. He ran inside immediately. She was screaming at their grandfather, who was chowing down on a plate of fried chicken. "What is it?" he asked. The sister turned to him in fear and said," It- it's- IT'S A MAN EATING CHICKEN!!!"
ChickenFingerz2000
If you were born in September, it's pretty safe to assume that your parents started their new year with a bang.
Anonymous
"Mom, does God go to the bathroom?" a son asked. The mom replied, "No son, why?" The son said, "Well every morning Dad goes to the bathroom and pounds on the door and shouts, 'Oh God! Are you still in there?!?!' "
dallooway
Alfie was listening to his sister practice her singing. "Sis," he said, "I wish you'd sing Christmas carols." "Thats nice of you, Alfie," she replied, "but why?" Alfie replied, "Because then I'd only have to hear your voice once a year!"
ibryildiz
A father is having dinner with his son and says, "Son tell me a lie," and the son says, "Dad."
rafelito04