Categories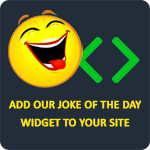 A little girl and her older brother were visiting their grandfather's farm. The older brother decided to play a trick on his younger sister. He told her that he discovered a man-eating chicken. The girl was frightened, and ran inside in fear. Then the older brother heard his little sister scream. He ran inside immediately. She was screaming at their grandfather, who was chowing down on a plate of fried chicken. "What is it?" he asked. The sister turned to him in fear and said," It- it's- IT'S A MAN EATING CHICKEN!!!"
ChickenFingerz2000
"Johnny, why did you kick your brother in the stomach?" exclaimed the angry mother. "It was pure accident, Mama. He turned around."
TheLaughFactory
A mom and a son come home from the grocery store. The boy immediately empties out a box of animal crackers and the mom asks him why. The boy says, "You should not eat it if the seal is broken, so I'm looking for the seal."
Anonymous
Three brothers wanted to give their blind mom a birthday gift. The first got her a big beautiful house. The second got her a brand new luxury vehicle with a driver. The third got her a talking parrot to keep her company. When they all got together, they wanted to know which gift she liked best. She said they were all great but she thanked her third son because she liked the chicken dinner best.
twicks50
A guy is sitting at a bar, and a drunk dude walks up to him, calling his mom a whore. The first guy just ignores it and stays in his spot drinking his beer. An hour goes by and the drunk dude comes back saying, "Your mom is a whore!" The first guy looks around the bar, sees people staring and says, "Don't worry, everything is cool here," and shrugs it off. After a few more shots, the drunk dude walks up a third time and says, "Your mom... is such... a whore!" The guy finally gets mad, throws his fist on the table and says, "You know what, Dad? Go home!"
Stampi2