Categories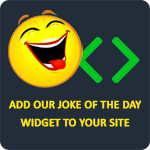 Q: What do you call the child of parents from Iceland and Cuba?
A: An ice cube.
Anonymous
Two cannibals, a father and son, are walking down the street, when they notice a hot girl passing by. The son says to the father, "Daddy, I'm hungry, let's eat that girl that just passed by." The father replies, "I've got a better idea son, let's take this one home and eat your mother instead!"
qyomjan
Growing up, my parents never grounded me unless they were really really mad. I can remember the first time they caught me drinking under age. Mom freaked out and grounded me for a month, but I guess that was a reasonable response for a parent of a second grader.
wfour
An old man and his wife went to the doctor for a check-up. While the man is with the doctor, the doctor asks him, "So how has life been treating you?" The old man replies, "The Lord's been good to me. Every night when I go to the bathroom, he turns the light on and when I'm finished, he turns the light off." While the old woman is with the doctor, the doctor told her what her husband said. She replied, "Damn it! The old fart's been pissing in the ice box again!"
TheLaughFactory
Two cannibals are eating dinner and one says, "I hate my mother-in-law." The other replies, "Well, just eat your noodles, then."
Anonymous