Categories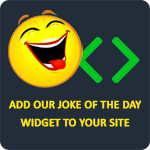 How many kids does it take to change a light bulb? Three. One to say, "But I never turn it on!" and two to say, "But I did it last time!"
shoff40
Marriage is the only war in which you sleep with the enemy.
Tanro Taitai
Get a new car for your spouse; it will be a great trade!
Anonymous
A child asks, "Mommy, does God use our bathroom?" The mother replies, "No darling. Why do you ask?" The child says, "Because every morning daddy bangs on the door and shouts, 'Oh God, are you still in there?'"
Anonymous