Categories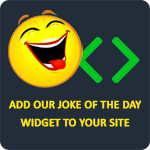 "Mom, does God go to the bathroom?" a son asked. The mom replied, "No son, why?" The son said, "Well every morning Dad goes to the bathroom and pounds on the door and shouts, 'Oh God! Are you still in there?!?!' "
dallooway
A man in a bar sees a friend at a table, drinking by himself. Approaching the friend, he comments, "You look terrible. What's the problem?" "My mother died in August," he said, "and left me $25,000." "Gee, that's tough," he replied. "Then in September," the friend continued, "my father died, leaving me $90,000." "Wow. Two parents gone in two months. No wonder you're depressed." "Then last month, my aunt died and left me $15,000." "Three close family members lost in three months? How sad." "Then this month," continued the friend, "absolutely nothing!"
theraj256
A girl realized that she had grown hair between her legs. She got worried and asked her mom about that hair. Her mom said, "Don't worry. That part where the hair has grown is called a Monkey. Be proud that your monkey has grown hair." At dinner, the girl told her sister, "My monkey has grown hair." Her sister replied, "That's nothing. Mine is already eating bananas."
Anonymous
A young boy came home from school and told his mother, "I had a big fight with my classmate. He called me a sissy." The mother asked, "What did you do?" The boy replied, "I hit him with my purse!"
Anonymous
My sister asked me to take off her clothes. So I took off her shirt. Then she said, "Take off my skirt." So I took off her skirt. "Take off my shoes." I took off her shoes. "Now take off my bra and panties." So I took them off. Then she looked at me and said, "I don't want to catch you wearing my things ever again."
Anonymous