Categories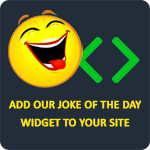 A fourth grade teacher asks the class, "Have any of you ever saved somebody's life?" A little boy raises his hand, "Yes, my little nephew's." "Wow, what a little hero you are! How did you do that, sweetie?" asks the teacher. The little guy replies, "I hid my sister's birth control pills!"
qyomjan
My sister asked me to take off her clothes. So I took off her shirt. Then she said, "Take off my skirt." So I took off her skirt. "Take off my shoes." I took off her shoes. "Now take off my bra and panties." So I took them off. Then she looked at me and said, "I don't want to catch you wearing my things ever again."
Anonymous
Little Johnny's new baby brother is screaming up a storm. He asks his mom, "Where'd we get him?" His mother replies, "He came from Heaven, Johnny." Johnny says, "Wow! I can see why they threw him out!"
suzyq2112
Q: Why is diarrhea hereditary?
A: It runs in your genes.
Hamid
A girl realized that she had grown hair between her legs. She got worried and asked her mom about that hair. Her mom said, "Don't worry. That part where the hair has grown is called a Monkey. Be proud that your monkey has grown hair." At dinner, the girl told her sister, "My monkey has grown hair." Her sister replied, "That's nothing. Mine is already eating bananas."
Anonymous