Categories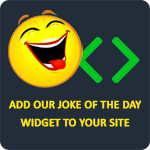 Q: Can February march?
A: No, but April may.
brock
"Johnny, why did you kick your brother in the stomach?" exclaimed the angry mother. "It was pure accident, Mama. He turned around."
TheLaughFactory
Q: What type of sandals do frogs wear?
A: Open-toad!
polina
A mom texts, "Hi! Son, what does IDK, LY, & TTYL mean?" He texts back, "I Don't Know, Love You, & Talk To You Later." The mom texts him, "It's ok, don't worry about it. I'll ask your sister, love you too."
valli :)
An Amish husband, wife and son travel to the city on vacation. They visit a shopping mall and while the mother is shopping, the father and son are standing in awe in front of an elevator (having no idea what it is). As they watch, an elderly lady walks into the strange silver doors and the doors close. The father and son watch as the numbers go up, and then back down. When the doors open, a beautiful young woman walks out. The father leans over and whispers to the son, "Son, go get your mother!"
Brandon