Categories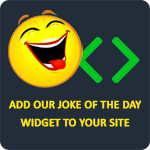 A man in a bar sees a friend at a table, drinking by himself. Approaching the friend, he comments, "You look terrible. What's the problem?" "My mother died in August," he said, "and left me $25,000." "Gee, that's tough," he replied. "Then in September," the friend continued, "my father died, leaving me $90,000." "Wow. Two parents gone in two months. No wonder you're depressed." "Then last month, my aunt died and left me $15,000." "Three close family members lost in three months? How sad." "Then this month," continued the friend, "absolutely nothing!"
theraj256
"Mom, does God go to the bathroom?" a son asked. The mom replied, "No son, why?" The son said, "Well every morning Dad goes to the bathroom and pounds on the door and shouts, 'Oh God! Are you still in there?!?!' "
dallooway
If you were born in September, it's pretty safe to assume that your parents started their new year with a bang.
Anonymous
A father is having dinner with his son and says, "Son tell me a lie," and the son says, "Dad."
rafelito04
Stan is seconds away from receiving a vasectomy when his brother and sister-in-law barge in holding their newborn baby. "Stop! You can't do this!" exclaims the brother. "And why not?" asks Stan. "Don't you want to have a beautiful baby someday? Like my wife and I have here?" Stan says nothing. The brother grows impatient, "C'mon Stan, I want a nephew. Stan, make me an uncle." Stan can't take it anymore. He gives his sister-in-law an apologetic look and asks his brother, "You're sure you want a nephew?" "Yes," the brother replies. "It would be an honor." "Well, congratulations, you're holding him."
Anonymous