Categories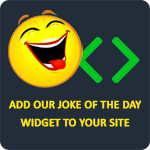 When I was young, I used to eat a lot because my parents told me that fat kids are harder to kidnap.
andreylyand
An old man and his wife went to the doctor for a check-up. While the man is with the doctor, the doctor asks him, "So how has life been treating you?" The old man replies, "The Lord's been good to me. Every night when I go to the bathroom, he turns the light on and when I'm finished, he turns the light off." While the old woman is with the doctor, the doctor told her what her husband said. She replied, "Damn it! The old fart's been pissing in the ice box again!"
TheLaughFactory
An American Indian boy goes to his mother one day with a puzzled look on his face. "Mom, why is my big brother named Mighty Storm?" "Because he was conceived during a mighty storm." "Why is my sister named Cornflower?" "Well, your father and I were in a cornfield when we made her." "And why is my other sister called Moonchild?" "We were watching the moon landing while she was conceived. Tell me, Torn Rubber, why are you so curious?"
Anonymous
A fourth grade teacher asks the class, "Have any of you ever saved somebody's life?" A little boy raises his hand, "Yes, my little nephew's." "Wow, what a little hero you are! How did you do that, sweetie?" asks the teacher. The little guy replies, "I hid my sister's birth control pills!"
qyomjan
Little Johnny's new baby brother is screaming up a storm. He asks his mom, "Where'd we get him?" His mother replies, "He came from Heaven, Johnny." Johnny says, "Wow! I can see why they threw him out!"
suzyq2112