Categories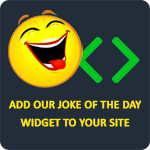 An American Indian boy goes to his mother one day with a puzzled look on his face. "Mom, why is my big brother named Mighty Storm?" "Because he was conceived during a mighty storm." "Why is my sister named Cornflower?" "Well, your father and I were in a cornfield when we made her." "And why is my other sister called Moonchild?" "We were watching the moon landing while she was conceived. Tell me, Torn Rubber, why are you so curious?"
Anonymous
A fourth grade teacher asks the class, "Have any of you ever saved somebody's life?" A little boy raises his hand, "Yes, my little nephew's." "Wow, what a little hero you are! How did you do that, sweetie?" asks the teacher. The little guy replies, "I hid my sister's birth control pills!"
qyomjan
I just got back from a pleasure trip. I took my mother-in-law to the airport.
Bookworm
Little Johnny's new baby brother is screaming up a storm. He asks his mom, "Where'd we get him?" His mother replies, "He came from Heaven, Johnny." Johnny says, "Wow! I can see why they threw him out!"
suzyq2112
Q: Why is diarrhea hereditary?
A: It runs in your genes.
Hamid