Categories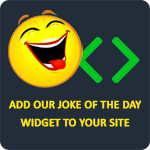 Three babies are in their mother's womb. One of them says, "I want to be an artist so everyone knows what it looks like in here." The next one says, "I want to be a swimmer because I get so much practice in here." The last baby says, "I'm going to be a hunter because if that snake comes in here and pokes me again, I'm going to chop that thing in half!"
KarateBabe
A child goes to his father and asks, "Father, how do parents think of names for their children?" The father answers, "Well, son, the night before the mother gives birth, the father goes into the woods and camps for the night. When he wakes the following morning, the first thing he sees is what he names his child, which is why your sister is named Soaring Eagle. Why do you ask, Bear Poop?"
SaltyDog01
Three brothers wanted to give their blind mom a birthday gift. The first got her a big beautiful house. The second got her a brand new luxury vehicle with a driver. The third got her a talking parrot to keep her company. When they all got together, they wanted to know which gift she liked best. She said they were all great but she thanked her third son because she liked the chicken dinner best.
twicks50
A mother comes home from work to find that her kids are hiding behind the couch. She asks what's wrong, and the kids reply that aunt Sally was in the house naked. So she goes to her bedroom to investigate, and she finds her husband lying on the bed naked and sweaty. She asks, "What's going on?" He replies, "I'm having a heart attack." She says "I'm going to call 911, while I'm really looking for my sister." She discovers the aunt in the bathroom closet in the nude, and gives her a slap, "How dare you! My husband is having a heart attack and you're running around scaring the kids!"
jokester01
A guy is sitting at a bar, and a drunk dude walks up to him, calling his mom a whore. The first guy just ignores it and stays in his spot drinking his beer. An hour goes by and the drunk dude comes back saying, "Your mom is a whore!" The first guy looks around the bar, sees people staring and says, "Don't worry, everything is cool here," and shrugs it off. After a few more shots, the drunk dude walks up a third time and says, "Your mom... is such... a whore!" The guy finally gets mad, throws his fist on the table and says, "You know what, Dad? Go home!"
Stampi2