Categories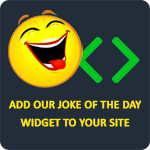 Two guys are sitting on a bar stool. One starts to insult the other one. He screams, "I slept with your mother!" The bar gets quiet as everyone listens to see what the other man will do. The first again yells, "I SLEPT WITH YOUR MOTHER!" The other man says, "Go home, dad. You're drunk."
Zoha Hussain
Q: Why did the fish blush?
A: Because it saw the ocean's bottom.
cj
It was a baby mosquito's first day to fly out from home. When the mosquito came back home later that day, the father mosquito asked, "How was your journey?" The baby mosquito replied, "It went great. Everyone was clapping for me!"
Swati
A 7 year-old and a 4 year-old are in their bedroom. "You know what?" says the 7 year-old, "I think it's time we started swearing. When we go downstairs for breakfast, I'll swear first, then you." "Okay," replies the 4 year-old. In the kitchen, when the mother asks the 7 year-old what he wants for breakfast, he answers, "I'll have Coco Pops, bitch." *WHACK* He goes flying out of his chair, crying his eyes out. The mother looks at the 4 year-old & sternly asks, "And what do you want?" "Dunno," he replies, "But it won't be fucking Coco Pops."
abbott98
Four men are in the hospital waiting room because their wives are having babies. A nurse approaches the first guy and says, "Congratulations! You're the father of twins." "That's odd," answers the man. "I work for the Minnesota Twins!" A nurse then yells the second man, "Congratulations! You're the father of triplets!" "That's weird," answers the second man. "I work for the 3M company!" A nurse goes up to the third man saying, "Congratulations! You're the father of quadruplets." "That's strange," he answers. "I work for the Four Seasons hotel!" The last man begins groaning and banging his head against the wall. "What's wrong?" the others ask. "I work for 7 Up!"
Anonymous