Categories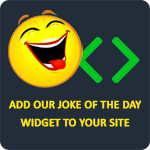 The bride, upon her engagement, goes to her mother and says, "I've found a man just like Father!" Her mother replies, "So what do you want from me, sympathy?"
xmastawong
Growing up, my parents never grounded me unless they were really really mad. I can remember the first time they caught me drinking under age. Mom freaked out and grounded me for a month, but I guess that was a reasonable response for a parent of a second grader.
wfour
The trouble with being the best man at a wedding is that you never get to prove it.
leninakansy
Three old friends got together and were discussing what movie they had watched when they conceived their children. One lady says she had just watched a movie called The Search for One-eye Jimmy and nine months later she gave birth to her baby. Another lady says, "Oh, I saw the movie Snow White and the Seven Dwarfs and then nine months later I had septuplets." The last lady gasps and exclaims, "Oh no, I just watched 101 Dalmations!"
PEPE WHO
Q: What do you call the child of parents from Iceland and Cuba?
A: An ice cube.
Anonymous