Categories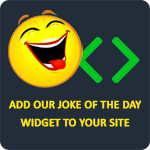 A girl realized that she had grown hair between her legs. She got worried and asked her mom about that hair. Her mom said, "Don't worry. That part where the hair has grown is called a Monkey. Be proud that your monkey has grown hair." At dinner, the girl told her sister, "My monkey has grown hair." Her sister replied, "That's nothing. Mine is already eating bananas."
Anonymous
A doctor tells an old couple at his office he needs to get a stool sample, a urine sample, and a blood test from the old man. Hard of hearing, the old man asks his wife what the doctor said. The wife replies, "He needs a pair of your underwear."
Mark My Words
My sister asked me to take off her clothes. So I took off her shirt. Then she said, "Take off my skirt." So I took off her skirt. "Take off my shoes." I took off her shoes. "Now take off my bra and panties." So I took them off. Then she looked at me and said, "I don't want to catch you wearing my things ever again."
Anonymous
A man admitted he lied on his income tax return: he listed himself as the head of the household!
TheLaughFactory
Two men are talking and one says to the other, "My wife's doctor says she has menopause, and, man, has she been moody lately. How long do the symptoms of menopause usually last?" The other man replies, "Let me put it this way: menopause will be listed as the cause on your death certificate."
TheLaughFactory