Categories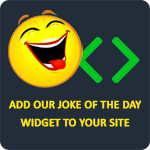 A man in a bar sees a friend at a table, drinking by himself. Approaching the friend, he comments, "You look terrible. What's the problem?" "My mother died in August," he said, "and left me $25,000." "Gee, that's tough," he replied. "Then in September," the friend continued, "my father died, leaving me $90,000." "Wow. Two parents gone in two months. No wonder you're depressed." "Then last month, my aunt died and left me $15,000." "Three close family members lost in three months? How sad." "Then this month," continued the friend, "absolutely nothing!"
theraj256
A 7 year-old and a 4 year-old are in their bedroom. "You know what?" says the 7 year-old, "I think it's time we started swearing. When we go downstairs for breakfast, I'll swear first, then you." "Okay," replies the 4 year-old. In the kitchen, when the mother asks the 7 year-old what he wants for breakfast, he answers, "I'll have Coco Pops, bitch." *WHACK* He goes flying out of his chair, crying his eyes out. The mother looks at the 4 year-old & sternly asks, "And what do you want?" "Dunno," he replies, "But it won't be fucking Coco Pops."
abbott98
"Mom, does God go to the bathroom?" a son asked. The mom replied, "No son, why?" The son said, "Well every morning Dad goes to the bathroom and pounds on the door and shouts, 'Oh God! Are you still in there?!?!' "
dallooway
If you were born in September, it's pretty safe to assume that your parents started their new year with a bang.
Anonymous
Johnny was playing outside when he had to go to the bathroom. He runs inside his house and his grandma was in the bathroom naked about to take a shower. He looks at her crotch and says, "Whats that?" She says, "Well, it's a beaver, Johnny." The next day the same thing happens, only his mom is taking the shower. He says, "Mom I know what that is. It's a beaver, but I think grandma's is dead because its tongue is hanging out."
Anonymous