Categories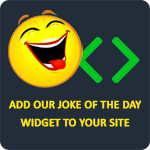 I just got back from a pleasure trip. I took my mother-in-law to the airport.
Bookworm
A man in a bar sees a friend at a table, drinking by himself. Approaching the friend, he comments, "You look terrible. What's the problem?" "My mother died in August," he said, "and left me $25,000." "Gee, that's tough," he replied. "Then in September," the friend continued, "my father died, leaving me $90,000." "Wow. Two parents gone in two months. No wonder you're depressed." "Then last month, my aunt died and left me $15,000." "Three close family members lost in three months? How sad." "Then this month," continued the friend, "absolutely nothing!"
theraj256
"Mom, does God go to the bathroom?" a son asked. The mom replied, "No son, why?" The son said, "Well every morning Dad goes to the bathroom and pounds on the door and shouts, 'Oh God! Are you still in there?!?!' "
dallooway
A kid asks his dad, "What's a man?" The dad says, "A man is someone who is responsible and cares for their family." The kid says, "I hope one day I can be a man just like mom!"
Anonymous
A father is having dinner with his son and says, "Son tell me a lie," and the son says, "Dad."
rafelito04