Categories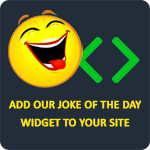 How many kids does it take to change a light bulb? Three. One to say, "But I never turn it on!" and two to say, "But I did it last time!"
shoff40
Two cannibals are eating dinner and one says, "I hate my mother-in-law." The other replies, "Well, just eat your noodles, then."
Anonymous
Get a new car for your spouse; it will be a great trade!
Anonymous
My sister asked me to take off her clothes. So I took off her shirt. Then she said, "Take off my skirt." So I took off her skirt. "Take off my shoes." I took off her shoes. "Now take off my bra and panties." So I took them off. Then she looked at me and said, "I don't want to catch you wearing my things ever again."
Anonymous
I went to my sisters house and saw her packing a suitcase. I asked, "What's going on?" She said, "I'm feeling homesick." I suggested, "But you're at your home now." She replied, "I know. I'm sick of it!"
Anonymous