Categories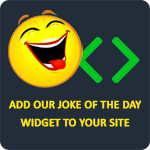 A doctor tells an old couple at his office he needs to get a stool sample, a urine sample, and a blood test from the old man. Hard of hearing, the old man asks his wife what the doctor said. The wife replies, "He needs a pair of your underwear."
Mark My Words
Little Johnny came in from the backyard sobbing. His mother asked "What's the matter?" "Dad was fixing the fence and hit his thumb with the hammer," he said through his tears. "That's not so serious," his mother said, "and a big boy like you shouldn't cry about that. Why didn't you just laugh?" "I did!" cried Johnny.
ldycre8or
Three old friends got together and were discussing what movie they had watched when they conceived their children. One lady says she had just watched a movie called The Search for One-eye Jimmy and nine months later she gave birth to her baby. Another lady says, "Oh, I saw the movie Snow White and the Seven Dwarfs and then nine months later I had septuplets." The last lady gasps and exclaims, "Oh no, I just watched 101 Dalmations!"
PEPE WHO
What is the difference between an outlaw and an in-law? Outlaws are wanted.
Anonymous
Traveling through the country, an old couple drives into a gas station. The attendant asks the old man, "Where you folks from? I know everybody in this town." The old man says, "We're from Nebraska." Hard of hearing, the old lady nudges her husband, "What did he say, papa?" The old man answers her, "He asked us where we are from." "Oh," replies the old woman. The old man tells the attendant to fill up the tank and check the tires. When that's all done, the attendant tells the old man, "You know, the worst piece of ass I ever had was from Nebraska." The old lady nudges her husband once more and asks, "What did he say, papa?" The husband replies, "He thinks he knows you, mama."
Mark My Words