Categories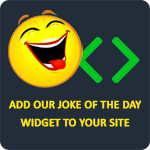 Stan is seconds away from receiving a vasectomy when his brother and sister-in-law barge in holding their newborn baby. "Stop! You can't do this!" exclaims the brother. "And why not?" asks Stan. "Don't you want to have a beautiful baby someday? Like my wife and I have here?" Stan says nothing. The brother grows impatient, "C'mon Stan, I want a nephew. Stan, make me an uncle." Stan can't take it anymore. He gives his sister-in-law an apologetic look and asks his brother, "You're sure you want a nephew?" "Yes," the brother replies. "It would be an honor." "Well, congratulations, you're holding him."
Foxie
A married couple, Harry and Esther, are out shopping one morning when Esther says, "Darling, it's my mother's birthday tomorrow. What shall we buy for her? She said she would like something electric." Harry replies, "How about a chair?"
Maryanne
Two guys are sitting on a bar stool. One starts to insult the other one. He screams, "I slept with your mother!" The bar gets quiet as everyone listens to see what the other man will do. The first again yells, "I SLEPT WITH YOUR MOTHER!" The other man says, "Go home, dad. You're drunk."
Zoha Hussain
An Italian mother says, "If you don't eat all the food on this plate, I'll kill you." A Jewish mother says, "If you don't eat all the food on this plate, I'll kill myself."
Anonymous
A hillbilly family's only son saves up money to go to college. After about three years, he comes back home. They are sitting around the dinner table, when the dad says, ''Well son, you done gone to college, so you must be perty smart. Why don't you speak some math fer' us?'' ''Ok, Pa.'' The son then says, ''Pi R squared.'' After a moment, the dad says, ''Why son, they ain't teached ya nothin'! Pie are round, cornbread are square.''
aashok