Categories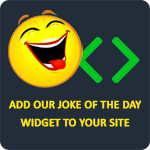 Two cannibals are eating dinner and one says, "I hate my mother-in-law." The other replies, "Well, just eat your noodles, then."
Anonymous
Get a new car for your spouse; it will be a great trade!
Anonymous
My sister asked me to take off her clothes. So I took off her shirt. Then she said, "Take off my skirt." So I took off her skirt. "Take off my shoes." I took off her shoes. "Now take off my bra and panties." So I took them off. Then she looked at me and said, "I don't want to catch you wearing my things ever again."
Anonymous
I went to my sisters house and saw her packing a suitcase. I asked, "What's going on?" She said, "I'm feeling homesick." I suggested, "But you're at your home now." She replied, "I know. I'm sick of it!"
Anonymous
A child asks, "Mommy, does God use our bathroom?" The mother replies, "No darling. Why do you ask?" The child says, "Because every morning daddy bangs on the door and shouts, 'Oh God, are you still in there?'"
Anonymous