Categories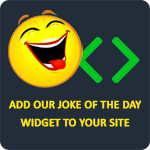 A man kills a deer and takes it home to cook for dinner. Both he and his wife decide that they won't tell the kids what kind of meat it is, but will give them a clue and let them guess. The dad said, "Well it's what Mommy calls me sometimes." The little girl screamed to her brother, "Don't eat it. Its an asshole!
blackray
There is a senior citizen driving on the highway. His wife calls him on his cell phone and in a worried voice says, ''Herman, be careful! I just heard on the radio that there is a madman driving the wrong way on Route 280!'' Herman says, ''I know, but there isn't just one, there are hundreds!''
nngriffin
In a Catholic school cafeteria, a nun places a note in front of a pile of apples, "Only take one. God is watching." Further down the line is a pile of cookies. A little boy makes his own note, "Take all you want. God is watching the apples."
pinktabby
A man buys a lie detector robot that slaps people who lie. He decides to test it at dinner. He asks his son, "Son, where were you today during school hours?" "At school." The robot slaps the son. "Okay, I went to the movies!" The father asks, "Which one?" "Harry Potter." The robot slaps the son again. "Okay, I was watching porn!" The father replies, "What? When I was your age I didn't even know what porn was!" The robot slaps the father. The mom chimes in, "Haha! After all, he is your son!" The robot slaps the mother.
ikennaroger
An elderly couple was attending church services. About halfway through she leans over and says to her husband. "I just let out a silent fart. What do you think I should do?" He replies, "Put a new battery in your hearing aid."
TheLaughFactory