Categories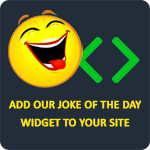 Mother: "Are you talking back to me?!"
Son: "Well yeah, that's kinda how communication works."
Anonymous
Little Johnny likes to gamble. One day, his dad gets a new job, so his family has to move to a new city. Johnny's dad thinks, "I'll get a head start on Johnny's gambling." He calls the teacher and says, "My son Johnny will be starting your class tomorrow, but he likes to gamble, so you'll have to keep an eye on him." The teacher says, "Okay," because she can handle it. The next day, Johnny walks into class and hands the teacher an apple and says, "Hi, my name is Johnny." She says, "Yes, I know who you are." Johnny smiles and says, "I bet you $10 you've got a mole on your butt." The teacher thinks that she will break his little gambling problem, so she takes him up on the bet. She pulls her pants down, shows him her butt, and there is no mole. That afternoon, Johnny goes home and tells his dad that he lost $10 to the teacher and explains why. His dad calls the teacher and says, "Johnny said that he bet you that you had a mole on your butt and he lost." The teacher says, "Yeah, and I think I broke his gambling problem." Johnny's dad laughs and says, "No you didn't, he bet me $100 this morning that he'd see your ass before the day was over."
Whiskey2011
Q: How do you make a tissue dance?
A: Put a little boogie in it.
make people laugh
Little Susie, a six-year-old, complained, "Mother, I've got a stomach ache." "That's because your stomach is empty," the mother replied. "You would feel better if you had something in it." That afternoon, her father came complaining that he had a severe headache all day. Susie perked up, "That's because it's empty," she said. "You'd feel better if you had something in it."
pieisgood1332
A young man goes into a drug store to buy condoms. The pharmacist tells him that the condoms come in packs of three, nine, or 12, and asks which ones the young man wants. "Well," he says, "Ive been seeing this girl for a while and she's really hot. I want the condoms because I think tonight's the night. We're having dinner with her parents and then we're going out. Once she's had me, she'll want me all the time, so you'd better give me the 12 pack!" The young man makes his purchase and leaves. Later that evening, he sits down to dinner with his girlfriend and her parents. He asks if he may give the blessing and they agree. He begins the prayer, but continues praying for several minutes. The girl leans over and says, "You never told me that you were such a religious person." He leans over to her and says, "You never told me that your father is a pharmacist."
ocastro