Categories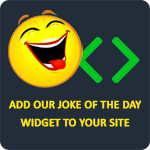 Q: How do you make a tissue dance?
A: Put a little boogie in it.
make people laugh
Little Susie, a six-year-old, complained, "Mother, I've got a stomach ache." "That's because your stomach is empty," the mother replied. "You would feel better if you had something in it." That afternoon, her father came complaining that he had a severe headache all day. Susie perked up, "That's because it's empty," she said. "You'd feel better if you had something in it."
pieisgood1332
Little Johnny came home from school and heard the word "b*tch." He asks his mom what the word meant and she responds, "It means priest." The next day little Johnny comes home and hears the word "sh*t" and asks his dad what it means. His dad answers, "It means food on the table." At school, he hears the word "f*cking" and asks his mom what it means. She responds, "It means getting ready." The next day a priest came over for dinner and little Johnny opened the door and says, "Hey son of a b*tch. There's sh*t on the table and my parents are upstairs f*cking!"
gabbylove
A man kills a deer and takes it home to cook for dinner. Both he and his wife decide that they won't tell the kids what kind of meat it is, but will give them a clue and let them guess. The dad said, "Well it's what Mommy calls me sometimes." The little girl screamed to her brother, "Don't eat it. Its an asshole!
blackray
A man tells his wife, "Honey, your mom fell down the stairs 15 minutes ago." The wife yells at him, "Why are you just telling me now?" He said, "Because I couldn't stop laughing."
lulugabs