Categories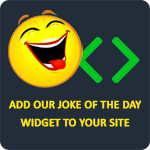 A boy asks his father, "Dad, are bugs good to eat?" "That's disgusting. Don't talk about things like that over dinner," the dad replies. After dinner the father asks, "Now, son, what did you want to ask me?" "Oh, nothing," the boy says. "There was a bug in your soup, but now it's gone."
John Ocallaghan
Dad: "Can I see your report card, son?"
Son: "I don't have it."
Dad: "Why?"
Son: "I gave it to my friend. He wanted to scare his parents."
Anonymous
A girl realized that she had grown hair between her legs. She got worried and asked her mom about that hair. Her mom calmly said, "That part where the hair has grown is called your monkey. Be proud that your monkey has grown hair." The girl smiled. At dinner, she told her sister, "My monkey has grown hair." Her sister smiled and said, "That's nothing; mine is already eating bananas."
Anna Fox
A group of fathers are sitting around talking about their teenage daughters. One dad says, " I think my 16 year old is smoking; I found a empty cigarette pack under her bed." All the other fathers say in unison, "Oh no!" Then a second dad says, "That's nothing. I found an empty liquor bottle under my 16 year old's bed." All the other fathers say in unison, "Oh dear!" Then a third dad says, "Mine's worse than both of those combined: I went into my 16 year old daughter's room and found a used condom." All the other fathers say in unison, "Jesus Christ!" The third father replies "Yeah, I didn't know she had a dick!"
josh.p. :)
A mother said to her son, "Look at that kid over there; he's not misbehaving." The son replied, "Maybe he has good parents then!"
Anonymous