Categories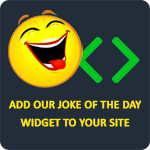 "Johnny, why did you kick your brother in the stomach?" exclaimed the angry mother. "It was pure accident, Mama. He turned around."
TheLaughFactory
Mother: "Are you talking back to me?!"
Son: "Well yeah, that's kinda how communication works."
Anonymous
A teacher asks, "What's the difference between a problem and a challenge?" A student repsonds, "3 boys + 1 girl = problem. 1 boy + 3 girls = challenge."
omidmodern
A husband got his mother-in-law a cemetery plot for Christmas. It came with a coffin, tomb stone, the works. Next Christmas comes by and the husband gets her nothing. When the mother-in-law asks, "Why didn't you get me a gift?" the husband says, "You haven't used the one I got you last year!"
Squishy1717
In a Catholic school cafeteria, a nun places a note in front of a pile of apples, "Only take one. God is watching." Further down the line is a pile of cookies. A little boy makes his own note, "Take all you want. God is watching the apples."
pinktabby