Categories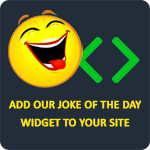 Q: What starts with E, ends with E, and has only 1 letter in it?
A: Envelope.
hatcher
A husband got his mother-in-law a cemetery plot for Christmas. It came with a coffin, tomb stone, the works. Next Christmas comes by and the husband gets her nothing. When the mother-in-law asks, "Why didn't you get me a gift?" the husband says, "You haven't used the one I got you last year!"
Squishy1717
Mother: "Are you talking back to me?!"
Son: "Well yeah, that's kinda how communication works."
Anonymous
Little Johnny likes to gamble. One day, his dad gets a new job, so his family has to move to a new city. Johnny's dad thinks, "I'll get a head start on Johnny's gambling." He calls the teacher and says, "My son Johnny will be starting your class tomorrow, but he likes to gamble, so you'll have to keep an eye on him." The teacher says, "Okay," because she can handle it. The next day, Johnny walks into class and hands the teacher an apple and says, "Hi, my name is Johnny." She says, "Yes, I know who you are." Johnny smiles and says, "I bet you $10 you've got a mole on your butt." The teacher thinks that she will break his little gambling problem, so she takes him up on the bet. She pulls her pants down, shows him her butt, and there is no mole. That afternoon, Johnny goes home and tells his dad that he lost $10 to the teacher and explains why. His dad calls the teacher and says, "Johnny said that he bet you that you had a mole on your butt and he lost." The teacher says, "Yeah, and I think I broke his gambling problem." Johnny's dad laughs and says, "No you didn't, he bet me $100 this morning that he'd see your ass before the day was over."
Whiskey2011
Little Susie, a six-year-old, complained, "Mother, I've got a stomach ache." "That's because your stomach is empty," the mother replied. "You would feel better if you had something in it." That afternoon, her father came complaining that he had a severe headache all day. Susie perked up, "That's because it's empty," she said. "You'd feel better if you had something in it."
pieisgood1332