Categories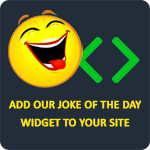 At school, Little Johnny's classmate tells him that most adults are hiding at least one dark secret, so it's very easy to blackmail them by saying, "I know the whole truth." Little Johnny decides to go home and try it out. Johnny's mother greets him at home, and he tells her, "I know the whole truth." His mother quickly hands him $20 and says, "Just don't tell your father." Quite pleased, the boy waits for his father to get home from work, and greets him with, "I know the whole truth." The father promptly hands him $40 and says, "Please don't say a word to your mother." Very pleased, the boy is on his way to school the next day when he sees the mailman at his front door. The boy greets him by saying, "I know the whole truth." The mailman immediately drops the mail, opens his arms, and says, "Then come give your Daddy a great big hug!"
Anonymous
A young boy comes home from school in a bad mood. His father asks him, "What's wrong, son?" The kid tells his dad that he's upset because another kid has been teasing him and calling him gay. The father says, "Punch him in the face next time he does that. I bet he'll stop." The kid replies, "Yeah, but he's so cute!"
MaryConcetta
A hillbilly family's only son saves up money to go to college. After about three years, he comes back home. They are sitting around the dinner table, when the dad says, ''Well son, you done gone to college, so you must be perty smart. Why don't you speak some math fer' us?'' ''Ok, Pa.'' The son then says, ''Pi R squared.'' After a moment, the dad says, ''Why son, they ain't teached ya nothin'! Pie are round, cornbread are square.''
aashok
Mother: "Are you talking back to me?!"
Son: "Well yeah, that's kinda how communication works."
Anonymous
A guy is sitting at a bar, and a drunk dude walks up to him, calling his mom a whore. The first guy just ignores it and stays in his spot drinking his beer. An hour goes by and the drunk dude comes back saying, "Your mom is a whore!" The first guy looks around the bar, sees people staring and says, "Don't worry, everything is cool here," and shrugs it off. After a few more shots, the drunk dude walks up a third time and says, "Your mom... is such... a whore!" The guy finally gets mad, throws his fist on the table and says, "You know what, Dad? Go home!"
Stampi2