Categories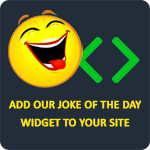 A little girl is serving her father tea while her mother is out shopping. The mother comes home and the father says, "Watch this!" The little girl goes and serves the mother tea. The mother responds, "Did it ever occur to you that the only place she can reach to get water is the toilet?"
WhiteHawk
Why did the chicken cross the playground? To get to the other slide!!
My step dad
Alfie was listening to his sister practice her singing. "Sis," he said, "I wish you'd sing Christmas carols." "Thats nice of you, Alfie," she replied, "but why?" Alfie replied, "Because then I'd only have to hear your voice once a year!"
ibryildiz
Teacher: "Answer this math problem: if your father earns $500 a week and gives half to your mother. What will he have?"
Student: "A heart attack."
Anonymous
A: I have the perfect son.
B: Does he smoke?
A: No, he doesn't.
B: Does he drink whiskey?
A: No, he doesn't.
B: Does he ever come home late?
A: No, he doesn't.
B: I guess you really do have the perfect son. How old is he?
A: He will be six months old next Wednesday.
tumblr jokr