Categories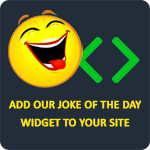 A man tells his wife, "Honey, your mom fell down the stairs 15 minutes ago." The wife yells at him, "Why are you just telling me now?" He said, "Because I couldn't stop laughing."
lulugabs
Why did the chicken cross the playground? To get to the other slide!!
My step dad
Dad: "Can I see your report card, son?"
Son: "I don't have it."
Dad: "Why?"
Son: "I gave it to my friend. He wanted to scare his parents."
Anonymous
Three brothers wanted to give their blind mom a birthday gift. The first got her a big beautiful house. The second got her a brand new luxury vehicle with a driver. The third got her a talking parrot to keep her company. When they all got together, they wanted to know which gift she liked best. She said they were all great but she thanked her third son because she liked the chicken dinner best.
twicks50
A group of fathers are sitting around talking about their teenage daughters. One dad says, " I think my 16 year old is smoking; I found a empty cigarette pack under her bed." All the other fathers say in unison, "Oh no!" Then a second dad says, "That's nothing. I found an empty liquor bottle under my 16 year old's bed." All the other fathers say in unison, "Oh dear!" Then a third dad says, "Mine's worse than both of those combined: I went into my 16 year old daughter's room and found a used condom." All the other fathers say in unison, "Jesus Christ!" The third father replies "Yeah, I didn't know she had a dick!"
josh.p. :)