Categories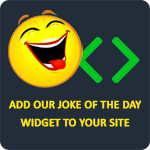 A doctor tells an old couple at his office he needs to get a stool sample, a urine sample, and a blood test from the old man. Hard of hearing, the old man asks his wife what the doctor said. The wife replies, "He needs a pair of your underwear."
Mark My Words
A kid walks up to his mom and asks, "Mom, can I go bungee jumping?" The mom says "No, you were born from broken rubber and I don't want you to go out the same way!"
Anonymous
A mother said to her son, "Look at that kid over there; he's not misbehaving." The son replied, "Maybe he has good parents then!"
Anonymous
Why did the chicken cross the playground? To get to the other slide!!
My step dad
Little Johnny came home from school and heard the word "b*tch." He asks his mom what the word meant and she responds, "It means priest." The next day little Johnny comes home and hears the word "sh*t" and asks his dad what it means. His dad answers, "It means food on the table." At school, he hears the word "f*cking" and asks his mom what it means. She responds, "It means getting ready." The next day a priest came over for dinner and little Johnny opened the door and says, "Hey son of a b*tch. There's sh*t on the table and my parents are upstairs f*cking!"
gabbylove