Categories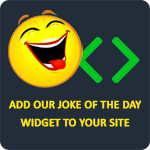 A fourth grade teacher asks the class, "Have any of you ever saved somebody's life?" A little boy raises his hand, "Yes, my little nephew's." "Wow, what a little hero you are! How did you do that, sweetie?" asks the teacher. The little guy replies, "I hid my sister's birth control pills!"
qyomjan
"Mom, does God go to the bathroom?" a son asked. The mom replied, "No son, why?" The son said, "Well every morning Dad goes to the bathroom and pounds on the door and shouts, 'Oh God! Are you still in there?!?!' "
dallooway
A husband and wife have four boys. The odd part of it is that the older three have red hair, light skin, and are tall, while the youngest son has black hair, dark eyes, and is short. The father eventually takes ill and is lying on his deathbed when he turns to his wife and says, "Honey, before I die, be completely honest with me. Is our youngest son my child?" The wife replies, "I swear on everything that's holy that he is your son." With that, the husband passes away. The wife then mutters, "Thank God he didn't ask about the other three."
dglien39
A father is having dinner with his son and says, "Son tell me a lie," and the son says, "Dad."
rafelito04
A mother went to pick up her daughter from elementary school and found her doing handstands against the wall. When they got into the car, the mother said, "Darling, I wish you wouldn't do that because the boys can see your panties." "Okay, mommy", the little girl replied. The next day, the mother noticed her little girls hands looked dirty, so she asked, "You haven't been doing handstands again and letting those boys see your panties, have you?" "Oh no mummy," the daughter replied. "Honestly! I took them off first."
Lucky