Categories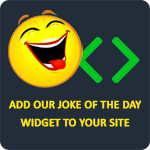 Maria, a devout Catholic, got married and had 15 children. After her first husband died, she remarried and had 15 more children. A few weeks after her second husband died, Maria also passed away. At Maria's funeral, the priest looked skyward and said, "At last, they're finally together." Her sister sitting in the front row said, "Excuse me, Father, but do you mean she and her first husband, or she and her second husband?" The priest replied, "I mean her legs."
Otto Stewart
A young boy comes home from school in a bad mood. His father asks him, "What's wrong, son?" The kid tells his dad that he's upset because another kid has been teasing him and calling him gay. The father says, "Punch him in the face next time he does that. I bet he'll stop." The kid replies, "Yeah, but he's so cute!"
MaryConcetta
Mother: "Are you talking back to me?!"
Son: "Well yeah, that's kinda how communication works."
Anonymous
Little Johnny likes to gamble. One day, his dad gets a new job, so his family has to move to a new city. Johnny's dad thinks, "I'll get a head start on Johnny's gambling." He calls the teacher and says, "My son Johnny will be starting your class tomorrow, but he likes to gamble, so you'll have to keep an eye on him." The teacher says, "Okay," because she can handle it. The next day, Johnny walks into class and hands the teacher an apple and says, "Hi, my name is Johnny." She says, "Yes, I know who you are." Johnny smiles and says, "I bet you $10 you've got a mole on your butt." The teacher thinks that she will break his little gambling problem, so she takes him up on the bet. She pulls her pants down, shows him her butt, and there is no mole. That afternoon, Johnny goes home and tells his dad that he lost $10 to the teacher and explains why. His dad calls the teacher and says, "Johnny said that he bet you that you had a mole on your butt and he lost." The teacher says, "Yeah, and I think I broke his gambling problem." Johnny's dad laughs and says, "No you didn't, he bet me $100 this morning that he'd see your ass before the day was over."
Whiskey2011
Little Susie, a six-year-old, complained, "Mother, I've got a stomach ache." "That's because your stomach is empty," the mother replied. "You would feel better if you had something in it." That afternoon, her father came complaining that he had a severe headache all day. Susie perked up, "That's because it's empty," she said. "You'd feel better if you had something in it."
pieisgood1332