Categories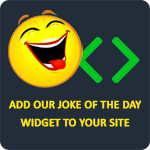 A mother said to her son, "Look at that kid over there; he's not misbehaving." The son replied, "Maybe he has good parents then!"
Anonymous
A teacher asks, "What's the difference between a problem and a challenge?" A student repsonds, "3 boys + 1 girl = problem. 1 boy + 3 girls = challenge."
omidmodern
"Johnny, why did you kick your brother in the stomach?" exclaimed the angry mother. "It was pure accident, Mama. He turned around."
TheLaughFactory
A mom and a son come home from the grocery store. The boy immediately empties out a box of animal crackers and the mom asks him why. The boy says, "You should not eat it if the seal is broken, so I'm looking for the seal."
Anonymous
A guy is sitting at a bar, and a drunk dude walks up to him, calling his mom a whore. The first guy just ignores it and stays in his spot drinking his beer. An hour goes by and the drunk dude comes back saying, "Your mom is a whore!" The first guy looks around the bar, sees people staring and says, "Don't worry, everything is cool here," and shrugs it off. After a few more shots, the drunk dude walks up a third time and says, "Your mom... is such... a whore!" The guy finally gets mad, throws his fist on the table and says, "You know what, Dad? Go home!"
Stampi2