Categories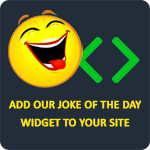 A fourth grade teacher asks the class, "Have any of you ever saved somebody's life?" A little boy raises his hand, "Yes, my little nephew's." "Wow, what a little hero you are! How did you do that, sweetie?" asks the teacher. The little guy replies, "I hid my sister's birth control pills!"
qyomjan
A father is having dinner with his son and says, "Son tell me a lie," and the son says, "Dad."
rafelito04
A mother went to pick up her daughter from elementary school and found her doing handstands against the wall. When they got into the car, the mother said, "Darling, I wish you wouldn't do that because the boys can see your panties." "Okay, mommy", the little girl replied. The next day, the mother noticed her little girls hands looked dirty, so she asked, "You haven't been doing handstands again and letting those boys see your panties, have you?" "Oh no mummy," the daughter replied. "Honestly! I took them off first."
Lucky
If you were born in September, it's pretty safe to assume that your parents started their new year with a bang.
Anonymous
When I was young, I used to eat a lot because my parents told me that fat kids are harder to kidnap.
andreylyand