Categories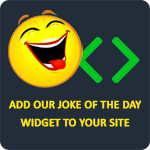 A mother went to pick up her daughter from elementary school and found her doing handstands against the wall. When they got into the car, the mother said, "Darling, I wish you wouldn't do that because the boys can see your panties." "Okay, mommy", the little girl replied. The next day, the mother noticed her little girls hands looked dirty, so she asked, "You haven't been doing handstands again and letting those boys see your panties, have you?" "Oh no mummy," the daughter replied. "Honestly! I took them off first."
Lucky
When I was young, I used to eat a lot because my parents told me that fat kids are harder to kidnap.
andreylyand
A man in a bar sees a friend at a table, drinking by himself. Approaching the friend, he comments, "You look terrible. What's the problem?" "My mother died in August," he said, "and left me $25,000." "Gee, that's tough," he replied. "Then in September," the friend continued, "my father died, leaving me $90,000." "Wow. Two parents gone in two months. No wonder you're depressed." "Then last month, my aunt died and left me $15,000." "Three close family members lost in three months? How sad." "Then this month," continued the friend, "absolutely nothing!"
theraj256
Two men are talking and one says to the other, "My wife's doctor says she has menopause, and, man, has she been moody lately. How long do the symptoms of menopause usually last?" The other man replies, "Let me put it this way: menopause will be listed as the cause on your death certificate."
TheLaughFactory
"Mom, does God go to the bathroom?" a son asked. The mom replied, "No son, why?" The son said, "Well every morning Dad goes to the bathroom and pounds on the door and shouts, 'Oh God! Are you still in there?!?!' "
dallooway