Categories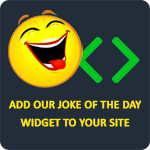 Q: What's the difference between a guitar and a fish?
A: You can tune a guitar, but you can't tuna fish.
Lauren P.
Assistant: "Sir, can I have a day off next week to visit my mother-in-law?"
Boss: "Certainly not!"

Assistant: "Thank you so much sir! I knew you would be understanding."
TheLaughFactory
A doctor tells an old couple at his office he needs to get a stool sample, a urine sample, and a blood test from the old man. Hard of hearing, the old man asks his wife what the doctor said. The wife replies, "He needs a pair of your underwear."
Mark My Words
Three brothers wanted to give their blind mom a birthday gift. The first got her a big beautiful house. The second got her a brand new luxury vehicle with a driver. The third got her a talking parrot to keep her company. When they all got together, they wanted to know which gift she liked best. She said they were all great but she thanked her third son because she liked the chicken dinner best.
twicks50
I want to die peacefully in my sleep, like my grandfather. Not screaming and yelling like the passengers in his car.
Anonymous