Categories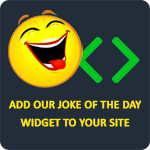 Why did the chicken cross the playground? To get to the other slide!!
My step dad
Three brothers wanted to give their blind mom a birthday gift. The first got her a big beautiful house. The second got her a brand new luxury vehicle with a driver. The third got her a talking parrot to keep her company. When they all got together, they wanted to know which gift she liked best. She said they were all great but she thanked her third son because she liked the chicken dinner best.
twicks50
A mother went to pick up her daughter from elementary school and found her doing handstands against the wall. When they got into the car, the mother said, "Darling, I wish you wouldn't do that because the boys can see your panties." "Okay, mommy," the little girl replied. The next day, the mother noticed her little girls hands looked dirty, so she asked, "You haven't been doing handstands again and letting those boys see your panties, have you?" "Oh no, mummy," the daughter replied. "Honestly! I took them off first."
Lucky
A teacher asks, "What's the difference between a problem and a challenge?" A student repsonds, "3 boys + 1 girl = problem. 1 boy + 3 girls = challenge."
omidmodern
"Johnny, why did you kick your brother in the stomach?" exclaimed the angry mother. "It was pure accident, Mama. He turned around."
TheLaughFactory