Categories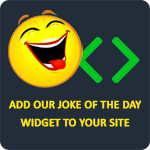 Little Billy came home from school to see the family's pet rooster dead in the front yard. Rigor mortis had set in and it was flat on its back with its legs in the air. When his Dad came home, Billy mentioned, "Dad, our rooster is dead and his legs are sticking in the air. Why are his legs like that?" His father, thinking quickly, said, "Son, that's so God can reach down from the clouds and lift the rooster straight up to heaven." "Gee Dad, that's great," said little Billy. A few days later, when Dad came home from work, Billy rushed out to meet him yelling, "Dad! Dad, we almost lost Mom today!" "What do you mean?" asked his father. "Well Dad, I got home from school early today and went up to your bedroom and there was Mom, flat on her back with her legs in the air, screaming, 'Jesus, I'm coming! I'm coming!' If it hadn't of been for Uncle George holding her down, we'd have lost her for sure!"
deemartinez
One day Jimmy got home early from school and his mom asked, "Why are you home so early?" He answered, "Because I was the only one that answered a question in my class." She said, "Wow, my son is a genius. What was the question?" Jimmy replied, "The question was 'Who threw the trash can at the principal's head?'"
Anonymous
Q: Why do Jewish mothers make great parole officers?
A: They never let anyone finish a sentence!
Bookworm
"Johnny, why did you kick your brother in the stomach?" exclaimed the angry mother. "It was pure accident, Mama. He turned around."
TheLaughFactory
Three brothers wanted to give their blind mom a birthday gift. The first got her a big beautiful house. The second got her a brand new luxury vehicle with a driver. The third got her a talking parrot to keep her company. When they all got together, they wanted to know which gift she liked best. She said they were all great but she thanked her third son because she liked the chicken dinner best.
twicks50