Categories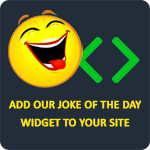 Little Johnny's new baby brother is screaming up a storm. He asks his mom, "Where'd we get him?" His mother replies, "He came from Heaven, Johnny." Johnny says, "Wow! I can see why they threw him out!"
suzyq2112
Alfie was listening to his sister practice her singing. "Sis," he said, "I wish you'd sing Christmas carols." "Thats nice of you, Alfie," she replied, "but why?" Alfie replied, "Because then I'd only have to hear your voice once a year!"
ibryildiz
What is the difference between an outlaw and an in-law? Outlaws are wanted.
Anonymous
Little Johnny came in from the backyard sobbing. His mother asked "What's the matter?" "Dad was fixing the fence and hit his thumb with the hammer," he said through his tears. "That's not so serious," his mother said, "and a big boy like you shouldn't cry about that. Why didn't you just laugh?" "I did!" cried Johnny.
ldycre8or
Q: What do you call the child of parents from Iceland and Cuba?
A: An ice cube.
Anonymous