Categories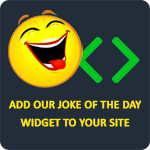 Q: Why do Jewish mothers make great parole officers?
A: They never let anyone finish a sentence!
Bookworm
A man tells his wife, "Honey, your mom fell down the stairs 15 minutes ago." The wife yells at him, "Why are you just telling me now?" He said, "Because I couldn't stop laughing."
lulugabs
A husband and wife have four boys. The odd part of it is that the older three have red hair, light skin, and are tall, while the youngest son has black hair, dark eyes, and is short. The father eventually takes ill and is lying on his deathbed when he turns to his wife and says, "Honey, before I die, be completely honest with me. Is our youngest son my child?" The wife replies, "I swear on everything that's holy that he is your son." With that, the husband passes away. The wife then mutters, "Thank God he didn't ask about the other three."
dglien39
A little girl and her older brother were visiting their grandfather's farm. The older brother decided to play a trick on his younger sister. He told her that he discovered a man-eating chicken. The girl was frightened, and ran inside in fear. Then the older brother heard his little sister scream. He ran inside immediately. She was screaming at their grandfather, who was chowing down on a plate of fried chicken. "What is it?" he asked. The sister turned to him in fear and said," It- it's- IT'S A MAN EATING CHICKEN!!!"
ChickenFingerz2000
A man called his child's doctor, "Hello! My son just snatched my pen when I was writing and swallowed it. What should I do?" The doctor replied, "Until I can come over, write with another pen."
Gerri