Categories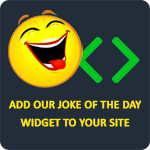 "Mom, does God go to the bathroom?" a son asked. The mom replied, "No son, why?" The son said, "Well every morning Dad goes to the bathroom and pounds on the door and shouts, 'Oh God! Are you still in there?!?!' "
dallooway
When I was young, I used to eat a lot because my parents told me that fat kids are harder to kidnap.
andreylyand
Two men are talking and one says to the other, "My wife's doctor says she has menopause, and, man, has she been moody lately. How long do the symptoms of menopause usually last?" The other man replies, "Let me put it this way: menopause will be listed as the cause on your death certificate."
TheLaughFactory
Stan is seconds away from receiving a vasectomy when his brother and sister-in-law barge in holding their newborn baby. "Stop! You can't do this!" exclaims the brother. "And why not?" asks Stan. "Don't you want to have a beautiful baby someday? Like my wife and I have here?" Stan says nothing. The brother grows impatient, "C'mon Stan, I want a nephew. Stan, make me an uncle." Stan can't take it anymore. He gives his sister-in-law an apologetic look and asks his brother, "You're sure you want a nephew?" "Yes," the brother replies. "It would be an honor." "Well, congratulations, you're holding him."
Anonymous
Little Johnny's new baby brother is screaming up a storm. He asks his mom, "Where'd we get him?" His mother replies, "He came from Heaven, Johnny." Johnny says, "Wow! I can see why they threw him out!"
suzyq2112