Categories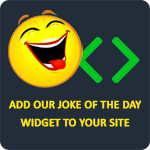 A doctor tells an old couple at his office he needs to get a stool sample, a urine sample, and a blood test from the old man. Hard of hearing, the old man asks his wife what the doctor said. The wife replies, "He needs a pair of your underwear."
Mark My Words
A mother went to pick up her daughter from elementary school and found her doing handstands against the wall. When they got into the car, the mother said, "Darling, I wish you wouldn't do that because the boys can see your panties." "Okay, mommy," the little girl replied. The next day, the mother noticed her little girls hands looked dirty, so she asked, "You haven't been doing handstands again and letting those boys see your panties, have you?" "Oh no, mummy," the daughter replied. "Honestly! I took them off first."
Lucky
Little Johnny came home from school and heard the word "b*tch." He asks his mom what the word meant and she responds, "It means priest." The next day little Johnny comes home and hears the word "sh*t" and asks his dad what it means. His dad answers, "It means food on the table." At school, he hears the word "f*cking" and asks his mom what it means. She responds, "It means getting ready." The next day a priest came over for dinner and little Johnny opened the door and says, "Hey son of a b*tch. There's sh*t on the table and my parents are upstairs f*cking!"
gabbylove
I want to die peacefully in my sleep, like my grandfather. Not screaming and yelling like the passengers in his car.
Anonymous
Assistant: "Sir, can I have a day off next week to visit my mother-in-law?"
Boss: "Certainly not!"

Assistant: "Thank you so much sir! I knew you would be understanding."
TheLaughFactory