Categories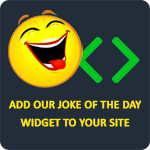 Whenever your ex says, "You'll never find someone like me," the answer to that is, "That's the point."
Ascelyn
A teacher wanted to teach her students about self-esteem, so she asked anyone who thought they were stupid to stand up. One kid stood up and the teacher was surprised. She didn't think anyone would stand up so she asked him, "Why did you stand up?" He answered, "I didn't want to leave you standing up by yourself."
ronald34
Bob was in trouble. He forgot his wedding anniversary. His wife was really pissed. She told him "Tomorrow morning, I expect to find a gift in the driveway that goes from 0 to 200 in 6 seconds AND IT BETTER BE THERE !!" The next morning he got up early and left for work. When his wife woke up, she looked out the window and sure enough there was a box gift-wrapped in the middle of the driveway. Confused, the wife put on her robe and ran out to the driveway, brought the box back in the house. She opened it and found a brand new bathroom scale. Bob has been missing since Friday.
meriwether12
Light travels faster than sound. This is why some people appear bright until you hear them speak.
Anonymous
Did you hear about the two bald guys who put their heads together? They made an ass out of themselves!
Anonymous