Categories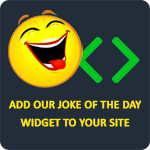 Your Halloween costume came in the mail today. I opened it. It was a rooster mask and a bag of lollipops. Going as a c*ck sucker again!?
jewelzee86
My psychiatrist told me I was crazy, so I said, "I want a second opinion." He said, "Okay, you're ugly too."
Cutifulone
How are fat girls and mopeds alike? They are fun to ride but you don't want your friends to find out.
Anonymous
I don't mind that you are talking, so long as you don't mind that I'm not listening.
LaughFactory
Save your breath. You'll need it to blow up your date.
LaughFactory