Categories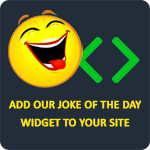 If you call one of those psychic hotlines and they don't greet you by your name, you should hang up!
Micahskatt2
Your Halloween costume came in the mail today. I opened it. It was a rooster mask and a bag of lollipops. Going as a c*ck sucker again!?
jewelzee86
I hear you are very kind to animals, so please give that face back to the gorilla.
LaughFactory
If I was as ugly as you were, I wouldn't say "Hi" to people. I'd say "BOO!"
LaughFactory
Hold still, I'm trying to imagine you with a personality.
LaughFactory