Categories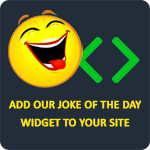 Sure, I've seen people like you before, but I had to pay an admission fee.
LaughFactory
Hold still, I'm trying to imagine you with a personality.
LaughFactory
I believe in respect for the dead, in fact I could only respect you if you were dead.
LaughFactory
If I was as ugly as you were, I wouldn't say "Hi" to people. I'd say "BOO!"
LaughFactory
If you call one of those psychic hotlines and they don't greet you by your name, you should hang up!
Micahskatt2