Categories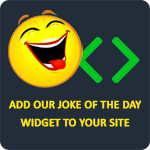 So, a thought crossed your mind? Must have been a long and lonely journey.
LaughFactory
You're so ugly, your husband takes you with him everywhere he goes, so he doesn't have to kiss you goodbye.
LaughFactory
How did giraffes come to be? Chuck Norris uppercut a horse.
greatlover16
Your face looks like it caught on fire and somebody tried to put it out with a fork.
rayrayrawrsu
You've got your head so far up your ass you can chew your food twice.
LaughFactory