Categories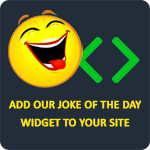 You're so ugly that when you were born they didn't slap you they slapped your mom.
Anonymous
I hear you are very kind to animals, so please give that face back to the gorilla.
LaughFactory
If I was as ugly as you were, I wouldn't say "Hi" to people. I'd say "BOO!"
LaughFactory
That isn't your forehead, it's your hair trying to run away from your face!
LaughFactory
When God was handing out brains, Jack must have been holding the door.
LaughFactory