Categories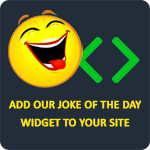 I hear you are very kind to animals, so please give that face back to the gorilla.
LaughFactory
So, a thought crossed your mind? Must have been a long and lonely journey.
LaughFactory
Q: Who is the poorest guy in the south?
A: The Tooth Fairy.
mum
You're so ugly, your husband takes you with him everywhere he goes, so he doesn't have to kiss you goodbye.
LaughFactory
Your face looks like it caught on fire and somebody tried to put it out with a fork.
rayrayrawrsu