Categories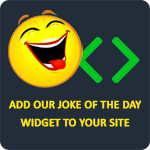 After meeting you, I've decided I am in favor of abortion in cases of incest.
LaughFactory
How did you get here? Did someone leave your cage open?
LaughFactory
Bob: "Why did the chicken cross the road?"
Joe: "To get to the idiot's house."
Bob: "Knock knock."
Joe: "Who's there?"
Bob: "The chicken."
Anonymous
What is the best contraceptive for old people? Nudity.
mkcastel
What is the difference between a Harley and a Hoover? The location of the dirt bag.
yesca487