Categories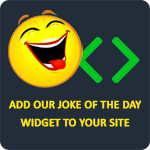 I don't mind that you are talking, so long as you don't mind that I'm not listening.
LaughFactory
You're so stupid, you threw a rock at the ground and missed.
LaughFactory
Hold still, I'm trying to imagine you with a personality.
LaughFactory
Save your breath. You'll need it to blow up your date.
LaughFactory
Q: How are fat girls and mopeds alike?
A: They are fun to ride, but you don't want your friends to find out.
Anonymous