Categories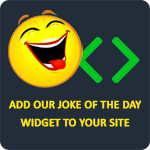 Listen, are you always this stupid or are you just making a special effort today?
LaughFactory
Girl: "Girls are better than boys."
Boy: "Then why did God make boys first?"
Girl: "Duh, you have to have a rough draft before the final copy."
FuzzyPanda123
When somebody calls you gay, say, "I'm straighter than the pole your mom dances on."
Anonymous
If you call one of those psychic hotlines and they don't greet you by your name, you should hang up!
Micahskatt2
How did you get here? Did someone leave your cage open?
LaughFactory