Categories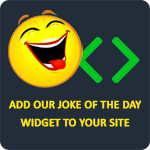 My psychiatrist told me I was crazy, so I said, "I want a second opinion." He said, "Okay, you're ugly too."
Cutifulone
You should do some soul-searching. Maybe you'll find one.
LaughFactory
A guy is sitting at a bar, and a drunk dude walks up to him, calling his mom a whore. The first guy just ignores it and stays in his spot drinking his beer. An hour goes by and the drunk dude comes back saying, "Your mom is a whore!" The first guy looks around the bar, sees people staring and says, "Don't worry, everything is cool here," and shrugs it off. After a few more shots, the drunk dude walks up a third time and says, "Your mom... is such... a whore!" The guy finally gets mad, throws his fist on the table and says, "You know what, Dad? Go home!"
Stampi2
Tell me, as an outsider, what do you think of the human race?
LaughFactory
I don't mind that you are talking, so long as you don't mind that I'm not listening.
LaughFactory