Categories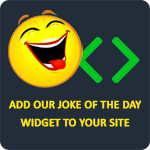 Listen, are you always this stupid or are you just making a special effort today?
LaughFactory
Go ahead, tell them everything you know. It'll only take 10 seconds.
LaughFactory
Sure, I'd love to help you out. Now, which way did you come in?
LaughFactory
You're so stupid, you threw a rock at the ground and missed.
LaughFactory
When God was handing out brains, Jack must have been holding the door.
LaughFactory