Categories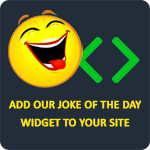 Listen, are you always this stupid or are you just making a special effort today?
LaughFactory
Sure, I'd love to help you out. Now, which way did you come in?
LaughFactory
A mother said to her son, "Look at that kid over there; he's not misbehaving." The son replied, "Maybe he has good parents then!"
Anonymous
When God was handing out brains, Jack must have been holding the door.
LaughFactory
After meeting you, I've decided I am in favor of abortion in cases of incest.
LaughFactory