Categories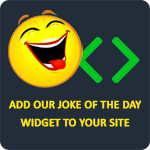 Sure, I've seen people like you before, but I had to pay an admission fee.
LaughFactory
Listen, are you always this stupid or are you just making a special effort today?
LaughFactory
When somebody calls you gay, say, "I'm straighter than the pole your mom dances on."
Anonymous
You've got your head so far up your ass you can chew your food twice.
LaughFactory
If you call one of those psychic hotlines and they don't greet you by your name, you should hang up!
Micahskatt2