Categories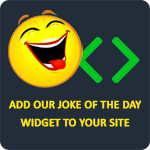 Did you hear about the two bald guys who put their heads together? They made an ass out of themselves!
Anonymous
Q: Which sexual position produces the ugliest children?
A: Ask your mother.
TheLaughFactory
A wife asked her husband, "What do you like most in me, my pretty face or my sexy body?" He looked at her from head to toe and replied, "I like your sense of humor!"
giggili
A husband says to his wife, "You know, our son got his brain from me." The wife replies, "I think he did. I still got mine with me!"
shahrzad
You know you're getting fat when you say you're fat in front of your friends and nobody corrects you.
assyrian