Categories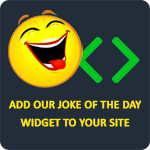 One woman I was dating called and said, "Come on over, there's nobody home." I went over. Nobody was home.
stepbreaker
Man: I want to give myself to you.
Woman: Sorry, I don't accept cheap gifts.
LaughFactory
You have so many gaps in your teeth, it looks like your tongue is in jail.
princessdee7
Insult: If you were any dumber, your head would implode.
Response: If you were a little bit more intelligent you'd still be stupid.
LaughFactory
If I throw a stick, will you go away?
LaughFactory