Categories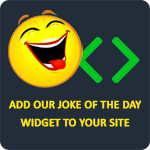 An old teacher asked her student, "If I say, 'I am beautiful,' which tense is that?" The student replied, "It is obviously past."
Anonymous
A wife asked her husband, "What do you like most in me, my pretty face or my sexy body?" He looked at her from head to toe and replied, "I like your sense of humor!"
giggili
I saw a young teenage kid on the subway today. He had a Mohawk hairstyle dyed yellow, green, and red. He caught me staring at him and in a nasty voice asked, "What the f*ck are you looking at?" I replied, "Sorry, but when I was about your age I had sex with a parrot. I thought maybe you were my son."
luis
Girlfriend: "Am I pretty or ugly?"
Boyfriend: "You're both."
Girlfriend: "What do you mean?"
Boyfriend: "You're pretty ugly."
squatter dude
A husband says to his wife, "You know, our son got his brain from me." The wife replies, "I think he did. I still got mine with me!"
shahrzad