Categories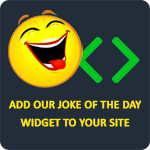 You have so many gaps in your teeth, it looks like your tongue is in jail.
princessdee7
A lady comes home from her doctor's appointment grinning from ear to ear. Her husband asks, "Why are you so happy?" The wife says, "The doctor told me that for a forty-five year old woman, I have the breasts of a eighteen year old." "Oh yeah?" quipped her husband, "What did he say about your forty-five year old ass?" She said, "Your name never came up in the conversation."
Mark My Words
You are so ugly, the last time you got a piece of ass was when your hand slipped through the toilet paper.
LaughFactory
If I throw a stick, will you go away?
LaughFactory
An old teacher asked her student, "If I say, 'I am beautiful,' which tense is that?" The student replied, "It is obviously past."
Anonymous