Categories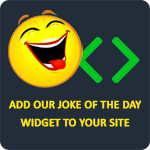 You have so many gaps in your teeth, it looks like your tongue is in jail.
princessdee7
You are so ugly, the last time you got a piece of ass was when your hand slipped through the toilet paper.
LaughFactory
If I throw a stick, will you go away?
LaughFactory
Insult: If you were any dumber, your head would implode.
Response: If you were a little bit more intelligent you'd still be stupid.
LaughFactory
An old teacher asked her student, "If I say, 'I am beautiful,' which tense is that?" The student replied, "It is obviously past."
Anonymous