Categories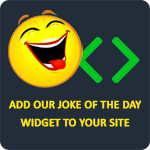 Girl: "Girls are better than boys."
Boy: "Then why did God make boys first?"
Girl: "Duh, you have to have a rough draft before the final copy."
FuzzyPanda123
Man: I want to give myself to you.
Woman: Sorry, I don't accept cheap gifts.
LaughFactory
A mother said to her son, "Look at that kid over there; he's not misbehaving." The son replied, "Maybe he has good parents then!"
Anonymous
You know you're getting fat when you say you're fat in front of your friends and nobody corrects you.
assyrian
What's the difference between three penises and a joke? Your mom can't take a joke.
TOBYMTZ1083