Categories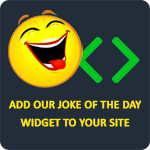 How did giraffes come to be? Chuck Norris uppercut a horse.
greatlover16
You're lucky mirrors don't talk, or laugh for that matter.
LaughFactory
You've got the perfect weapon against muggers. Your face.
LaughFactory
You should do some soul-searching. Maybe you'll find one.
LaughFactory
Tell me, as an outsider, what do you think of the human race?
LaughFactory