Categories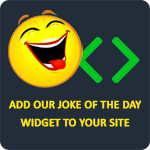 God made rivers, God made lakes, God made you, Hell, everyone makes mistakes.
rogger316
Insult: If you were any dumber, your head would implode.
Response: If you were a little bit more intelligent you'd still be stupid.
LaughFactory
I never forget a face! But in your case I'll make an exception!
kandie24
A man asks a woman, "Haven't I seen you someplace before?" The woman responds, "Yeah, that's why I don't go there anymore."
LaughFactory
If you think nobody cares if you're alive, try missing a couple of car payments.
eugene611