Categories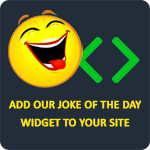 Tell me, as an outsider, what do you think of the human race?
LaughFactory
Well, they do say opposites attract. So I sincerely hope you meet somebody who is attractive, honest, intelligent, and cultured.
LaughFactory
How are fat girls and mopeds alike? They are fun to ride but you don't want your friends to find out.
Anonymous
Save your breath. You'll need it to blow up your date.
LaughFactory
Your face looks like it caught on fire and somebody tried to put it out with a fork.
rayrayrawrsu