Categories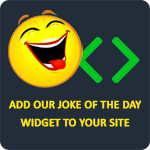 Q: How do you leave a jackass in suspense?
A: Don't know. I'll tell you tomorrow
wise guy
You're lucky mirrors don't talk, or laugh for that matter.
LaughFactory
I heard that you went to the haunted house and they offered you a job.
LaughFactory
You've got the perfect weapon against muggers. Your face.
LaughFactory
Well, they do say opposites attract. So I sincerely hope you meet somebody who is attractive, honest, intelligent, and cultured.
LaughFactory