Categories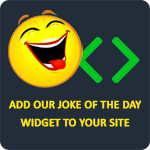 I heard that you went to the haunted house and they offered you a job.
LaughFactory
You've got the perfect weapon against muggers. Your face.
LaughFactory
Well, they do say opposites attract. So I sincerely hope you meet somebody who is attractive, honest, intelligent, and cultured.
LaughFactory
A lady comes home from her doctor's appointment grinning from ear to ear. Her husband asks, "Why are you so happy?" The wife says, "The doctor told me that for a forty-five year old woman, I have the breasts of a eighteen year old." "Oh yeah?" quipped her husband, "What did he say about your forty-five year old ass?" She said, "Your name never came up in the conversation."
Mark My Words
A man and woman were having sex. After they were done, the man asks the woman, "Are you a nurse?" The woman answers, "Yes. How did you know?" The man replies, "Because you took care of me so well." Then the woman asks the man, "Are you an anesthesiologist?" He says proudly, "Yes. How do you know?" The woman answers, "Because I didn't feel a thing."
Anonymous