Categories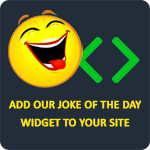 My friend told me he had the body of a Greek god. I had to explain to him that Buddha is not Greek.
Cuba
When somebody calls you gay, say, "I'm straighter than the pole your mom dances on."
Anonymous
I'll never forget the first time we met, although I'll keep trying.
LaughFactory
If you think nobody cares if you're alive, try missing a couple of car payments.
eugene611
Q: Why are blonde jokes so short?
A: So brunettes can remember them.
Anonymous