Categories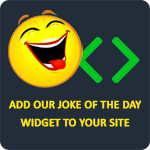 A man asks a woman, "Haven't I seen you someplace before?" The woman responds, "Yeah, that's why I don't go there anymore."
LaughFactory
How are fat girls and mopeds alike? They are fun to ride but you don't want your friends to find out.
Anonymous
What's the difference between a BMW and a porcupine? A BMW has pricks on the inside!
brent
Save your breath. You'll need it to blow up your date.
LaughFactory
Well, they do say opposites attract. So I sincerely hope you meet somebody who is attractive, honest, intelligent, and cultured.
LaughFactory