Categories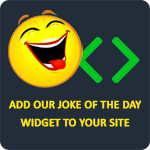 I'll never forget the first time we met, although I'll keep trying.
LaughFactory
Girl: "Girls are better than boys."
Boy: "Then why did God make boys first?"
Girl: "Duh, you have to have a rough draft before the final copy."
FuzzyPanda123
You're so fat you're the reason why the Earth is tilted.
BrittanyHoran321
Q: How do you leave a jackass in suspense?
A: Don't know. I'll tell you tomorrow
wise guy
Your teeth are so big when you sneeze you bite your chest.
alhagie richards