Categories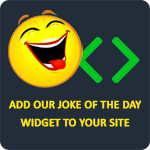 What's the difference between a BMW and a porcupine? A BMW has pricks on the inside!
brent
A man asks a woman, "Haven't I seen you someplace before?" The woman responds, "Yeah, that's why I don't go there anymore."
LaughFactory
You've got the perfect weapon against muggers. Your face.
LaughFactory
Insult: Hey, you're not much of a looker, but I'll date you.
Response: Thanks. You must be very open-minded. Was that how your brain slipped out?
LaughFactory
I believe in respect for the dead, in fact I could only respect you if you were dead.
LaughFactory