Categories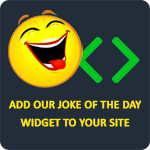 Well, they do say opposites attract. So I sincerely hope you meet somebody who is attractive, honest, intelligent, and cultured.
LaughFactory
How did giraffes come to be? Chuck Norris uppercut a horse.
greatlover16
Tell me, as an outsider, what do you think of the human race?
LaughFactory
You should do some soul-searching. Maybe you'll find one.
LaughFactory
A man and woman were having sex. After they were done, the man asks the woman, "Are you a nurse?" The woman answers, "Yes. How did you know?" The man replies, "Because you took care of me so well." Then the woman asks the man, "Are you an anesthesiologist?" He says proudly, "Yes. How do you know?" The woman answers, "Because I didn't feel a thing."
Anonymous