Categories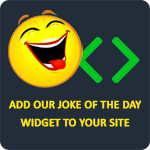 I'll never forget the first time we met, although I'll keep trying.
LaughFactory
If you think nobody cares if you're alive, try missing a couple of car payments.
eugene611
You're so fat you're the reason why the Earth is tilted.
BrittanyHoran321
Q: How do you leave a jackass in suspense?
A: Don't know. I'll tell you tomorrow
wise guy
When somebody calls you gay, say, "I'm straighter than the pole your mom dances on."
Anonymous