Categories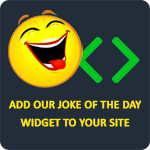 Kid 1: "Hey, I bet you're still a virgin."
Kid 2: "Yeah, I was a virgin until last night ."
Kid 1: "As if."
Kid 2: "Yeah, just ask your sister."
Kid 1: "I don't have a sister."
Kid 2: "You will in about nine months."
Achtung
Q: How do you leave a jackass in suspense?
A: Don't know. I'll tell you tomorrow
wise guy
You're so fat you're the reason why the Earth is tilted.
BrittanyHoran321
A man siting at a bar asked a pretty woman sitting next to him, Excuse me, but can I smell your pussy?" "Get away from me, you pervert," she replied. "Oh, I'm sorry," exclaims the man, "It must be your feet."
Mark My Words
Bob: "Why did the chicken cross the road?"
Joe: "To get to the idiot's house."
Bob: "Knock knock."
Joe: "Who's there?"
Bob: "The chicken."
Anonymous