Categories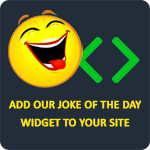 Your teeth are so big when you sneeze you bite your chest.
alhagie richards
You're lucky mirrors don't talk, or laugh for that matter.
LaughFactory
I heard that you went to the haunted house and they offered you a job.
LaughFactory
Bob: "Why did the chicken cross the road?"
Joe: "To get to the idiot's house."
Bob: "Knock knock."
Joe: "Who's there?"
Bob: "The chicken."
Anonymous
Well, they do say opposites attract. So I sincerely hope you meet somebody who is attractive, honest, intelligent, and cultured.
LaughFactory