Categories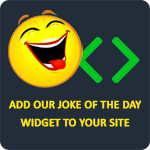 Tell me, as an outsider, what do you think of the human race?
LaughFactory
Bob: "Why did the chicken cross the road?"
Joe: "To get to the idiot's house."
Bob: "Knock knock."
Joe: "Who's there?"
Bob: "The chicken."
Anonymous
I hear you are very kind to animals, so please give that face back to the gorilla.
LaughFactory
You should do some soul-searching. Maybe you'll find one.
LaughFactory
You're so ugly, your husband takes you with him everywhere he goes, so he doesn't have to kiss you goodbye.
LaughFactory