Categories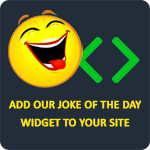 My friend told me he had the body of a Greek god. I had to explain to him that Buddha is not Greek.
Cuba
Girlfriend: "Am I pretty or ugly?"
Boyfriend: "You're both."
Girlfriend: "What do you mean?"
Boyfriend: "You're pretty ugly."
squatter dude
You're lucky mirrors don't talk, or laugh for that matter.
LaughFactory
Your teeth are so big when you sneeze you bite your chest.
alhagie richards
Bob: "Why did the chicken cross the road?"
Joe: "To get to the idiot's house."
Bob: "Knock knock."
Joe: "Who's there?"
Bob: "The chicken."
Anonymous