Categories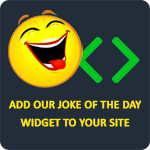 You're so fat you're the reason why the Earth is tilted.
BrittanyHoran321
Q: How do you leave a jackass in suspense?
A: Don't know. I'll tell you tomorrow
wise guy
You're lucky mirrors don't talk, or laugh for that matter.
LaughFactory
Your teeth are so big when you sneeze you bite your chest.
alhagie richards
Bob: "Why did the chicken cross the road?"
Joe: "To get to the idiot's house."
Bob: "Knock knock."
Joe: "Who's there?"
Bob: "The chicken."
Anonymous