Categories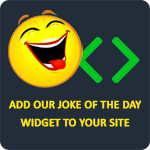 Well, they do say opposites attract. So I sincerely hope you meet somebody who is attractive, honest, intelligent, and cultured.
LaughFactory
I don't mind that you are talking, so long as you don't mind that I'm not listening.
LaughFactory
Save your breath. You'll need it to blow up your date.
LaughFactory
Sure, I've seen people like you before, but I had to pay an admission fee.
LaughFactory
You're so ugly, your husband takes you with him everywhere he goes, so he doesn't have to kiss you goodbye.
LaughFactory