Categories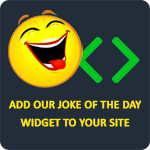 What's the difference between a BMW and a porcupine? A BMW has pricks on the inside!
brent
Insult: Hey, you're not much of a looker, but I'll date you.
Response: Thanks. You must be very open-minded. Was that how your brain slipped out?
LaughFactory
A man and woman were having sex. After they were done, the man asks the woman, "Are you a nurse?" The woman answers, "Yes. How did you know?" The man replies, "Because you took care of me so well." Then the woman asks the man, "Are you an anesthesiologist?" He says proudly, "Yes. How do you know?" The woman answers, "Because I didn't feel a thing."
Anonymous
Bob: "Why did the chicken cross the road?"
Joe: "To get to the idiot's house."
Bob: "Knock knock."
Joe: "Who's there?"
Bob: "The chicken."
Anonymous
My psychiatrist told me I was crazy, so I said, "I want a second opinion." He said, "Okay, you're ugly too."
Cutifulone